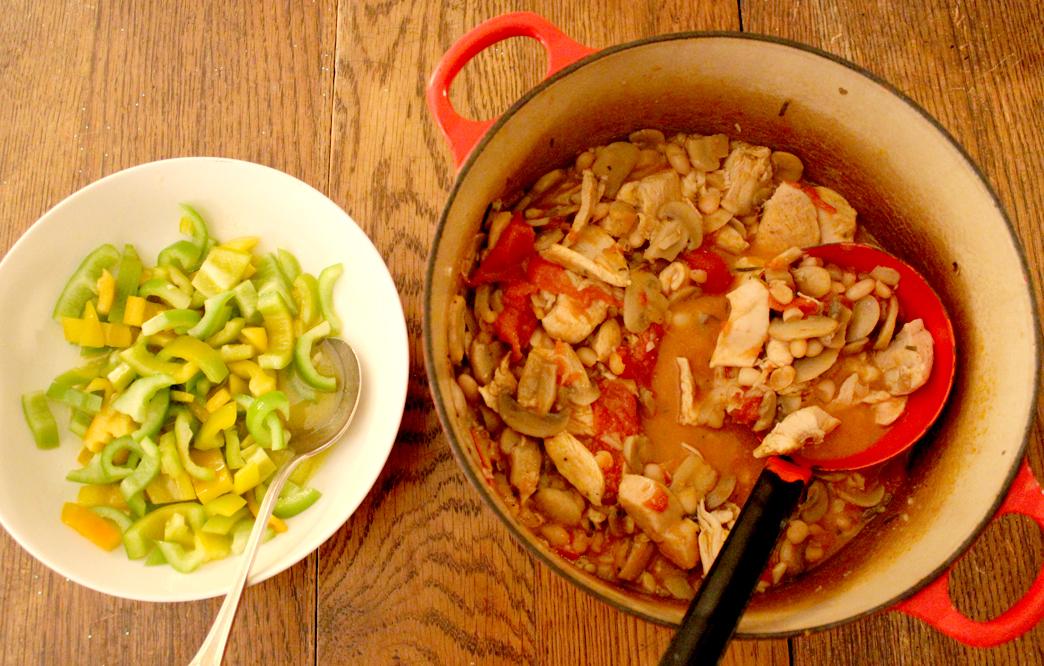 I didn't post last night because instead, I was sitting on the couch drinking a glass of wine. Why? Because I'm well into my 3rd trimester and I can. (And also because my husband is having back surgery today.)
Surgery? You say. Didn't he just have surgery a couple of months ago? The answers are yes and yes. He had a double surgery on his shoulder this past summer. And now, with only a month and a day to go before our baby is due, he's having surgery again.
Everything will be fine, and in the long run, it's good he's having this done. But it does mean he won't be able to pick up our newborn. Sigh. After several uncomfortable weeks of wishing for an early (but not too early) delivery, I now want our baby to stay in for as long as possible.
Anywhoo, about dinner. I made a shortcut version of Chicken Cacciatore from a recipe I found on Momfilter. I know nothing about Chicken Cacciatore. If you had asked me about it before last night, I would have been able to tell you that it's a chicken dish, and that's about it.
Not being familiar with the dish, I'm not sure what makes this version a cheater's version, but I can attest that it was really easy and quick to make. The only time consuming part is chopping all those darn mushrooms, which doesn't actually take all that long.
I worried that the dish would be boring. It wasn't boring, it was quite good in fact, I ate around the chicken pieces. It's a definite make-again.
• Cheat's Chicken Cacciatore •
from Momfilter (especially the humorous instructions)
I've made it even more quick and easy with a few shortcuts below
4 boneless, skinless chicken thighs*
1 Tbsp olive oil
1 lb fresh, sliced mushrooms
2 tablespoons butter
2 or 3 cloves of garlic, minced
1 Tbsp rosemary (minced if you're using fresh)
1 x 19 oz can chopped San Marzano tomatoes
1 x 15 oz can of cannellini beans
Get out your Dutch oven – or another large, heavy bottomed pot – and your cutting board and knife and that's all you're going to need for this recipe. Don't you feel more relaxed already?
Warm the oil in your pot over medium high heat. Slice the chicken thighs into about four pieces each and season them with a good pinch of salt and pepper. Working in batches, brown the meat**. Don't worry about cooking it through, you're just building a nice color for now. When the meat is brown, set it aside on a clean plate.
Reduce the heat slightly and toss in your mushrooms and butter. It's going to seem like too many at first but fear not. They will eventually submit to you, collapse and take up much less space. Just keep stirring them every couple of minutes. Once they're cooked down, add the garlic and rosemary and let it sautee for another minute.
Add the tomatoes – not drained – and beans – drained. Add the cooked chicken pieces and allow it all to simmer for about 15 to 20 minutes. Taste to check seasoning and add some salt and pepper if you like.
*Boneless, skinless, breasts work great too, add some extra butter to compensate for the lack of fat in the breasts.
**My meat never seems to get brown, I cook it until there's no visible pink and some pieces are slightly golden.