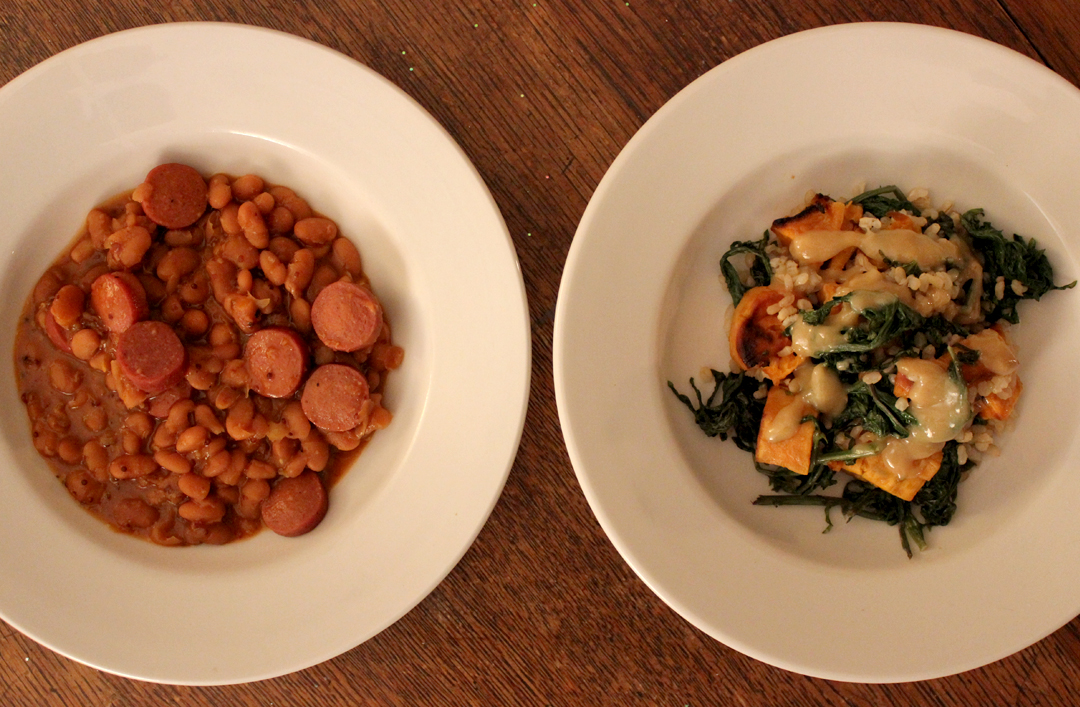 Tonight's dinner was a funny, ironic, kind of combination. For them, beans & franks, the quintessential, ready-to-eat canned meal. For me, an uber-earthy brown rice , sweet potato and kale salad with miso-ginger dressing.
But you know me, I wouldn't serve my family franks and beans from a can. Oh no. What we had were what Jenny from Dinner A Love Story calls Highbrow Franks & Beans. You know, the kind where you start with dried beans. The kind with organic all-beef Franks. The kind that takes over 6 hours to make. Oh yes I did.
And I'll do it again. Phrases like "What's your favorite food? This (pointing to franks & beans) is mine" and "I want this for lunch every day" were thrown around. Yes, a big success. And also absolutely perfect for the nights, like tonight, when we don't get home until 8:00.
A lot of people have been trying to persuade me to get a slow cooker. If anything is going to convince me to clutter-up my tiny New York City kitchen with another big appliance, this is the dish that will do it. Presuming, of course, that this is a dish that could be made in a slow cooker.
As for the polar opposite on the table, I had a tweaked version of Smitten Kitchen's Miso Sweet Potato and Broccoli Bowl. My version used kale, skipped the sesame seeds and left the garlic out of the dressing. It was utterly delicious, as the recipe promised. The kind of meal that makes you feel like your body owes you a big old thank you.
• Franks & Beans •
from Dinner A Love Story
1 pound dried navy or great northern beans
2 tablespoons brown sugar
2 teaspoons salt
1/4 teaspoon freshly ground black pepper
2 tablespoons spicy brown mustard
2 tablespoons molasses
1/4 cup ketchup
1/2 cup pure maple syrup
2 thick strips bacon
3 hot dogs, sliced into rounds as shown
In a large pan, cover the beans with water. Bring to a boil and simmer until tender, about 1 hour. Drain.
Preheat oven to 300°F. In a bowl, combine everything else except the bacon and hot dogs. Stir in the beans.
Place 1 bacon strip at the bottom of a large ovenproof dish or Dutch oven. Pour the bean mixture over it, then push the other strip in.
Add just enough boiling water to the pot to cover everything. Cover the pot with aluminum foil, then a lid. Bake for 5 hours, checking hourly to make sure the beans aren't drying out. (Add more water as necessary to keep them submerged.) Uncover for the last half hour to brown the top, if desired. During the last 10 minutes of cooking, stir in hot dog slices until warmed through. If serving later, stir in the hot dogs right before you re-heat the beans.
• Miso, Sweet Potato and Kale Bowl •
altered slightly from Smitten Kitchen's recipe
For the bowl
1/2 cup dried brown rice
2 large sweet potatoes
1 bag or bunch of baby kale
2 tablespoons olive oil
Coarse or kosher salt
Freshly ground black pepper
For the miso-sesame dressing
1 tablespoon minced fresh ginger
2 tablespoons white miso
2 tablespoons tahini
1 tablespoon honey
1/4 cup rice vinegar
2 tablespoons toasted sesame oil
2 tablespoons olive oil
Heat oven to 400 degrees. Cook rice according to package directions and set aside.
Peel sweet potatoes and cut into 1-inch cubes. Toss with 1 tablespoon olive oil and sprinkle with salt and pepper. Lay potatoes out on a baking tray. Roast for 20 minutes, until browning underneath. Toss and continue cooking until browned on most of the sides and cooked through. Remove from baking tray to a medium or large bowl.
Toss the kale with 1 tablespoon olive oil and salt, lay out on the baking tray you just used for the potatoes and cook until wilted and even a little bit crispy in areas. Add cooked kale and rice to the bowl with the sweet potatoes. Toss to combine and set aside until ready to serve.
To make the sesame-miso dressing: Combine everything in tall container and blend with a stick blender until smooth.
Toss salad with some of the dressing, and serve with additional dressing on the side.