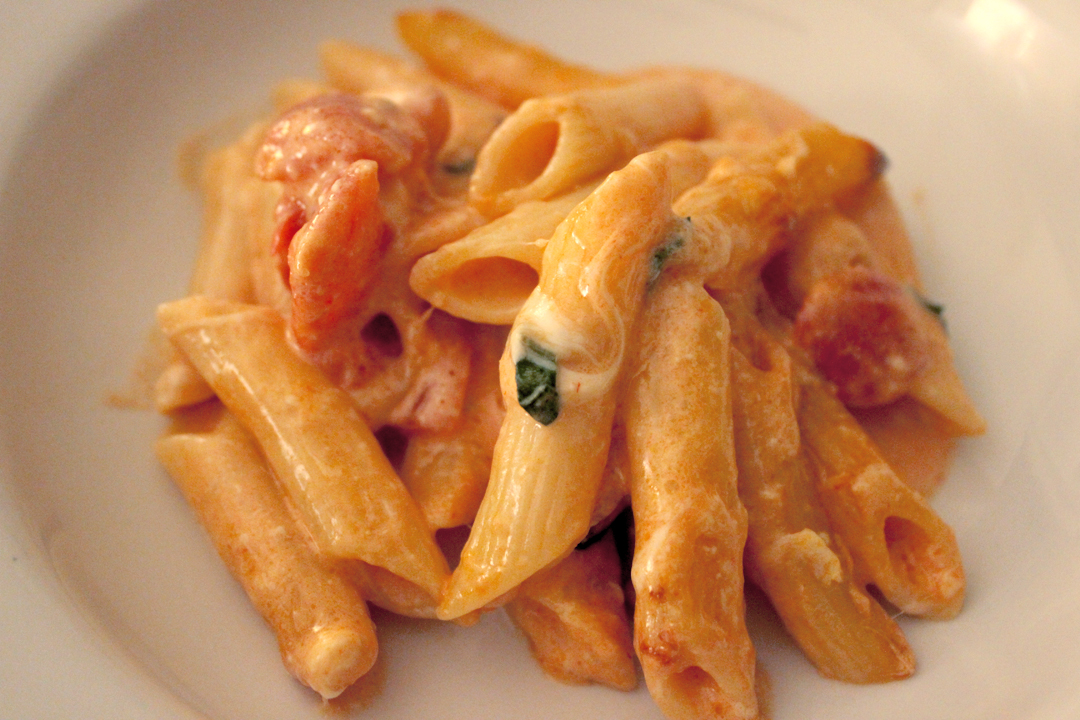 Five cheeses. Need I say more? I didn't think so.
• Al Forno's Penne with Tomato, Cream and Five Cheeses •
from Food52.com
2 cups heavy cream
1 cup chopped canned tomatoes in heavy puree
1/2 cup freshly grated pecorino Romano cheese, (1 1/2 ounces)
1/2 cup coarsely shredded (1 1/2 ounces) Fontina cheese
1/4 cup crumbled Gorgonzola cheese, (1 1/2 ounces)
2 tablespoons ricotta cheese
1/4 pound thinly sliced mozzarella cheese
3/4 teaspoons kosher salt, plus more for pasta water
6 fresh basil leaves, coarsely chopped
1 pound penne rigate or conchiglie rigate
4 tablespoons (1/2 stick) unsalted butter, sliced thinly
Notes:
1. I couldn't find diced tomatoes in heavy puree, so I used San Marzano diced tomatoes, and added 2 tablespoons tomato paste to thicken the sauce.
2. For the mozzarella, I used the a quarter pound of fresh mozzarella, grated. 
3. It might seem like 4 minutes is not enough time to parboil the pasta, that's how I felt. I cooked my pasta for 5 minutes, 4 would have been fine but 5 works too.
4. This dish may take more than 10 minutes to cook, mine took about 15. Some ovens don't quite go up to 500 degrees, or you might not be patient enough to let it pre-heat properly. When it's bubbly all over, it's ready. 
Heat oven to 500 degrees.
Bring a large pot of salted water to a boil.
In a mixing bowl, combine all ingredients except the pasta and butter. Stir well to combine.
Drop the pasta into the boiling water and parboil for 4 minutes. Drain in a colander and add to the ingredients in the mixing bowl, tossing to combine.
Divide the pasta mixture among six to eight shallow ceramic gratin dishes (1 1/2 to 2 cups in capacity) or place in a shallow (1-inch*) layer in larger baking dishes. Dot with the butter, and bake until bubbly and brown on top, 7 to 10 minutes. 
Serve with a simple salad.
*This is imperative if using a larger dish.