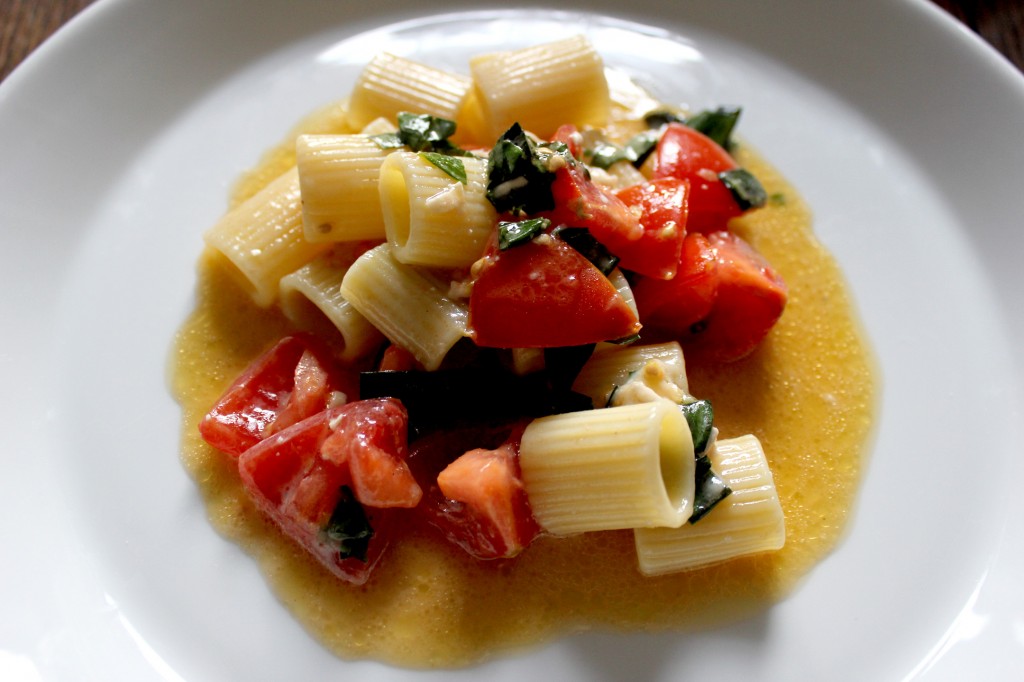 If, like me, you were a young adult in the 90's, who preferred hosting dinner parties to attending keg parties, you probably cut your teeth on the Silver Palate and New Basics cookbooks. Julee Rosso and Sheila Lukins were the go-to ladies when you wanted to make something really good, bright, fresh and always delicious.
One of the recipes I've loved since my Silver Palate days is the famous, uncooked-sauce, Pasta with Tomatoes, Basil and Brie. So creamy and delicious. You put the brie in the freezer to make it easier to cut into pieces. Brilliant!
The problem, is the garlic. I've never been able to handle a lot of raw garlic. It's not that I don't like it, I do. It's just that no one wants to be in the same room as me for a week afterwards. That and my mouth tastes like garlic for days, fine at dinner time, not so great at breakfast.
When I stumbled upon Pasta with Tomatoes, Basil and Brie online recently, I immediately missed and craved my old friend. But for the dragon breath.
Here's my solution, a quicker (less than 40 min start to finish), modified, breath-friendly version. I'm quite happy with it. Shane said "This is great, does it have a pound of butter in it?" (it doesn't, but there's more than enough fat, worry not). Kisses all around!
• Pasta with Tomatoes, Basil & Brie •
adapted from the Silver Palate Cookbook
1lb curly pasta (I used mezze rigatoni tonight but curly is better for holding the sauce)
8 ripe campari tomatoes (approx 2″ in diameter), chopped*
1/2 cup fresh basil leaves, slivered
the zest of one lemon
1/3 cup olive oil
salt and pepper to taste
1/2lb piece creamy brie (I used triple creme) chopped
Put your piece brie in the freezer, this makes it easier to chop. Put a large pot of salted water on to boil for the pasta. Chop the tomatoes into 3/4″ to 1″ chunks and put in a large serving bowl. Add the slivered basil, lemon zest and olive oil to the tomatoes, stir to combine and season with salt and pepper. 
When the brie has been in the freezer for about 20 minutes, remove it and chop into approximately 1″ chunks. Add brie to the tomato basil mixture and stir gently to combine.
Put the pasta on to boil. When it's cooked perfectly, drain and add it to the tomato, basil & brie mixture. Stir for a while until the brie is melted and the sauce is evenly distributed. Serve immediately.
*You can use any good, ripe tomatoes. Just use your best judgement to approximate the amount based on 8 campari tomatoes.