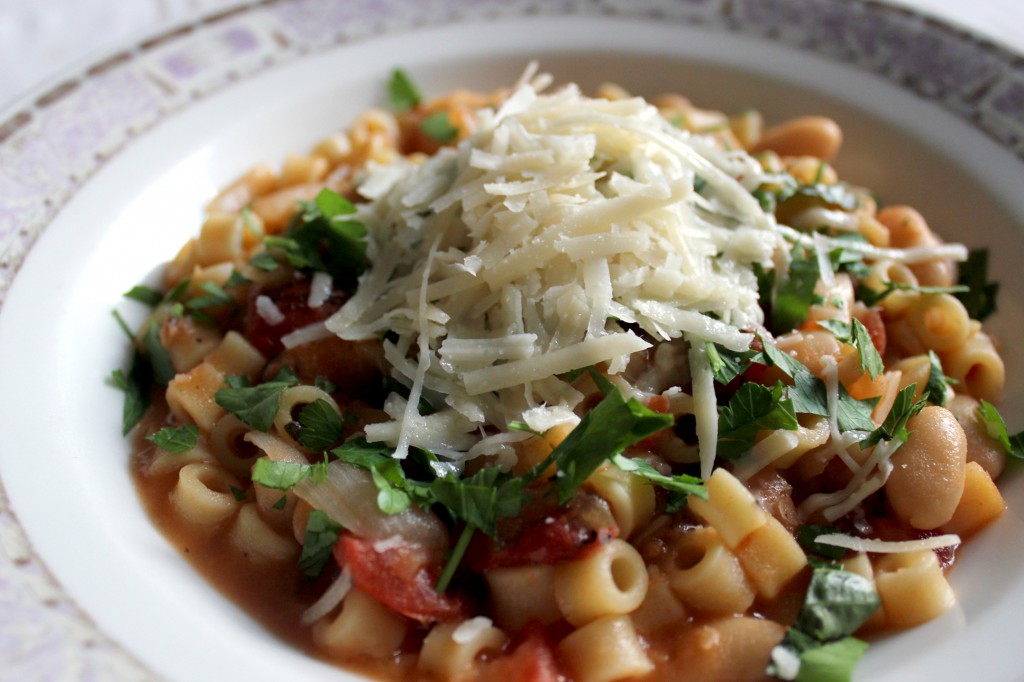 Shane will be working 12 hour days for the next few weeks. I'm guessing he's going to come home hungry. What this means for dinner, is that we're going to be having a lot of meals that will need to be good, several hours after they were first served.
Dinner #1 in the "Meals That Will Still Be Good Several Hours Later" series, is Pasta e Fagioli (pasta and beans). Not only is it still good several hours later, it is also quick, vegetarian, and a one-dish meal. So it's going to be hard to top (really good thinking on my part).
The original recipe for this Pasta e Fagioli comes from Food 52. I made a vegetarian version tonight, by eliminating the bacon and replacing it with butter, oil and a parmesan rind for richness. If you have only 30 minutes to make dinner, this recipe is for you.
• Pasta e Fagioli •
adapted from Food 52

2 tablespoons olive oil
1 tablespoon butter
1 vidalia onion, chopped
1 clove garlic, minced
1 small stalk celery, chopped very fine
1 piece parmesan rind (approx. 2″ square)
2 1/4 cups vegetable broth
1 can (14 oz) cannelini beans, rinsed and drained
1 can (14 oz) chopped tomatoes
1/2 teaspoon dried oregano
1/2 cup ditalini pasta* 
2 tablespoons fresh parsley, minced
grated Parmesan
In a heavy saucepan melt the butter with the oil over moderate heat. Add onion and garlic, stirring until onion is soft and transparent. Add celery. Add parmesan rind and broth, and simmer, covered, for 5 minutes.
On a plate mash 1/3 of the beans with a potato masher, then stir them into the onion mixture along with the remaining whole beans, pasta, tomatoes, and oregano. Simmer the soup, covered for 15 minutes, or until pasta is al dente. Then remove from heat and let stand, still covered, for 5 minutes.
Stir in (or top with) parsley and top with grated Parmesan. 
The original recipe says serves two, I think 3 or 4 is more accurate, particularly if one or two of those people is a kid.
*Note: I used 3/4 cups of pasta because 1/2 a cup didn't seem like enough. I think 1/2 a cup is a better choice but yours might come out looking a little less pasta-y-er and a little more soupy than my photo.