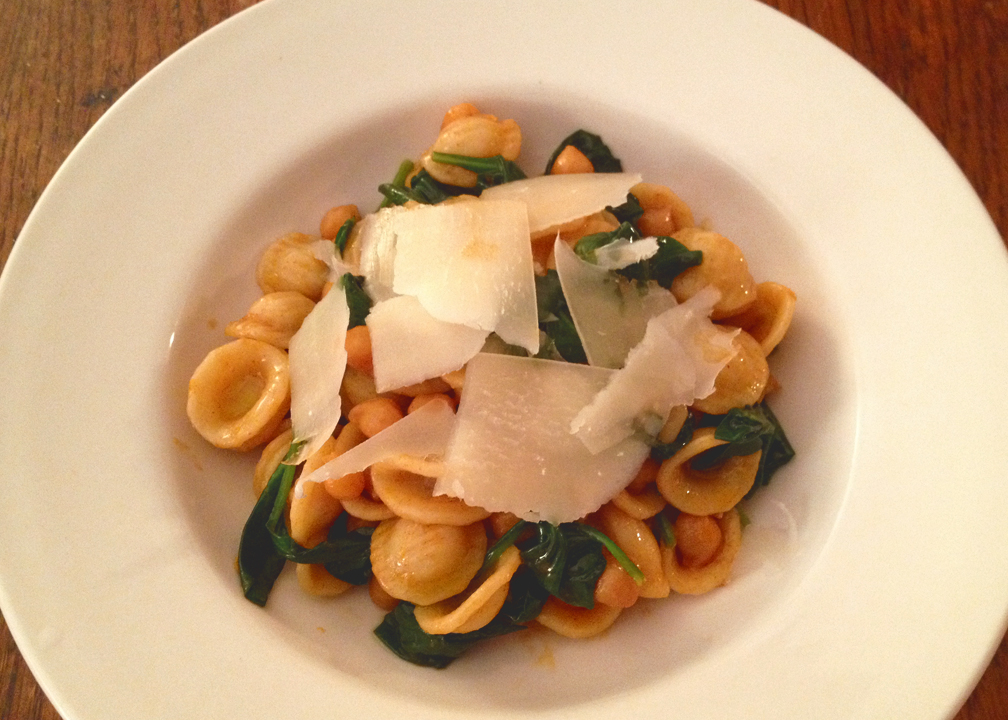 Newborn weeks 4-6 sure are rough. Now that baby Sid seems to be past the constantly screaming his head off phase (knock wood), I've got a post for you!
This is not the post I've been writing in my head, which is a response to Britta's blogging challenge. That post is coming soon, I promise.
Orecchiette with Wilted Spinach and Smoked Paprika is a dish I've never tried before. I think that finding and trying a new recipe with a screaming newborn on hand and no help around, is tantamount to cooking a fancy 5 course meal on a busy weeknight. Or something.
It's an interesting dish, I would never think to use smoked paprika on pasta, but it works. The recipe makes a lot, I'll be eating it for lunch for the rest of the week if you'd like to stop by for a sample.
• Orecchiette with Wilted Spinach and Smoked Paprika •
original recipe from food and style via Gojee
sea salt for the pasta water
12 oz (3/4 box) Orecchiette
1/3 cup olive oil plus more for garnish
6 large garlic cloves peeled and thinly sliced
1/4 teaspoon ground cayenne or to taste (optional)
1 tablespoon smoked paprika
2 cups cooked chickpeas, (canned is fine too)
12 oz baby spinach (use the pre-washed kind that comes in a box to save time)
1/3 cup cooking liquid from chickpeas or pasta water
salt or to taste
freshly ground black pepper to taste
Aged Manchego or Grana Padano shaved (use vegetable peeler or cheese slicer) 
Bring a pot of salted water to boil. When the water is boiling, add the salt and the pasta. Cook pasta until al dente. Drain well.
While the pasta is cooking, heat a large heavy-bottomed skillet over medium-high heat. Add the olive oil and garlic. Sauté for 30 seconds until the garlic begins to sizzle, stirring constantly and making sure it doesn't brown. Remove from heat and set aside.
About 3 minutes before the pasta is ready, reheat the garlic oil over high heat. As soon as the garlic sizzles, add the smoked paprika and chickpeas. Toss well and add half of the spinach. Toss the spinach with two spoons, as if you were tossing a salad, until wilted. Add the balance of the spinach and continue tossing until wilted, about 1 minute. Add the pasta, cooking liquid from chickpeas or pasta water, salt and pepper. Toss quickly and remove from heat.
Spoon pasta into bowls. Garnish with shaved cheese and a drizzle of olive oil.