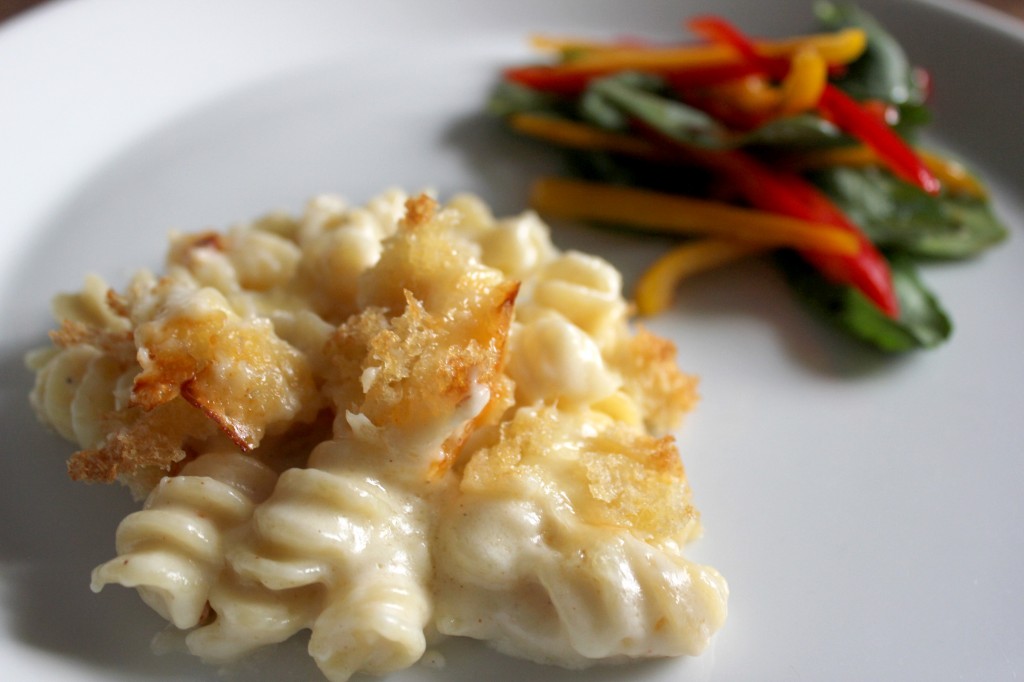 You might recall that my favorite dish to make for friends who have just brought home a little one is Martha Stewart's macaroni & cheese. This is my first time making it for a family who just brought home two little ones.
That's right! My friends Ian & Britta finally had their twins. One girl, one boy. Two healthy, beautiful, 6 pound balls of love. And thank god they did, because Britta had become one seriously uncomfortable lady, carrying around 12lbs of baby and all the stuff that comes with them. As Rose said: "I wish Britta would just have those darn babies so she can feel good again."
As I mentioned, the original recipe is from Martha Stewart. It's posted below with a few extra tips courtesy of yours truly.
Since two hours in the kitchen already wasn't enough for me (sarcasm emoticon here), I'm also making Anna's Best Brownies for teacher appreciation week. Thanks to the friend who gently reminded me about it this afternoon.
• Macaroni & Cheese •
from Martha Stewart – takes about two hours start to finish
8 tablespoons (1 stick) unsalted butter (divided), plus more for dish
6 slices good white bread, crusts removed, torn into 1/4- to 1/2-inch pieces
5 1/2 cups milk
1/2 cup all-purpose flour
2 teaspoons salt
1/4 teaspoon freshly grated nutmeg
1/4 teaspoon freshly ground black pepper
1/4 teaspoon cayenne pepper, or to taste
4 1/2 cups grated sharp white cheddar cheese (about 18 ounces)
2 cups grated Gruyere cheese (about 8 ounces
1 pound rotini pasta
Heat oven to 375 degrees. Butter a 3-quart casserole dish; set aside. Place bread in a medium bowl. In a small saucepan over medium heat, melt 2 tablespoons butter. Pour butter into bowl with bread, and toss. Set breadcrumbs aside.
Put a large pasta pot of salted water on to boil.
In a medium saucepan set over medium heat, heat milk. Melt remaining 6 tablespoons butter in a high-sided skillet or dutch oven over medium heat. When butter bubbles, add flour. Cook, whisking, 1 minute.
While whisking, slowly pour in hot milk. Continue cooking, whisking constantly, until the mixture bubbles and becomes thick. This might take a while, 20 minutes or so. See photo below for what the sauce should look like once it's thickened.
Remove pan from heat. Stir in salt, nutmeg, black pepper, cayenne pepper, 3 cups cheddar cheese, and 1 1/2 cups Gruyere. Set cheese sauce aside.
When water is boiled, add pasta and cook 2 to 3 minutes less than manufacturer's directions, until the outside of pasta is cooked and the inside is underdone. Transfer pasta to a colander, rinse under cold running water, and drain well. Stir pasta into the reserved cheese sauce
Pour mixture into prepared dish. Sprinkle remaining 1 1/2 cups cheddar cheese, 1/2 cup Gruyere, and breadcrumbs over top. Bake until browned on top, about 30 minutes. Transfer dish to a wire rack to cool 5 minutes. Serve hot.