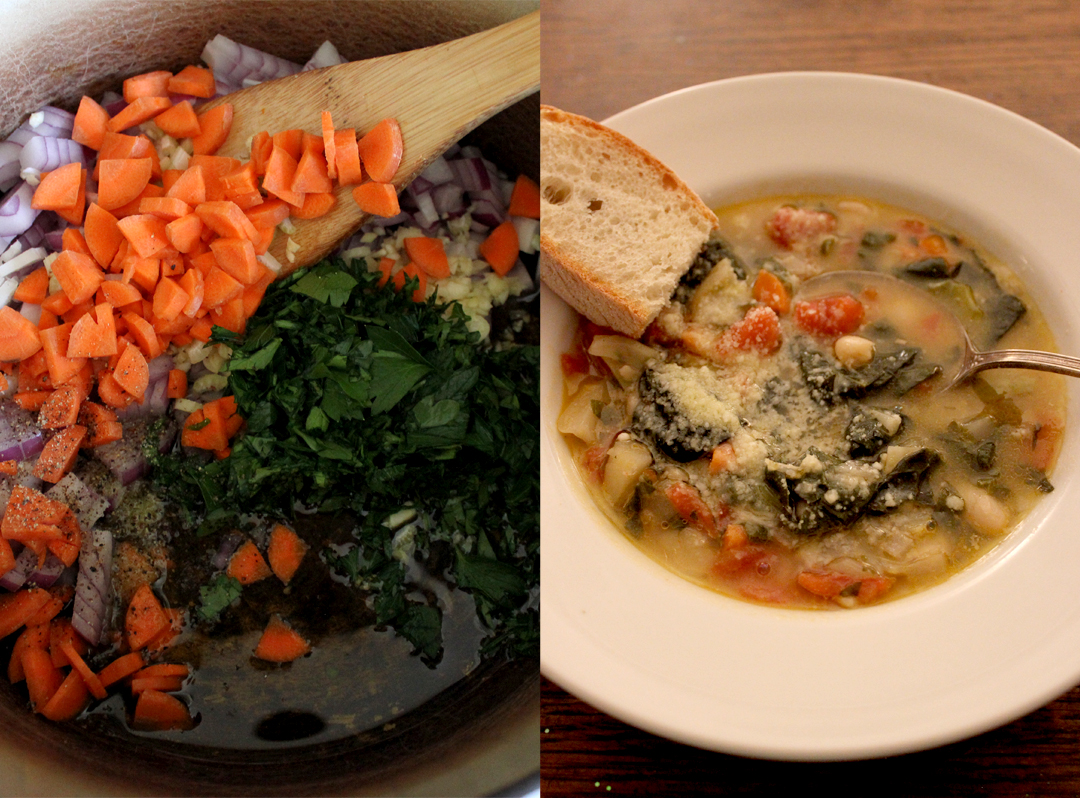 I've been saving up CSA veggies for this recipe. I knew they'd all come eventually, kale, swiss chard, napa cabbage. The cabbage finally arrived last week, I'd managed to preserve the kale and chard while waiting for it. Now it was time to begin.
The recipe I wanted to try was from Dinner A Love Story. Jenny, the author, talks about how it's an all-day project, making this soup. I was equally intimidated as I was anxious to try it.
The soup turned out to be not quite as labor intensive as I'd expected. It takes some advance planning, because you need to soak the beans. There's also a lot of washing and finely chopping of veggies involved, which is tedious (I loathe washing and chopping), but doesn't take all that long.
Another great thing about this soup is that it makes a LOT. I mean a lot, lot. Like, I could barely fit it all into my pot, lot. Plenty for us, plenty to give to our neighbors who just brought home a little baby boy.
Was it worth it? I think so. It's a delicious, hearty, one-dish meal kind of a soup. I made the vegetarian version, leaving out the pancetta, and it was extremely flavorful. And it's one of those soups that has so much good stuff in it that you feel like you've just done your body a favor by eating it.
Tuscan Minestrone
from Dinner A Love Story
8 ounces dried cannellini beans
1 slice prosciutto or pancetta (vegetarians & vegans: this can be omitted)
1 large red onion, minced
1 celery rib, diced
2 garlic cloves, minced
1 carrot, diced
1/2 cup Italian parsley
½ cup olive oil
½ small head Savoy cabbage, chopped (I got confused and used napa cabbage, with good results)
1 ½ bunches kale, cleaned and chopped into small pieces
1 medium potato, peeled and cut into small squares
1 cup canned tomatoes, drained and seeded
1 small bunch Swiss chard, stems removed and cut into small pieces
Salt and freshly ground pepper
Soak the dried beans overnight in a bowl of cold water. The next day, drain the beans and cook them in a large pot with 2 quarts of salted water and the prosciutto or pancetta. As the beans absorb water, keep adding enough hot water to maintain about 2 quarts of liquid at the end of the cooking time. Cook for one hour, then let sit on stovetop in pot.
Saute onion, celery, garlic, carrot, parsley, salt and pepper in the olive oil in a Dutch Oven or large stockpot for about 12 to 15 minutes. Add the cabbage, kale, and potato to the stockpot. Then add tomatoes, smushing them with your hands as you drop them in the pot. Cover and simmer for 15 minutes, adding a little bean liquid every now and then if it's looking dry. Then add Swiss chard.
Remove the prosciutto from the beans. Scoop out about 1 cup of beans with a strainer or slotted spoon and set aside. With a handheld  mixer, blend the remaining beans in their pot, then pour bean puree into the stockpot with vegetables, stirring to combine. Simmer together for about 15 minutes more until heated through. When you are ready to serve, add the reserved whole beans. Add salt and pepper.
Ladle soup into bowls and serve with crusty bread, freshly grated Parmesan and a healthy drizzle of good quality olive oil.