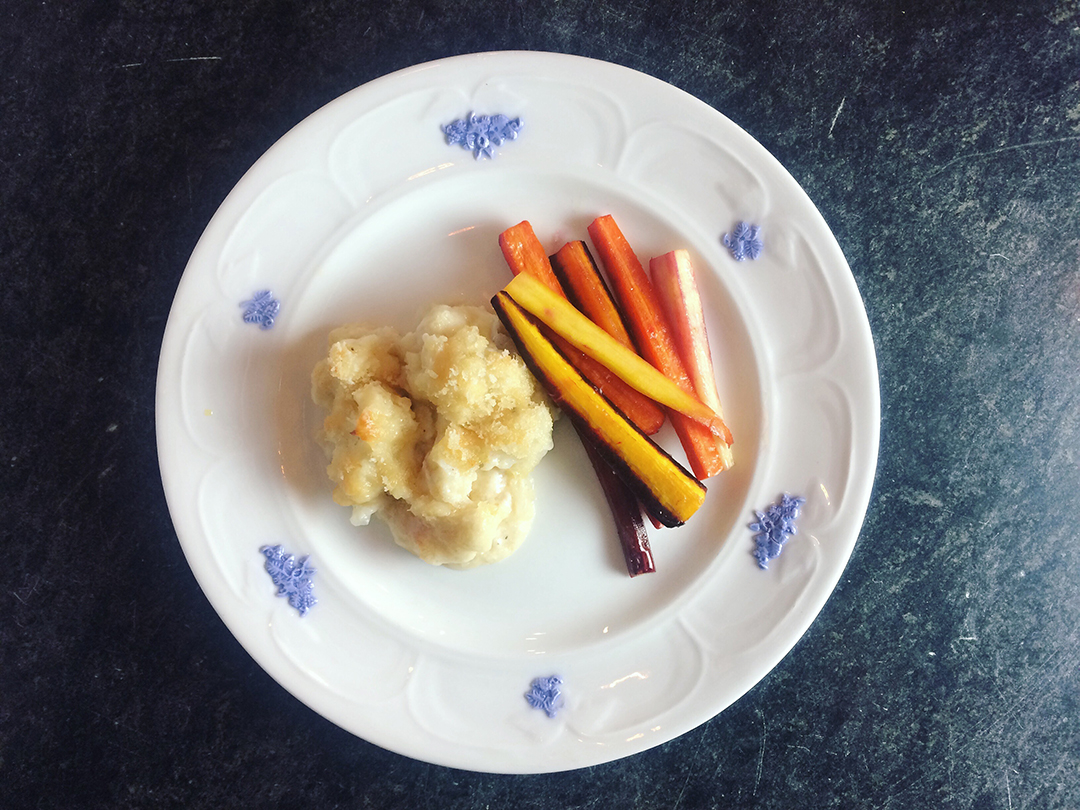 I feel like every time I do the cooking, I make some kind of cauliflower dish.
The cauliflower gratin I made tonight was really, really decadent and good. It's like mac & cheese except with cauliflower instead of mac. We had it with roasted tricolor carrots. Shane and the kids had the leftover chicken & rice from last night.
Scroll down for the recipe. Also I had a cute helper.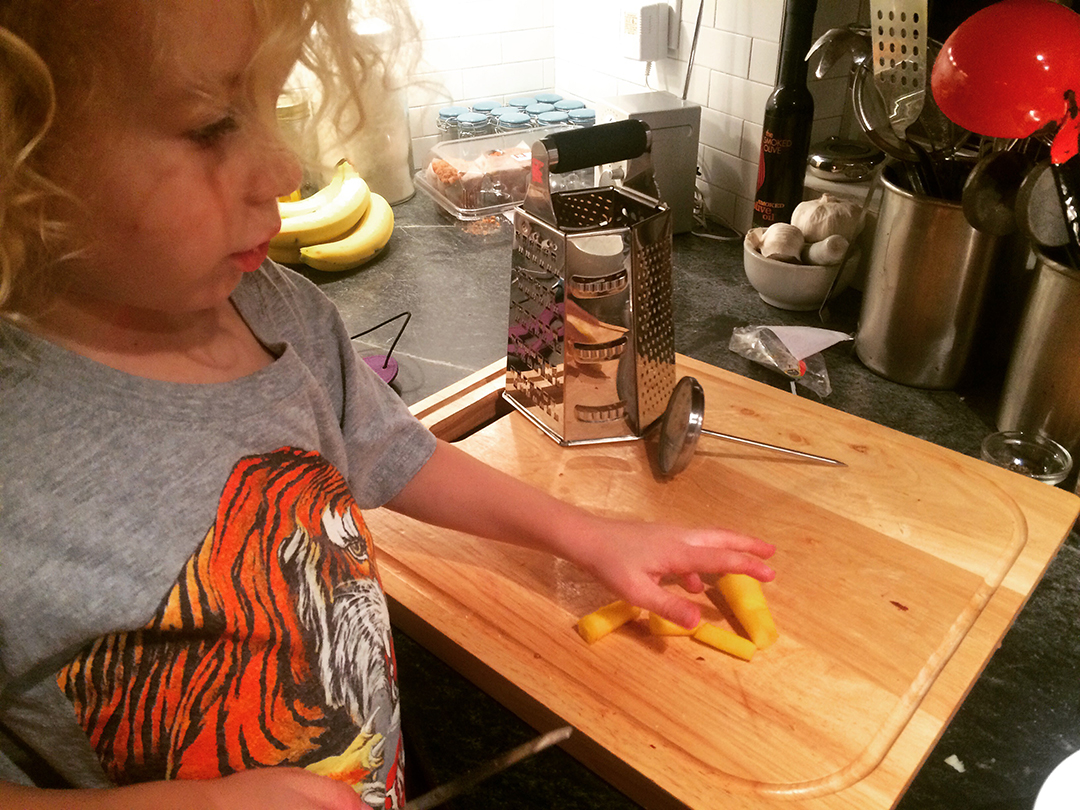 • Cauliflower Gratin•
Adapted from Ina Garten
serves 4-6 
30 minutes prep (with kids around), 1.25 hours start to finish
1 large head cauliflower broken up into bite size florets (approximately 6-7 heaping cups of florets)
2 cups grated gruyere or comte
1/2 cup grated cheddar
4 tablespoons butter divided
3 tablespoons flour
2 cups hot milk
1 teaspoon kosher salt
1/4 teaspoon black pepper
a pinch of grated nutmeg
1/3 cup panko breadcrumbs
Heat oven to 375. Boil a large pot of generously salted water. While the water is boiling, grate your cheeses, combine & set aside. Break the cauliflower up into bite size florets and boil in the pot of water for about 5 minutes, until tender. Drain and set aside.
Heat the milk on the stovetop or (carefully) in the microwave. Melt 2 tablespoons of butter in a small saucepan over low heat. When the butter is melted add the flour and stir with a wooden spoon for 1 minute. Add the hot milk, increase heat to medium and whisk constantly until it begins to simmer (about 3 minutes). Whisk for an additional minute, until thickened.
Remove sauce from heat and add 1 cup of the cheese mixture, salt, pepper and nutmeg, stir well to combine. Spread a layer (about 1/3) of the cheese sauce in the bottom of a greased 8 x 11 x 2 inch baking dish. Add the drained cauliflower. Top with the remaining sauce and then the remaining cheese. Sprinkle panko evenly over the top. Melt the remaining 2 tablespoons of butter and drizzle all over the top of the gratin.
Bake for 40-45 minutes until the top is golden. Let sit for 5-10 minutes (so it's not totally molten) and serve.