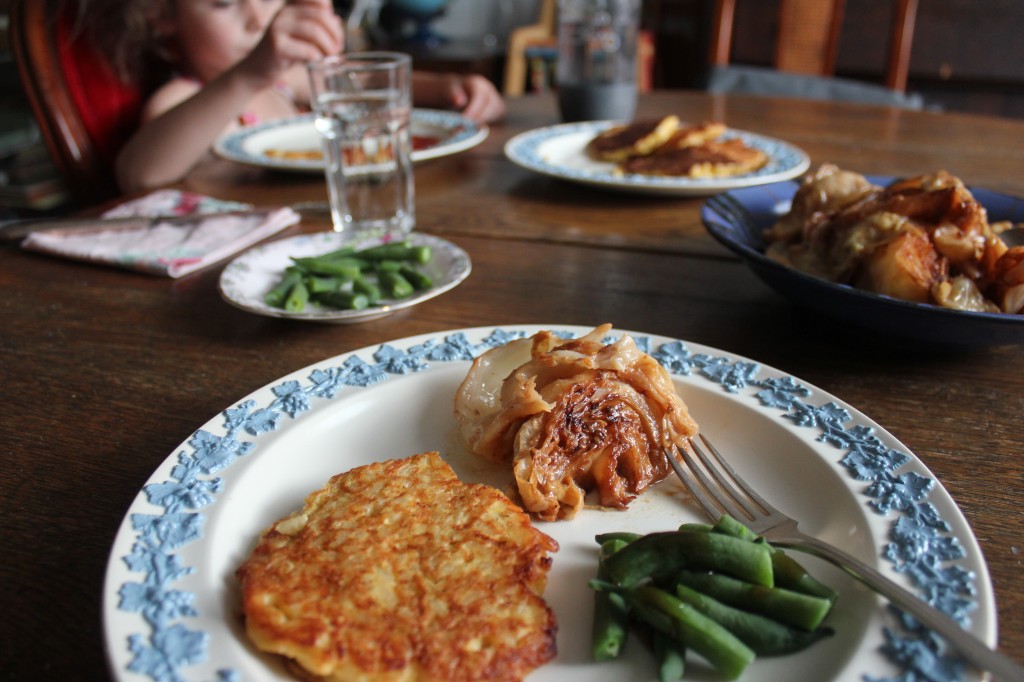 We had a humble, brownish meal of cabbage and rice tonight, but please don't stop reading because it was really tasty.
The thing about cabbage is that I used to think coleslaw was made from the recently deceased. Recently deceased people. When I was 4 or 5, our neighbor's husband died. After the funeral, the family came by with a huge amount of leftover coleslaw and I came to the very logical conclusion that they'd made the offending dish from the dead guy. Suffice it to say, my relationship with cabbage was off to a rocky start.
I been over the dead guy thing for a long time now, but cabbage can be uninspiring, don't you think? Do you sometimes sigh when it appears, yet again, in your csa box? Cream braised cabbage, however is a totally different story. It is so surprisingly delicious that I've even served it to company. The recipe is easy but takes about an hour to make.
I also made risotto cakes which is a recipe my friend Britta has been asking me to post for a while. I usually make them with plain old left over rice but they were extra-good with leftover risotto. They are very quick and easy to make.
• Risotto Cakes •
1 1/2 cups left over risotto or rice
2 eggs
2-4 tablespoons finely grated pecorino or parmesan cheese
salt and pepper if needed, if you're using well-seasoned risotto you may not need salt & pepper 
Combine all ingredients in a bowl. Melt some butter in a non-stick pan over medium heat. Drop the rice mixture by large spoonfuls into the pan and cook for 3-5 minutes per side or until nicely browned. Done.