It took a while, but I think I'm finally ready to eat raw kale salad again. We got some nice baby kale in our CSA box this week. Paired with roasted chick peas, lemon and parmesan, it was a good hearty side to have with simple pasta. Scroll down for the recipe.
The little guy seems to be a big fan of kale, he was double fisting the discarded stalks as I prepared the salad.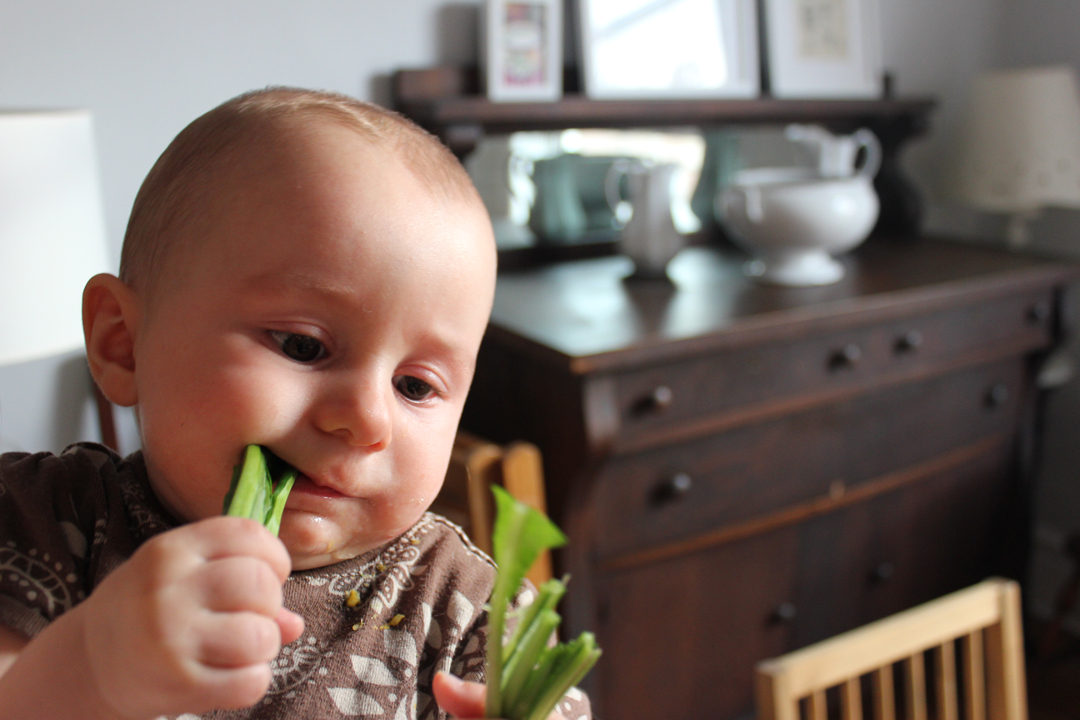 • Baby Kale & Chick Pea Salad •
from Once Upon A Chef
For the Roasted Chickpeas
1 (15 oz) can chickpeas, rinsed and drained
1 tablespoon extra virgin olive oil
 1/2 teaspoon salt
1/4 teaspoon freshly ground black pepper
For the Salad
1 tablespoon freshly squeezed lemon juice, from one lemon
3 tablespoons extra virgin olive oil
1 small garlic clove, minced
1/4 teaspoon salt
1/8 teaspoon freshly ground black pepper
1 5oz Bag or Container Baby Kale (about a salad-spinner full)
1/2 cup shaved  (or grated) Parmesan
Preheat oven to 425° F. Line a baking sheet with aluminum foil. Place the chickpeas on the prepared baking sheet and toss with the olive oil, salt and pepper. Roast for 10-12 minutes, stirring once, until the chickpeas are slightly shrunken and crispy. Let cool. In a large bowl, combine the lemon juice, olive oil, garlic, salt and pepper. Add the greens and toss until evenly coated. Taste and adjust seasoning if necessary (I usually add a bit more salt). Arrange on plates and top with Parmesan shavings and crispy roasted chickpeas.