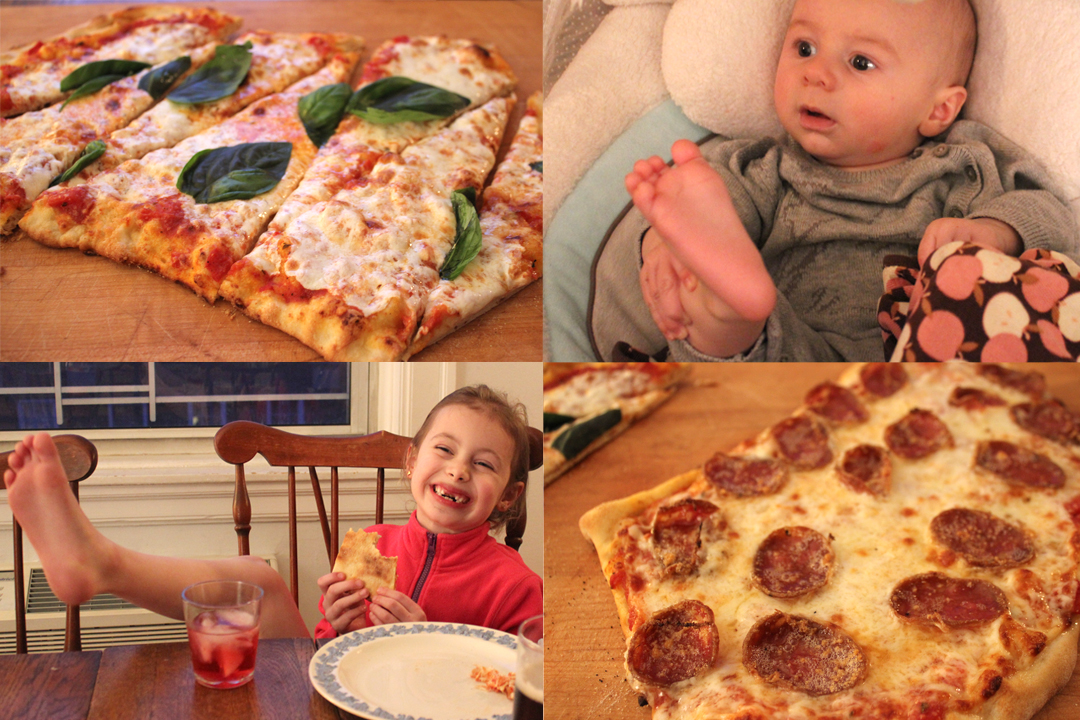 Shane took on dinner again tonight, this time with his always delicious pizza pie! I'm finally going to give you his crust recipe, so please read on.
We have ok pizza in our neighborhood, but not great pizza. Years ago, Shane decided that he'd have to learn to make his own pizza if we didn't want to limit ourselves to mediocre pizza while at home. He took a class at the Institute of Culinary Education and has been improving on his technique ever since.
Shane always uses the same crust and sauce recipe, and then improvises. The crust recipe is below. For the sauce, he uses a can of chopped San Marzano tomatoes which he cooks briefly with olive oil, salt, oregano and a pinch of red pepper flakes. He likes to keep the sauce juicy and light. I know that's not much of a recipe, but you can do it. Just think fresh rather than stewed and overcooked.
He always makes a Margerhita pie, with slices of fresh mozzarella scattered over sauce and topped with basil leaves, and a traditional cheese pie with sliced mozzarella, the kind you get at the deli counter. For whatever dough is left after that, he improvises. We've had everything from white pizza (no sauce) with ricotta, gorgonzola, mozzarella and parmesan, to fried egg pizza.
In other news: Sid discovered his feet, and Rose has feet too. Neither of them has much in the way of teeth.
• Shane's Pizza Dough (Thin Crust) •
from Nick Maligieri's Baking Class
Makes 2 12-14 inch crusts, or 3 freeform oblong crusts
3 cups unbleached, all-purpose flour
1 1/2 teaspoons sea salt
1 1/2 cups warm tap water
1 scant tablespoon (one envelope) active dry yeast
1 tablespoon olive oil plus more for greasing the bowl
Stir flour and salt together in a mixing bowl. Whisk the yeast, then the oil into the water and stir into the flour mixture to make a soft dough. Turn the dough out on a floured work surface and knead by folding it over itself with a bench scraper. When the dough is relatively smooth, form it into a ball. Oil a medium bowl and place the dough into it. Turn the dough over so the top is oiled and cover tightly with plastic wrap. Allow to rise until doubled.
Scrape the dough out on to a floured work surface. Cut it into two or three pieces and return all but one to the bowl and cover. Press and pull the dough gently to make a round-ish shape. After the dough is about 8″, transfer it to a peel and continue pressing from the center out to fill the peel but leave some room around the edge. Put on your toppings and bake in a pre-heated 450 degree oven until done.