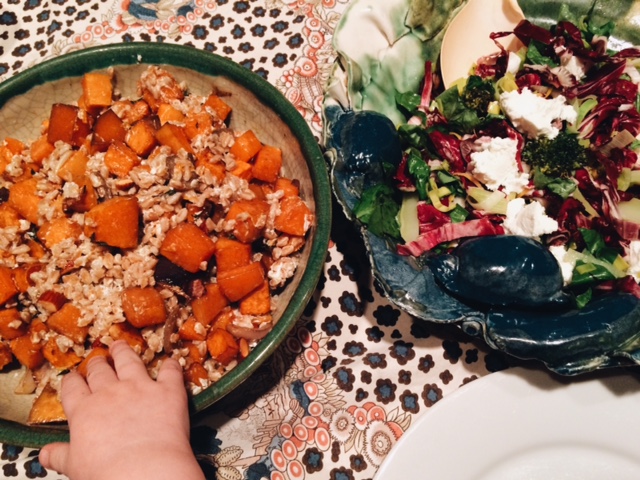 It was Sunday night, and I was really in the mood for farro. My usual recipes didn't appeal to me so I thought I'd try this one.
Not surprisingly, we didn't have all the ingredients and I decided to mess with the recipe. The result was amazing (and smelled amazing while cooking too!) The recipe is below.
We also had salad with broccoli, leeks, basil, goat cheese and radicchio, and pork tenderloin. But what I'm taking home from this dinner is the farro.
P.S. If you have a baby, he or she may devour this dish.
• Farro with Roasted Butternut Squash, Goat Cheese & Almonds •
adapted from this recipe from 101 Cookbooks
serves 6 as a side dish
1 cup farro, rinsed and drained
salt
3 or more cups butternut squash, cut into 1/2-inch dice 
1/2 large red onion cut into inch-ish sized chunks
1 tablespoon fresh thyme, minced
olive oil
1 tablespoon balsamic vinegar
1/2 cup almonds, toasted & chopped
1/4 cup (about half a small log – more to taste) goat cheese, crumbled
Heat the oven to 400 degrees. In a small saucepan, boil the farro in plenty of salted water until al dente. When done, remove from heat, drain, and set aside.
Meanwhile, toss chopped butternut squash, thyme, onion & balsamic vinegar in a bowl with a good amount of olive oil and salt. Roast in a baking tray for about 45 minutes until fragrant and cooked through, browned nicely and not too mushy. Toss with a spatula for even cooking and taste along the way.
When the squash is done, toss it in a large bowl with the farro and almonds, taste for seasoning, adding more salt and oil if needed. Add crumbled goat cheese and toss one more time. Serve warm.