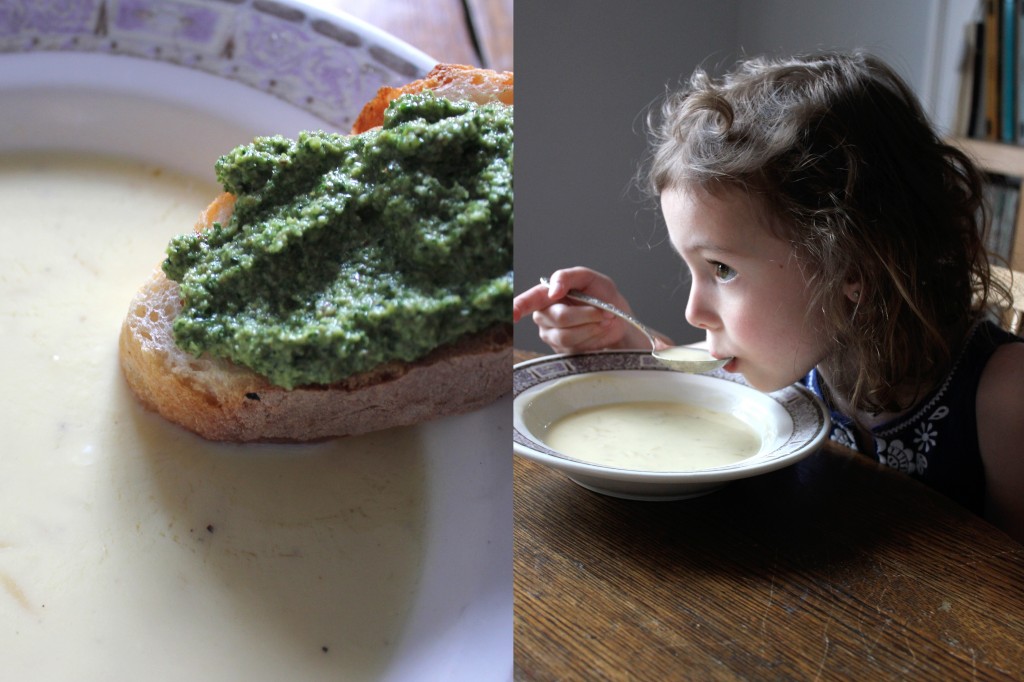 Here's a confession: I feel burned out sometimes. Making dinner is never a chore, but sometimes deciding what to make for dinner is. Particularly when under the weather, and I'm feeling kinda lousy today.
My conversation with Shane went like this:
Nina: I don't know what to make for dinner, nothing sounds good.
Shane: I'm buying a dozen cupcakes at Billy's Bakery for my crew, and I was going to bring three of them home for you and Rosey. (Proceeds to list off all 12 flavors).
N: Maybe soup. Did you eat a big lunch today?
S: I had a baguette with peanut butter. So, no.
N: Um.
S: Just pick up some prosciutto, mozzarella, and bread, ok?
My mom always made us egg-lemon soup when we were sick, and that sounded just about right. There's no dog eared, hand written, index card for me to dig out, I don't think my mom ever used a recipe. I found a simple—and quick! 15 min.—recipe for Avgolemeno (egg-lemon soup) at Dinner A Love Story. The original recipe is here, my  modification is below. And Jenny from DALS is right, kids do like it!
• Egg-lemon Soup •
adapted from Dinner A Love Story
4 cups chicken broth*
1/4 cup uncooked orzo
salt and pepper
3 eggs
4 tablespoons lemon juice
In a large saucepan, bring the broth to a boil.
Add the orzo and cook until tender but still al dente, about 7 minutes. Season with the salt and pepper and reduce heat to low; let simmer.
In a medium bowl, whisk together the eggs and lemon juice until smooth. Ladle about 1 cup of the hot broth into the egg-and-lemon mixture, whisking to combine.
Add the mixture back to the simmering saucepan. Stir just until the soup becomes opaque and thickens as the eggs cook, 1 to 2 minutes. Be sure to stir constantly or else the egg will curdle, and instead of smooth creaminess, you'll have scrambled eggyness. Add more salt and pepper if need be, and serve.
*Our family uses College Inn chicken broth for this. I haven't tried it with vegetable broth. More on me eating chicken broth later.