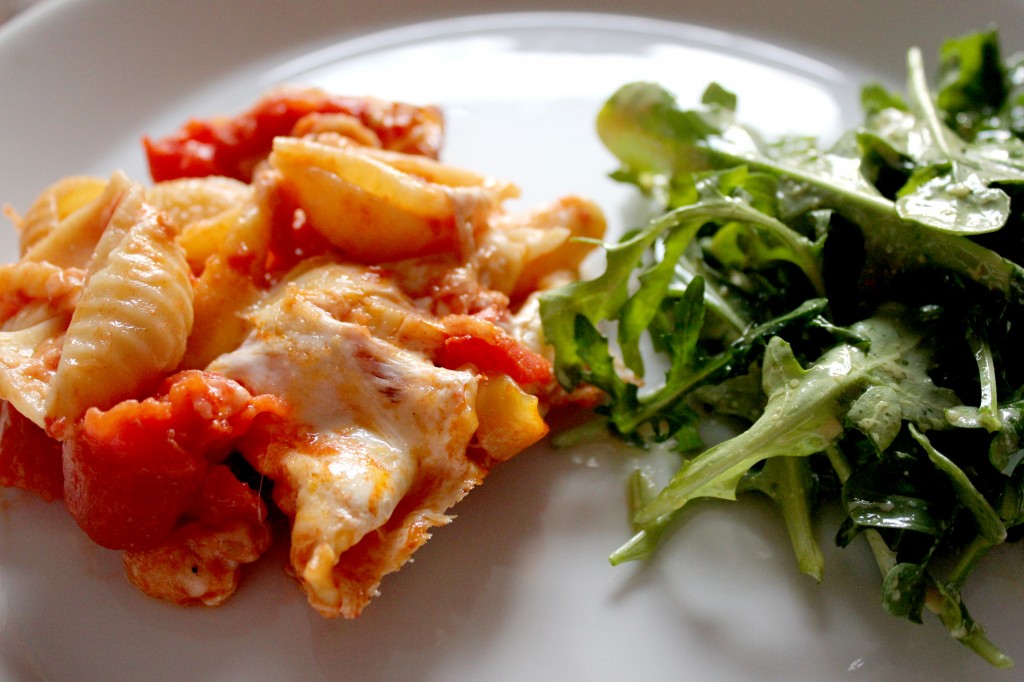 Tonight was one of those nights, I was feeling overwhelmed and needed something easy. Easy pasta bake is indeed easy. It's not quick, but the hands-on time is extremely minimal. I like to bake half of it on the night I make it and put the other half in the freezer for an even easier weeknight meal, sometime in the future.
I've posted about Easy Pasta Bake before, the original recipe is from the Kitchn. I don't know if I deliberately left out the prosciutto the first few times I made it, or if I never noticed it before. Whatever the answer, the vegetarian version is as follows:
• Easy Pasta Bake (meat-free version) •
adapted from the Kitchn with sauce from Marcella Hazan via Smitten Kitchen
1 (16 ounce) package pasta shells, or similar shape
1 28oz can whole, peeled, San Marzano tomatoes
1 small to medium yellow onion, peeled and halved
5 tablespoons unsalted butter
1 (8 ounce) ball fresh mozzarella, chopped into bite-size pieces
2 cups shredded mozzarella cheese, divided
1/2 cup freshly grated Parmesan or Pecorino cheese
Kosher salt and freshly ground black pepper, to taste
Combine tomatoes, butter and onion in a medium sized pot or dutch oven and bring to a simmer. Cut up the tomatoes a bit or crush them with a wooden spoon as you cook the sauce. Simmer gently for 45 minutes. Taste and season with salt and pepper. Set aside
Preheat oven to 350°F. Grease one large glass baking dish or two glass pie pie dishes or casseroles with olive oil.
Bring a large pot of generously salted water to a boil and cook shells until al dente. Drain, and return the pasta to the pot.
Stir the tomato sauce, fresh mozzarella, and 1 1/2 cups of the shredded mozzarella into the cooked pasta. Season with salt and pepper to taste. Pour into prepared baking dishes and top with the remaining shredded mozzarella and Parmesan. Bake*, covered, for 20 minutes, and then uncover and bake for another 10 minutes, or until bubbling and light golden brown. Serve with a simple green salad.
*Note: If you are making half for tonight, and another half for the future, use two dishes and prepare per directions above up until baking. Bake one and cover the other and freeze. When ready to serve, remove from the freezer in the morning and let thaw on the countertop during the day. Then bake as directed above.