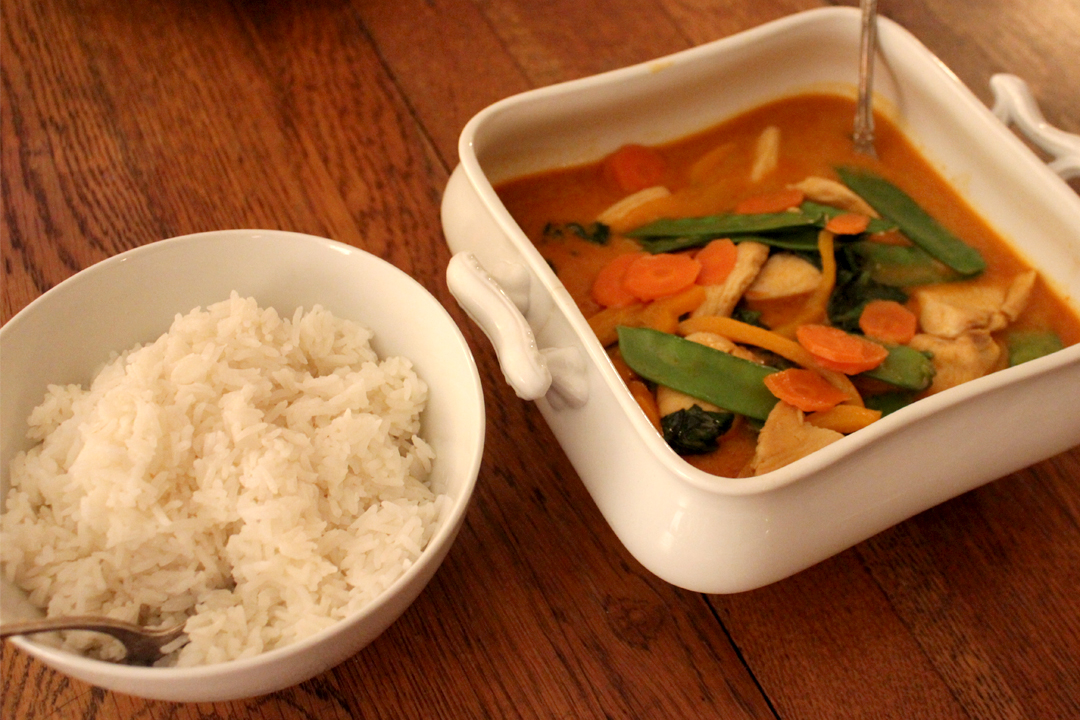 How is it possible that I've been alive for 42 years and never learned that Thai curry is a cinch to make? This evening, I happened to glance at the back of a can of Thai coconut milk, the recipe I found there was my inspiration. On the back of the can!
Rose whined "Awww, this is restaurant food." Because at the moment she finds takeout food to be utterly abhorrent. I took the restaurant comment as a compliment. Shane's rave review was "really good."
• Thai Red Curry with Chicken and Vegetables •
1 boneless, skinless chicken breast cut into bite size pieces
1 tablespoon vegetable or other neutral flavored oil
salt
1 can Thai coconut milk (I use Thai Kitchen, don't use Goya, it's too watery)
2 tablespoons red curry paste
1 tablespoon brown sugar
3 big handfuls of snow peas
1 carrot peeled and cut into thin slices
1 red, orange or yellow bell pepper sliced
a big handful (or two) of basil leaves
1-2 tablespoons Thai fish sauce
3/4 cups jasmine rice
1/2 cup coconut milk (optional)
1 tablespoon butter
1 cup water (or 1 1/2 cups if not using coconut milk)
Combine rice, butter, water and coconut milk (if using) in a small saucepan. Cover and bring to a simmer. Simmer until done, and remove from heat, leaving covered until ready to serve.
Meanwhile, heat oil in a skillet. Season the chicken pieces with a little salt and cook until golden. Remove chicken from pan, it doesn't have to be totally cooked through.
Add coconut milk to skillet and bring to a boil. Add curry paste and brown sugar and stir to combine. Add and simmer until cooked through (cut a piece open to check). Add peas, carrots and bell pepper and cook for about 3-5 minutes, until peas are tender but still bright green. Add basil and fish sauce and stir to combine. Serve over rice.