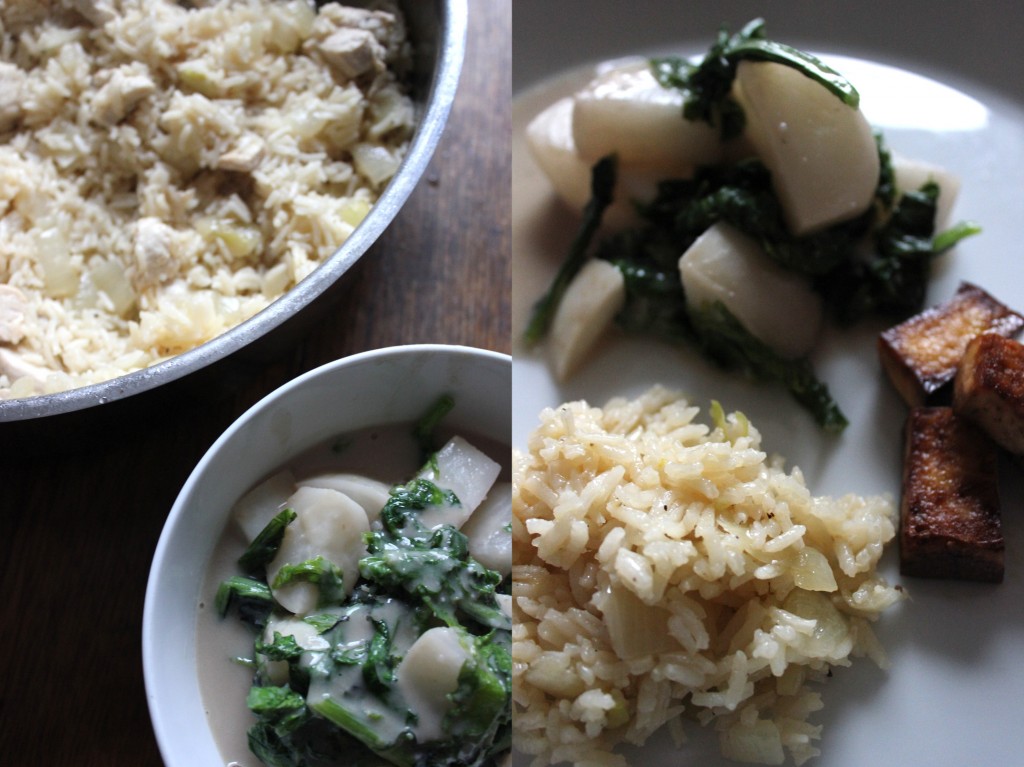 One of my favorite CSA vegetables is the Japanese (or White) Salad Turnip. I didn't even know it existed before I joined my CSA. When I first received my first bunch, I went straight to my CSA website to see if they had any good tips on what to do with it.
The recipe they have is wonderful. Both the tender root and the greens are cooked with miso butter. It's a perfect combination of seasoning and texture. I haven't tried any other salad turnip recipes because I haven't wanted to. Needless to say, I was thrilled to get salad turnips in my CSA box today.
CSA night is always a little tricky dinner-wise. Pickup begins at 5:30, but somehow, by the time we get there, drop off our compost, pick up our veggies, socialize and get home, little time is left to prepare dinner. Whatever I make needs to be really quick.
Chicken & Rice from Mark Bittman, via Dinner A Love Story, is a perfect CSA night dish. It's super easy and only takes about 30 minutes start to finish.
Basically you boil some broth, saute an onion, add rice to the onion and stir, add chicken and broth to the rice, cover and let cook for 20 minutes. That's it! So simple that you'd think it wouldn't be very tasty, but Rose and Shane both loved it.
The recipe is here, and also below for convenience.
• Japanese Salad Turnips with Miso Butter •
adapted from Gourmet Magazine via The Golden Earthworm
3 tablespoons white miso
3 tablespoons unsalted butter, softened, divided
1 bunch Japanese turnips with greens
An additional bunch of greens, such as red kale or mustard greens (optional)
1/3 cups water
2 tablespoons seasoned rice vinegar
Stir together miso and 2 tablespoons softened butter. Discard turnip stems and coarsely chop leaves. Do the same with your additional bunch of greens, if using. Halve or quarter turnips (leave whole if tiny) and put in a large saucepan or dutch oven along with water, vinegar, remaining tablespoon butter, and 1/8 teaspoon salt. Bring to a boil over medium-high heat, then boil, covered, 10 minutes. Add greens all at once, stir and turn frequently until greens are still bright but thoroughly wilted. Stir in miso butter and cook 1 minute.
• Easy Chicken & Rice •
from Mark Bittman via Dinner A Love Story
2 cups chicken broth
3 tablespoons olive oil
2 medium onions, about 8 ounces, peeled and sliced
salt and pepper
2 chicken breasts cut into bite size pieces
1 1/2 cups white rice (such as long-grain, jasmine or basmati — brown rice takes longer to tenderize and you don't want to overcook your chicken)
handful herbs, chopped
juice from 1/2 a lemon
Bring broth and one cup of water to a boil. While you are waiting for it to boil, add olive oil to a large skillet (that has a lid) set over medium-high heat. Add onions, salt and pepper. Cook until onions soften, about 4 minutes. Add rice to the pan and stir until each grain is covered in oil. Nestle chicken in rice, add salt and pepper, then pour in the broth (or water). Reduce heat to medium-low and cover. Cook 2o minutes, until all water is absorbed and chicken is cooked through. Garnish with parsley and a squeeze of lemon.