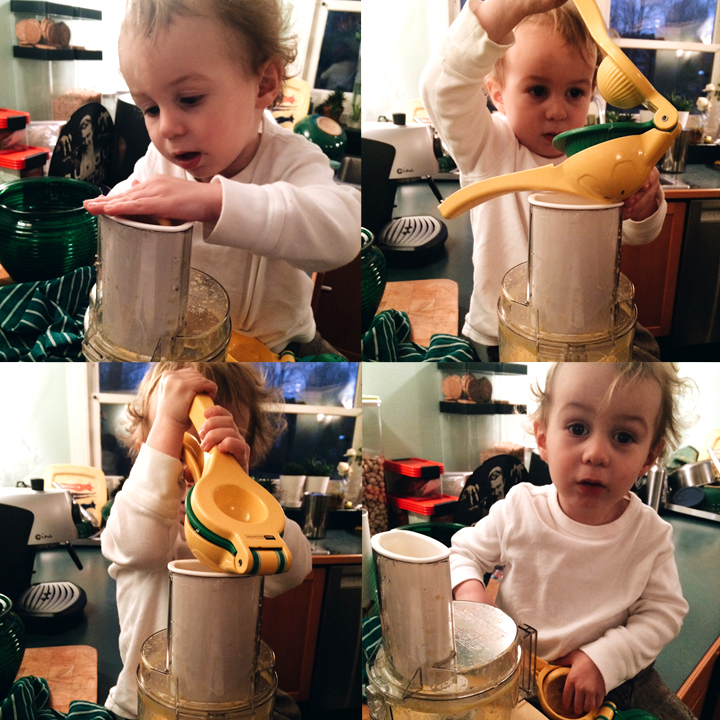 Here are the top 5 reasons I rarely cook:
I get home too late
I get home too late
I get home too late
I get home too late
Sid
With my parents, sister and brother-in-law away this week, we had to re-jigger our schedule a bit, which left me cooking a seemingly simple dinner with 2 year old Sid while Shane picked Rose up at the gym.
Ravioli with sage butter takes very little effort, you simply boil the water and sautée a handful of sage leaves in butter while the ravioli cooks. Simple.
Also simple? Steamed asparagus with 2-minute blender hollandaise sauce (recipe below). Honestly, if I were left alone to make this meal it would not take more than 20 minutes. But with Sid, it somehow took over an hour.
Sid really likes to "help" cook, which to be truthful, is generally not all that helpful. I unplugged the food processor and let him squeeze an already squeezed lemon into the spout. When he began to repeatedly drop the rind through the spout and into the hollandaise, I put the lid on and let him drop lemon rind into the lid.
When he realized he could remove the lid and resume dropping the rind into the partially-made sauce, I removed him from the counter. This resulted in 10 minutes of screaming "I need the lemon! Please have the lemon! I neeeed it!" I think you get the picture.
Not to worry! Dinner was ultimately served and consumed by Shane, Rose and I. The hollandaise sauce was easy and delicious. Sid opted for a bowl of peanut butter.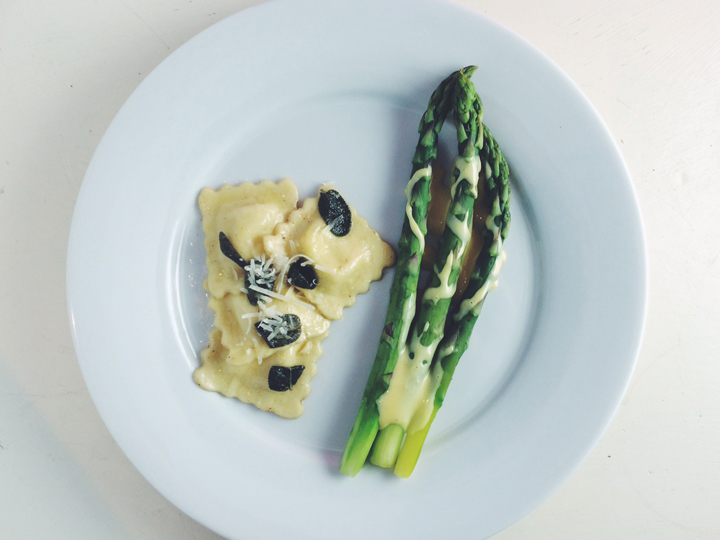 • Quick Blender Hollandaise •
from The New New York Times Cookbook
makes 3/4 cup
1/2 cup butter
3 egg yolks
Juice of 1/2 lemon
Salt, to taste
Pinch of cayenne
Melt butter and keep it hot, but do not brown. Put the yolks, lemon juice, salt and cayenne in the container of an electric blender or food processor. Blend on low speed, gradually adding the hot butter until the sauce is thickened and smooth.