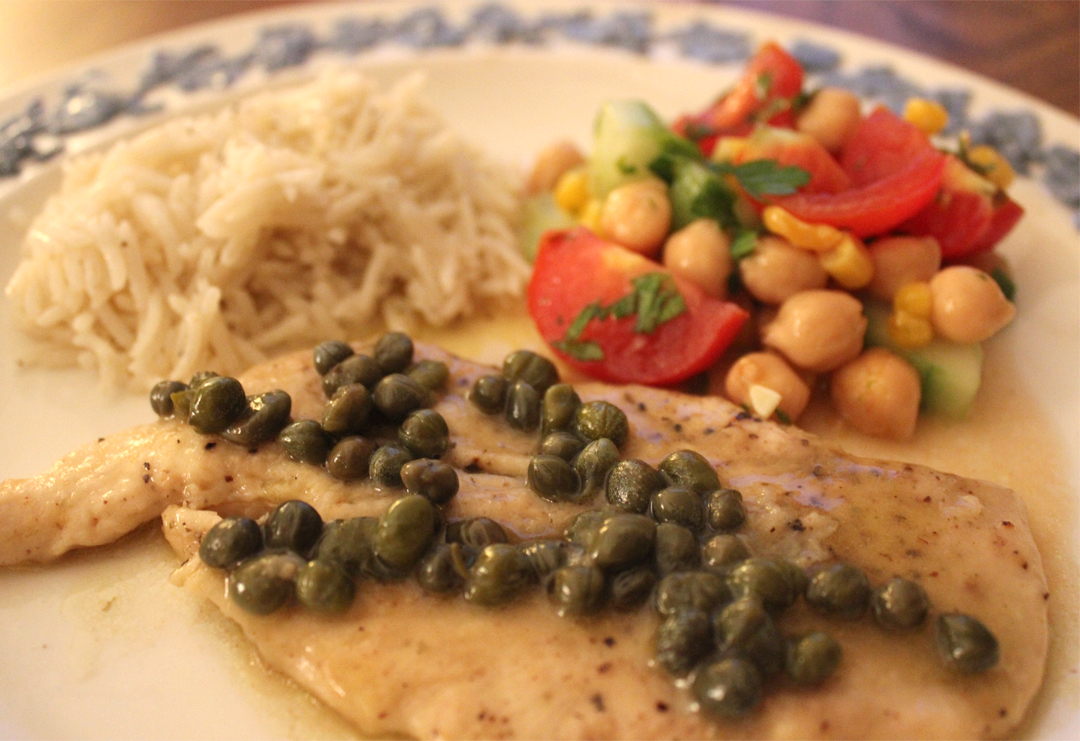 My good friend Rachel has been calling and emailing me with ideas for quick and easy recipes. One of her suggestions was Chicken Piccata, which with my seemingly endless appetite for lemony-salty things, sounded like pregnant lady heaven. And it was.
Rachel gave me her recipe verbally, over the phone. I hung up and promptly forgot what she told me. This recipe (also below) from Giada De Laurentiis seemed simple enough, and most closely resembled what I think Rachel may have said to do.
It was a huge hit. I loved it because it didn't taste like chicken (just incredibly delicious sauce), but satisfied my newfound craving for animal protein. Rose loved it because it was lemony and capery and chicken, and Shane just loved it.
To keep the lemony thing going, I made a salad of tomatoes, cukes, roasted corn, chick peas and parsley. It was dressed with (you guessed it) lots of lemon, a smashed garlic clove, salt and olive oil. CSA members, take note.
• Chicken Piccata •
from Giada De Laurentiis via the Food Network
2 skinless and boneless chicken breasts, butterflied and then cut in half*
Sea salt and freshly ground black pepper
All-purpose flour, for dredging
6 tablespoons unsalted butter
5 tablespoons extra-virgin olive oil
1/3 cup fresh lemon juice
1/2 cup chicken stock
1/4 cup brined capers, rinsed
1/3 cup fresh parsley, chopped (optional)
Season chicken with salt and pepper. Dredge chicken in flour and shake off excess.
In a large skillet over medium high heat, melt 2 tablespoons of butter with 3 tablespoons olive oil. When butter and oil start to sizzle, add 2 pieces of chicken and cook for 3 minutes. When chicken is browned, flip and cook other side for 3 minutes. You can do all of the chicken at once if you have a large skillet, just be sure not to crowd the pieces. Remove and transfer to plate. Melt 2 more tablespoons butter and add another 2 tablespoons olive oil. When butter and oil start to sizzle, add the other 2 pieces of chicken and brown both sides in same manner. Remove pan from heat and add chicken to the plate.
Into the pan add the lemon juice, stock and capers. Return to stove and bring to boil, scraping up brown bits from the pan for extra flavor. Check for seasoning. Return all the chicken to the pan and simmer for 5 minutes. Remove chicken to platter. Add remaining 2 tablespoons butter to sauce and whisk vigorously. Pour sauce over chicken and garnish with parsley.
* To make this a lot easier, buy your chicken breasts already cut really thin, to avoid having to butterfly and cut.