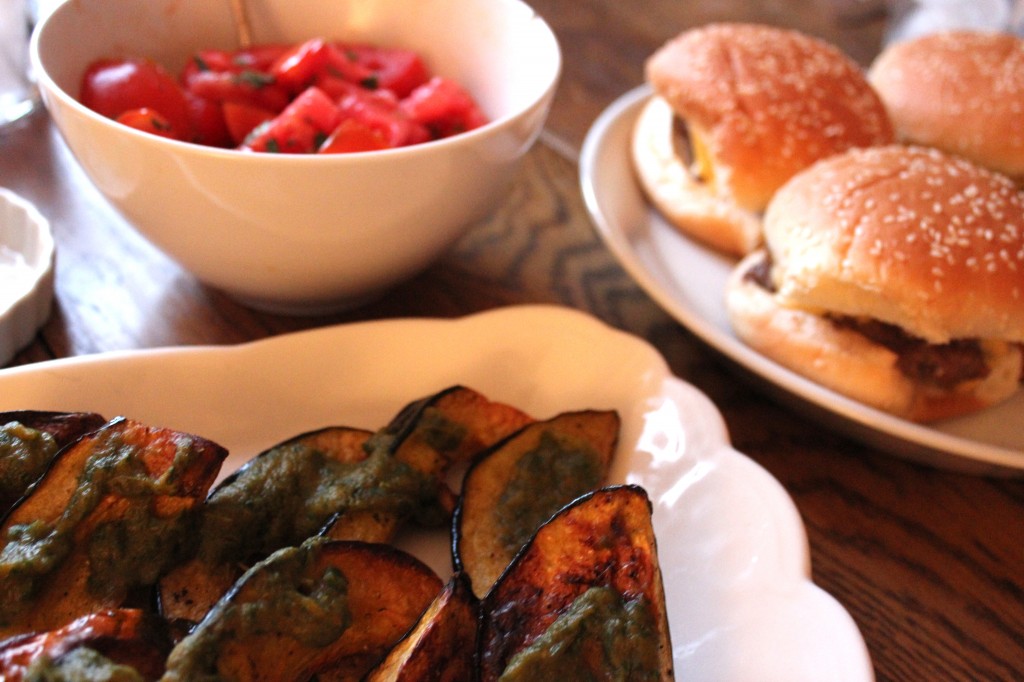 The squash is coming. My csa box had three winter squash this week, it seems early, but I know this means the season of heavy boxes has officially started. I roasted the squash and served it with a poblano pepper salsa and goat cheese on the side. The tomatoes were in a simple vinaigrette with fresh oregano. For Shane & Rose I made butter burgers.
• Roasted Acorn Squash with Poblano Salsa •
For the Squash:
1 acorn squash, halved, seeded and cut into 1″ strips
2 tablespoons olive oil
1/2 teaspoon salt
pepper to taste
For the Salsa:
3 poblano peppers, roasted, seeded and peeled
Juice from 1 lime
A large handful of cilantro leaves
Salt to taste
Heat oven to 400 degrees and put the poblano peppers in to roast until skin is browned and peppers are soft. Once roasted, remove peppers from oven to cool and turn heat down to 350. Meanwhile, wash, halve and seed the acorn squash. Cut squash into 1″ strips and toss with the olive oil, salt and pepper until well coated. Lay squash slices flat on a baking tray and bake for about 45 minutes until slightly browned and soft, flipping half way through. Peel and seed the poblano peppers and put them into a Cuisinart or bowl (if you're using a hand blender), add the lime juice, cilantro and salt and blend until smooth. Top warm slices of roasted squash with salsa and serve.
• Shane's Buttery Burgers •
1lb ground beef
1/2 stick (4 tablespoons) butter, melted
salt and pepper to taste 
Pre-heat oven to 350 degrees. Mix all ingredients together and form into patties, about 3/4″ to 1″ thick. Heat an un-greased oven-proof skillet over high heat, add some salt. Cook burgers for 1 minute per side until browned. Remove pan to oven and bake for 5 minutes for medium-rare. Add cheese at the last minute if desired. Serve on buns. Some folks like a pickle slice too.