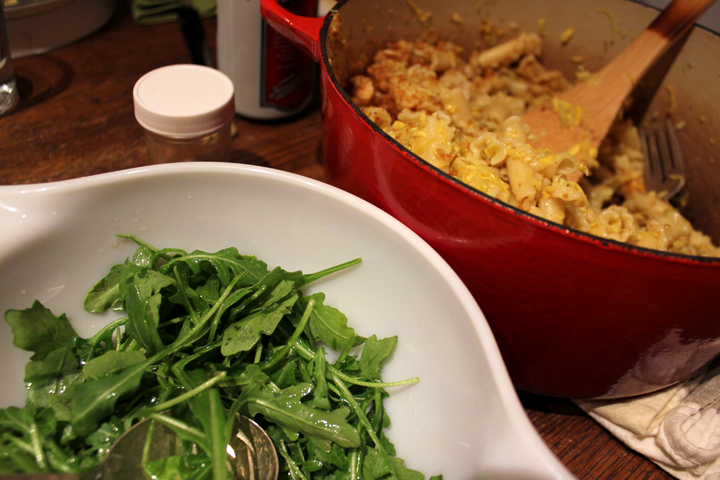 My parents asked for the night off tonight. It wasn't a big deal since I only work half a day on Friday, and because I had put myself on the schedule to cook when I made the week's meal plan anyhow. Still, it made me chuckle that they asked.
Tonight was a new recipe for us, from the book Keepers. And guess what? It's a keeper.
The recipe, Fusilli with Zucchini, Gruyere and Breadcrumbs, was a hit. I liked it for the flavor and the high ratio of vegetable to pasta, Shane liked it enough to take the leftovers for lunch, and Rose devoured hers so quickly that I questioned whether she'd eaten at all. Sid threw his pasta onto the floor and his fork into the serving pot and then ate a banana.
The meal was significant in that it was the first we've cooked and eaten in our own kitchen. It's not that we haven't been cooking and eating, it's just that my parents kitchen downstairs is much bigger and more well-equipped than ours. It was nice to feel a bit of autonomy for a change.
I adapted the recipe slightly to make up for a lack of the correct ingredients and because I'm a cheese whore. Our version is below.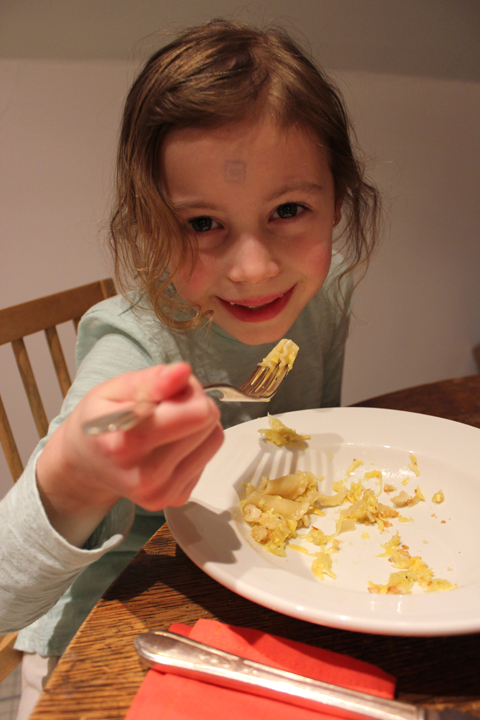 • Fusilli with Summer Squash, Gruyere & Breadcrumbs •
adapted from Keepers cookbook
serves 4-6
2 1/2 lbs summer squash, shredded (the recipe calls for zucchini but our store was out)
Salt
1 lb fusilli or other curly pasta (we used campanelle)
2 tablespoons butter
1 yellow onion, finely chopped
3 anchovy fillets
pinch of red pepper flakes
fresh lemon juice (about 1/2 a lemon's worth)
pepper
olive oil for finishing
1 cup shredded gruyere
1 cup fresh, toasted, seasoned breadcrumbs or panko*
Bring a large pot of water to boil for the pasta, salt it liberally. Shred the summer squash (or zucchini) on the large holes of a box grater, sprinkle with about 2 teaspoons of salt, toss it and put it in a colander to drain.
Grate the gruyere and set aside. Make your bread crumbs, or toast them if using panko (see note below). Give the squash a squeeze to release the liquid and leave it to continue to drain.
Melt the butter in a sautee pan large enough to hold the pasta and all of the zucchini. Add the onion, anchovies and red pepper and cook until the onions are soft and begin to carmelize. Squeeze the squash one more time and then add it to the onions and cook until tender and beginning to get golden, add the lemon juice and stir well to release any brown bits on the pan. Season with salt and pepper and set aside.
When the pasta is done, reserve a cup of the cooking water, then drain pasta and add to the zucchini with a splash of cooking water and a glug of olive oil. Stir to combine, add cheese and stir again until cheese is melted. Serve topped with toasted bread crumbs.
*I made my bread crumbs from a fresh baguette which I toasted up and crushed, then sauteed in a tablespoon of olive oil until golden and seasoned with salt and pepper. You could save some time by making the breadcrumbs ahead of time, or by using panko sauteed in olive oil and seasoned with salt and pepper.