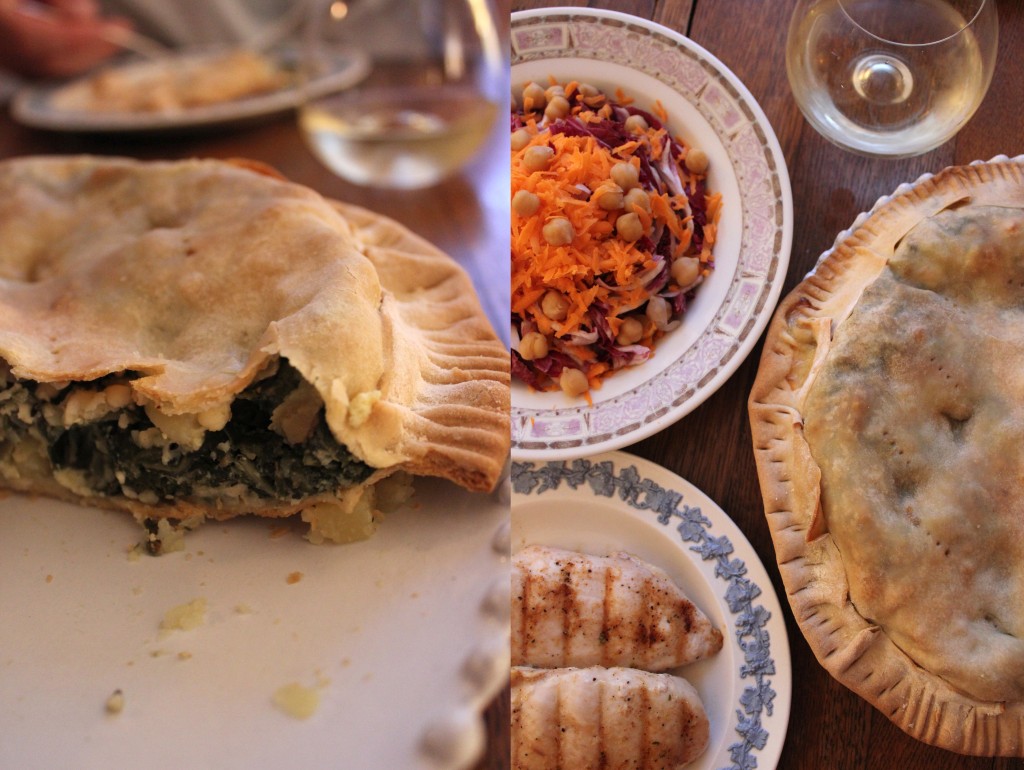 Thanks to the bounty of the Golden Earthworm Farm this season, I had in my possession today, not one but two large, bunches of beautiful, organic Swiss chard. I don't get much help around here, eating-wise, with my csa veggies. When we go to the Cape I bring them with me and they are gleefully consumed, but when at home, it's pretty much all me.
I was almost stressed out about the chard so I called my mom to ask for the recipe for her Torta Verde, or Swiss Chard Pie. The recipe only calls for 8 to 10 leaves but I was determined to use it all. My mom says she also uses much more chard than it calls for. She adds a bunch of cilantro, which can be parsley if you have a cilantro problem. Below is the recipe as I made it tonight, and more or less as my mom makes it. You can be pretty flexible with this one.
To add some color we had a radicchio and carrot salad (both from my csa box) with chick peas and a honey-balsamic dressing. Even Rose ate some of the carrots (for the first time in four years). The meat eaters had Weekday Grilled Chicken, this time with Camp Mix's Spud Fixin' as the seasoning.
• Torta Verde •
Adapted from I don't know where, because my mom sent me the recipe in a series of 5 photos taken with her iPhone. 
Dough:
1 ¼ cups flour
½ teaspoon salt
1 ½ tablespoons olive oil
water
Filling:
2 bunches swiss chard leaves, washed, stems removed and coarsely chopped.
1 medium yukon gold potato, boiled, peeled and diced
2 cipollini onions (or 1 medium sweet onion of another kind) 
1 bunch fresh cilantro (or parsley if you prefer) washed and leaves pulled from stems
1 ¼ cups feta cheese, crumbled
salt and pepper to taste
2 eggs, lightly beaten
4 tablespoons olive oil
Directions: 
1. Mix together the salt and flour in a large bowl. Drizzle in the olive oil, stirring with a fork. Add in up to ½ cup of water one tbsp. at a time until dough just holds together. Knead dough on a lightly floured surface until smooth and elastic. Cover with a damp towel and refrigerate for 2-4 hours. You can probably refrigerate it for longer, but I haven't tried.
2. Put chard in a colander and sprinkle with 1 ½ tbsp. salt, toss to mix and set aside to drain for 20 minutes or more.
3. Mix together potatoes, onions, cilantro or parsley, and feta in a bowl. Season to taste with pepper. Squeeze juices out of Swiss chard by hand or by pressing chard against the side of the colander with a wooden spoon. Discard juices and add chard to potato, onion, feta and herbs. Mix in eggs and 2 ½ tbsp. olive oil.
4. Preheat oven to 375 degrees. Lightly oil and flour a large baking tray (the pie will be about 14" in diameter). Divide the dough into two balls, using 2/3 of the dough for the bottom crust and 1/3 for the top. Roll out the larger ball, the bottom crust, on a lightly floured surface (this will take some persistence) until it is 15" in diameter. Lay the bottom crust on the baking tray and top with the filling leaving about 1 ½" of dough sticking out around the edges. Roll out the smaller ball of dough, the top crust, into a 13" diameter circle. Place top crust on top of filling. Brush exposed edges of bottom crust with water and fold up to meet top crust. Use a fork to crimp the two crusts together. Poke the top crust a few times with a fork. Then make small indentations with your fingertips (I love this part) and drizzle the rest of the olive oil (1 1/2 tablespoons) over it so it pools in the indentations.
5. Bake for about 35 minutes or until golden.