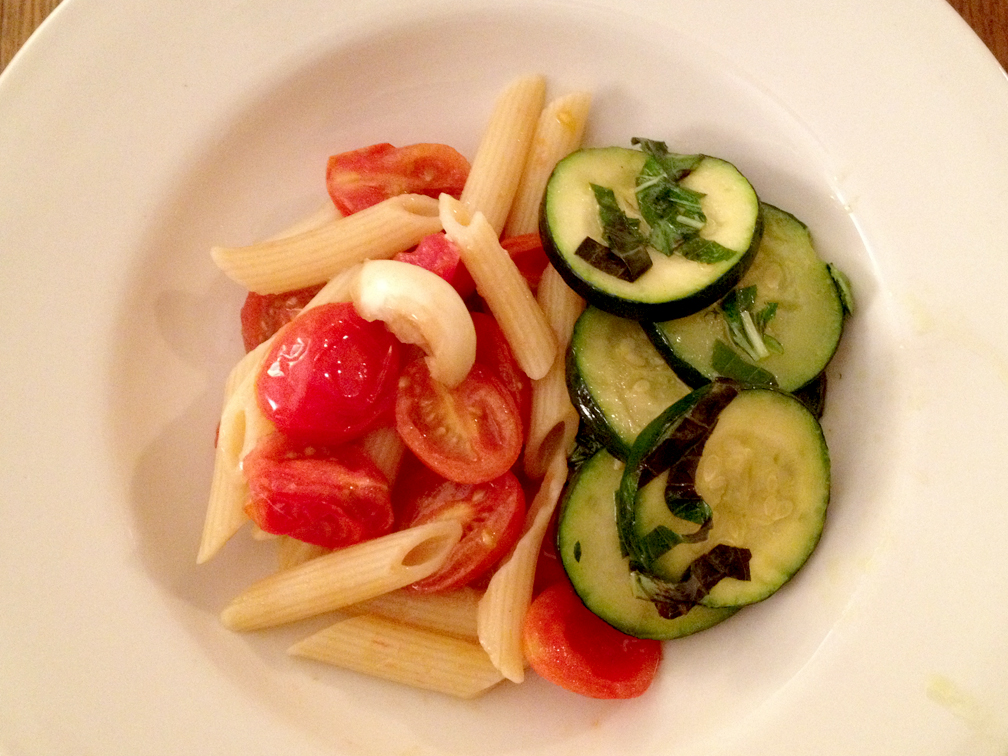 It's been unbelievably hard to find time to post these days, but our family dinners have been going strong. Even the baby joins us while we eat, either nursing, napping, screaming his head off, or some combination of the three.
I know I haven't been giving you much lately, so today (unless he wakes up right now), you're getting a twofer. Both dinner and dessert. For dinner, Penne with Cherry Tomatoes, Anchovies and Garlic, and for dessert Lena's Shortbread, with a bonus vegan option!
Suffice it to say both recipes are really quick and easy, and can be made with a baby strapped to your chest.
• Penne with Cherry Tomatoes, Anchovies and Garlic •
from my dad
1/2 lb penne
1 tablespoon butter
3 tablespoons olive oil
6 cloves garlic, peeled and crushed
6-10 anchovy filets (depending on how satly/anchovy-y you want it)
1 pint cherry or grape tomatoes, halved
salt
Bring a pot of salted water to boil for the pasta. Melt the butter and oil in a medium to large skillet. Add the garlic and anchovies and cook, stirring frequently, until the anchovies are melted (this might take a bit of mushing with a wooden spoon). Add the cherry tomatoes and cook for about 5 minutes until they begin to soften.
Cook pasta until al-dente then drain and add to skillet with the tomato anchovy sauce. Alternatively, you can use one of those sieve-like spoons and scoop the pasta out of the water and directly into the skillet*, a little of the pasta cooking water won't hurt the dish.
Turn heat to high and stir for a minute or two, until pasta and sauce are combined. Serve right away.
Zucchini sauteed in butter and/or olive oil and topped with slivered basil is a nice accompaniment.
*I recommend this method if you have a baby strapped to your chest. I do not recommend draining a big pot of pasta while baby-wearing.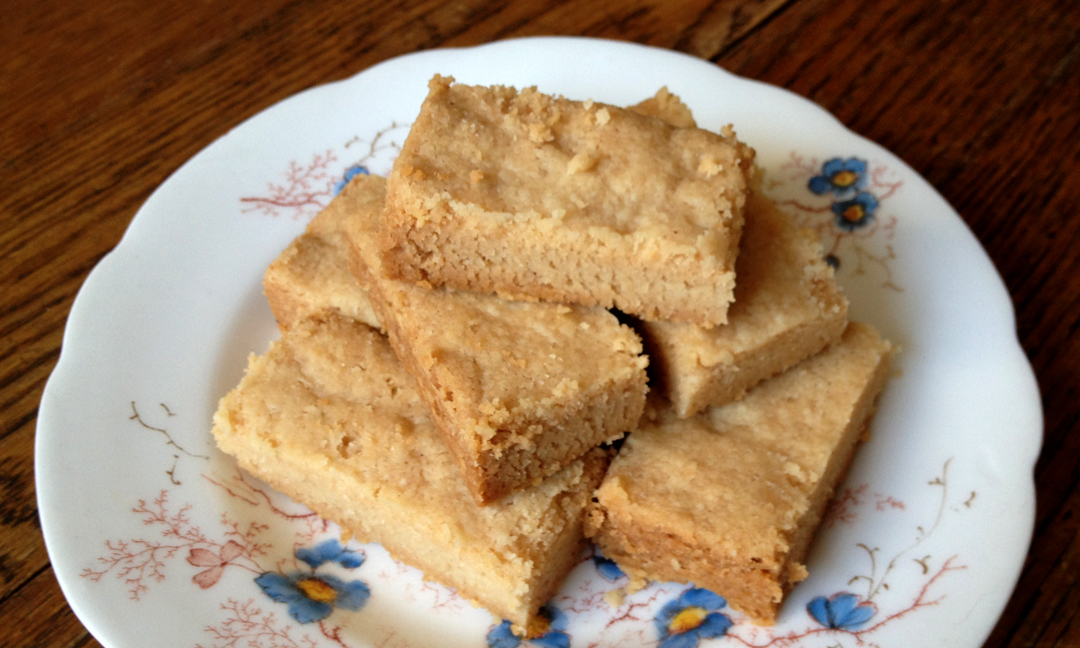 • Lena's Shortbread •
an old family recipe – possibly the easiest dessert you'll ever make from scratch
1/2 lb (two sticks) softened butter, or for a vegan/non-dairy option use 1 cup coconut oil
2/3 cups sugar
2 1/2 cups all purpose flour
Heat oven to 300 degrees. Cream the butter, add the sugar and mix to combine. Add the flour and mix to combine. Press the dough into an un-greased 8″ square pan. You can use another pan of the approximate size if you don't have an 8″ square, this recipe is forgiving. 
Bake for 45 minutes. Cut into squares or fingers while hot, cutting from the edge in. Remove fingers from pan once cool.
Here's the copy of the recipe that I've been using for years: