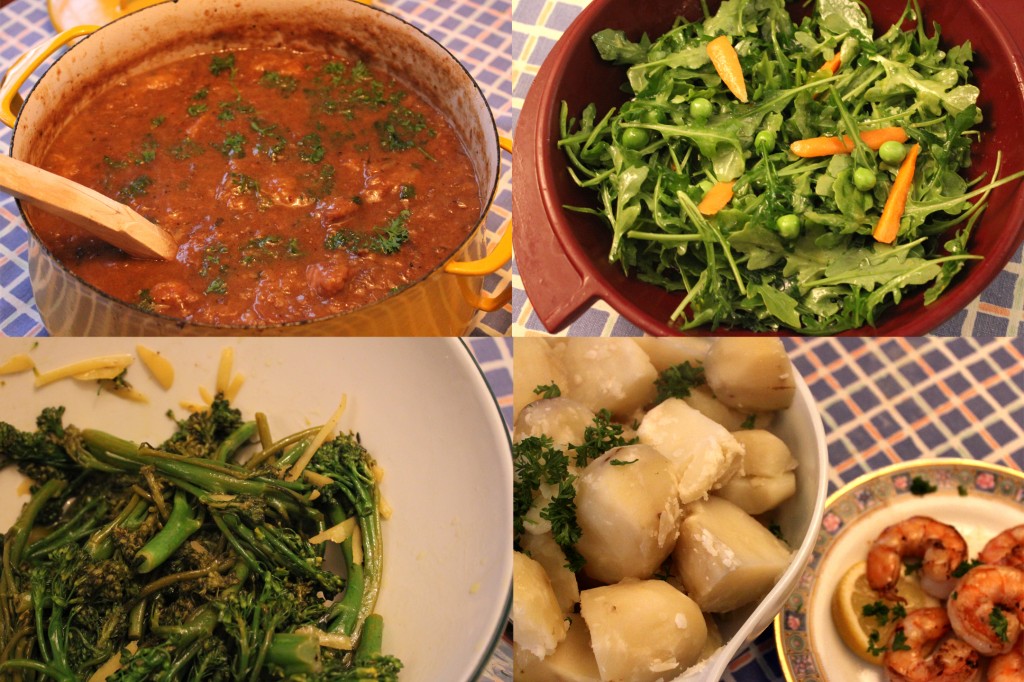 It's effing cold here on Cape Cod, and also rainy as hell. What a lovely way to kick off the summer!
As always, dinner was a highly communal effort. Shane made potatoes and the Oktoberfest Stew that everyone loves so much, the one he made for Rose's last birthday party.
My dad made broccolette with lots of lemon and slivers of lemon peel. And Wayne kindly made me a few perfectly cooked and seasoned shrimp, since I don't eat beef.
My mom made two salads, a "regular salad" with arugula, fresh peas and julienned carrots, and a "milk salad" with basil, Boston lettuce, tomatoes, potatoes and creamy burrata which melted into the dressing when tossed. I forgot to photograph the milk salad, sorry.
• Oktoberfest Stew •
from  Petite Abeille via mint.com
serves 4
1 ¼ pounds stewing beef cubes
salt & pepper
3 tablespoons flour
2 tablespoons butter
2 tablespoons vegetable oil
two peeled and crushed garlic cloves
1 large, chopped onion
11.5 oz dark beer (preferably Chimay)
a fresh bouquet garni made from 4 sprigs thyme, 4 sprigs parsley, 1 bay leaf
2 tablespoons red wine vinegar
2 tablespoons brown sugar
2 slices rustic bread
2 tablespoons dijon mustard
Generously season the beef cubes with salt and pepper, then coat them in the flour. Heat a large, heavy frying pan that has a tight-fitting lid. Melt the butter and vegetable oil over medium to high heat. Add the cubed beef in batches and brown over fairly high heat for about four minutes to seal. As each batch browns, remove the cubes from the pan and place them on a plate. Add the chopped onion to the fat remaining in the pan and cook gently for six to eight minutes until translucent, then the crushed garlic cloves and fry for three minutes more. Return the meat to the frying pan and stir well to combine with the onions.
Pour in the beer and bring the mixture to just below boiling point. Add a bouquet garni and red wine vinegar and brown sugar. Cover the pan, reduce the heat and simmer for 90 minutes or until meat has become tender. Spread two slices of rustic bread thickly with the Dijon mustard and place it on top of the stew, mustard-side down. Replace the lid and simmer the stew for 20-30 minutes more, stirring occasionally until the meat is very tender. The bread will absorb some of the pan juices and dissolve to thicken the stew. Taste and adjust the seasoning if necessary. Remove the bouquet garni and stir in a handful of fresh chopped parsley.