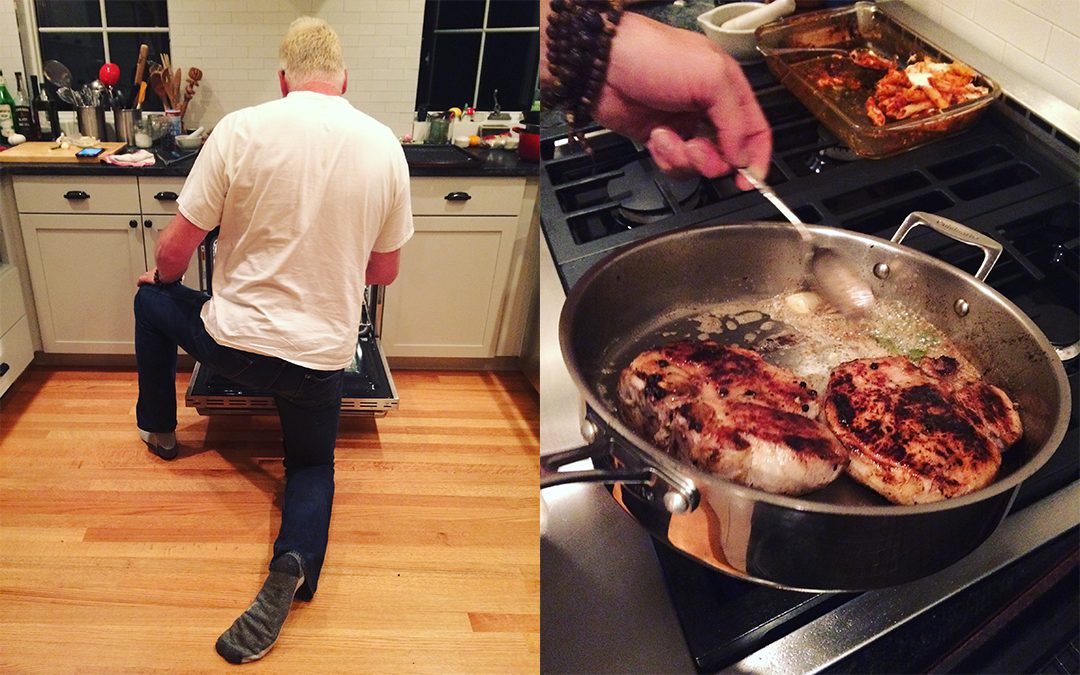 We had leftover baked ziti, tonight. Shane for some reason was making giant pork chops while we ate. I think they were for tomorrow, or maybe they were for an after-dinner snack. One thing's for sure, that man is a cooking fool these days.
As much as I love his domesticity, we can't really afford to have him in the kitchen full-time. Anyone want to buy some art? Seriously, I can get you a good deal.
Since I don't have a new meal to share with you, here's recipe for last night's baked ziti (pic here).
• Baked Ziti •
from Cook's Illustrated Best Italian Classics
serves 4-6 (8 if you've got kids who don't eat a lot)
2 cloves garlic, minced
3 tablespoons olive oil
1 (28 oz) can crushed tomatoes
2 tablespoons coarsely chopped fresh basil leaves
salt
1lb ziti or penne
1 ball fresh mozzarella, sliced (recipe calls for 8oz regular mozzarella shredded – but we use fresh)
1/4 cup grated parmesan cheese
Heat oven to 400 degrees. Heat 2 tablespoons olive oil and garlic in a medium sauté pan until fragrant but not brown, about 2 minutes. Stir in the tomatoes and simmer about 10 minutes. Stir in basil and salt to taste.
Meanwhile, bring a big pot of salted water to boil (however much you usually use for boiling a pound of pasta). Cook until al dente but still a bit firm. Reserve 1/4 cup of cooking water, drain the pasta and return it to the pot with the reserved water. Stir in the tomato sauce.
Coat a 9×13″ pan with the remaining tablespoon of olive oil. Pour half of the pasta into the dish and top with half of the mozzarella and half of the parmesan cheese. Pour the remaining pasta into the dish and top with the remaining cheese.
Bake until the cheeses are runny and melted, about 20 minutes. Remove dish from oven and let rest 5 minutes before serving.