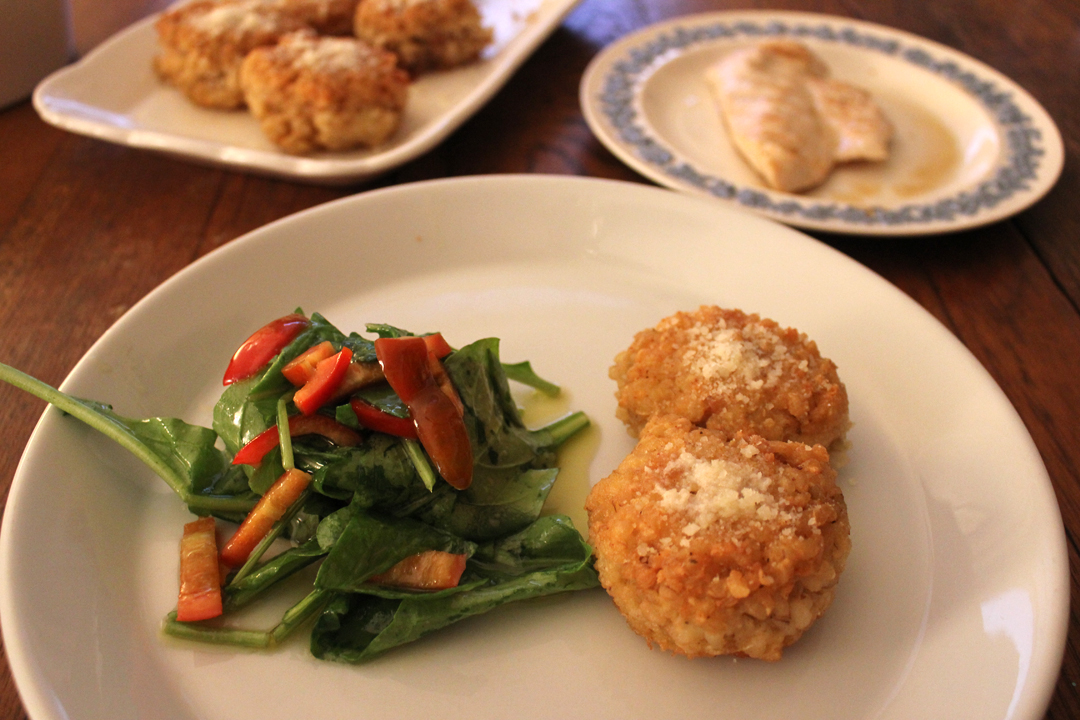 Tonight was a relatively easy night. We had Brown Rice Fritters, Weekday Grilled Chicken and a CSA salad of arugula and red peppers with mustard vinaigrette.
The rice fritters were disappointing. I'd had the recipe on  my Pinterest Recipes to Try board for a long time and was so excited to finally make it. I thought it would be fun to make the rice patties with Rose, but that was disappointing too.
I probably should have read the reviews before getting excited about this one. But I'm a visual person, I like to look at the pictures and think later.
The rice, egg and cheese mixture for the fritters was very dry and crumbly, it was a major challenge for Rose and I to form the patties. Frying them was difficult too, half of them fell apart and had to be discarded.
To top it all off, they didn't even taste that good. They were okay, edible, but certainly nothing to email my dad about.
In case you're keeping track. Here's how the weekly meal plan is going so far:
Monday (Make Ahead: 1 hour to prep, 5 minutes to reheat):
Spicy (or not-Spicy) Vegetarian (and Turkey) Chili and nothing else! This is a one-dish meal, baby.
Tuesday (Quick: 30-45 min start to finish, if you have leftover rice on hand):
Weekday Grilled Chicken, Brown Rice Fritters (make Rice Pancakes next time, instead), a simple salad.
More tomorrow, as always.