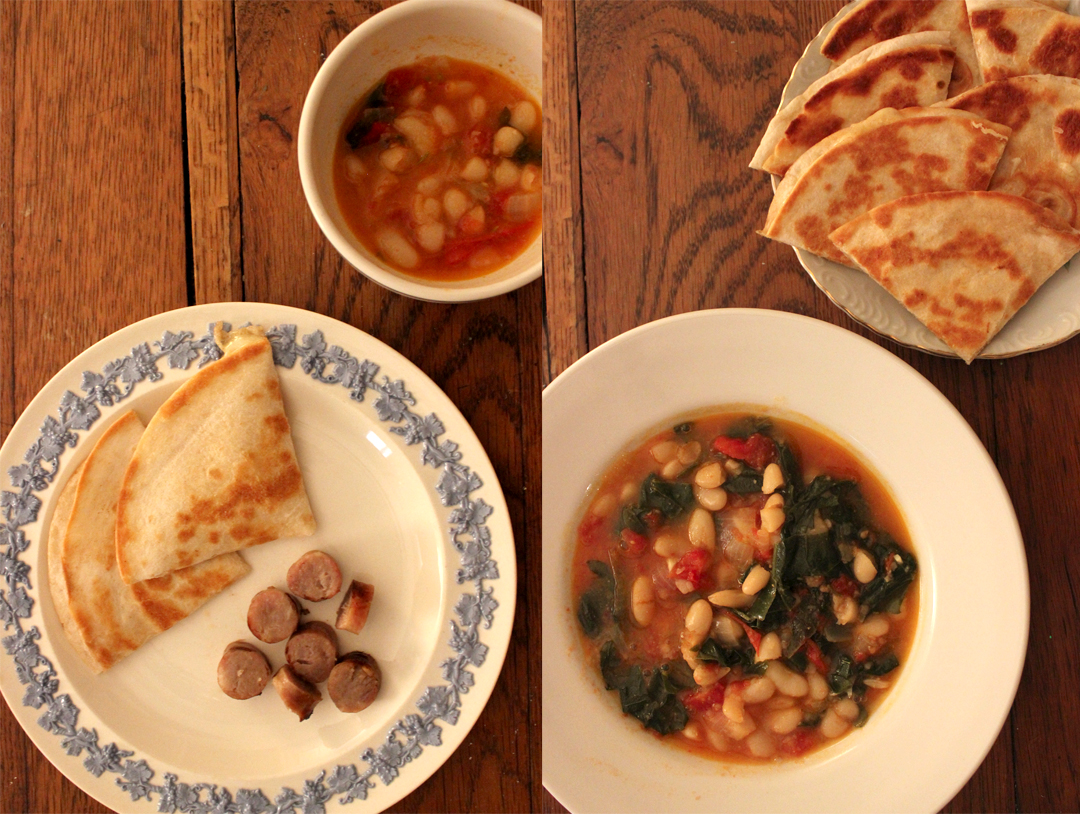 I will forever remember 2013 as the year I accidentally got pregnant, and the year that I felt obligated to eat more kale than I've ever wanted to.
Remember the Salad Challenge? Well, now it's the Kale Challenge. These days, we're just up to our eyeballs in CSA kale, with no end in sight.
I'd pinned a bunch of kale ideas on my Recipes To Try Pinterest board, but didn't use any of them. I wanted/felt obligated/needed to use kale, and had a hankering for white beans, tomatoes and rosemary. From that combination of desires, came the yummy soup pictured above.
Rose really doesn't like soup. As always, I insisted she try it, but tonight was no different from any other night. Her dinner weighed heavily towards the quesadilla & sausage side, mine was more soup-centric. Shane wasn't around.
• White Bean, Kale & Rosemary Soup •
1/2 lb dried cannelini beans
4 cups hot water
1/4 cup olive oil
1 yellow onion, chopped
2 cloves garlic, minced
4 plum tomatoes, chopped
4 cups water
1 rounded tablespoon Better Than Bouillon
1 bunch kale, stems removed and chopped
2 sprigs rosemary, chopped
salt and pepper to taste
Rinse your beans well in a colander, put them in a pot, cover with 4 cups of hot water, bring to a boil and boil for two minutes. Cover beans and set aside for an hour. 
In a large pot or dutch oven, heat the olive oil. Add the onion and cook over medium heat, for 7 minutes or so, until onion is soft and translucent. Add the garlic and tomatoes and cook for another 5 minutes. Drain the beans. Add drained beans, 4 cups water and Better Than Bouillon to pot, and cook for about an hour, until the beans are soft and cooked through. Season with salt and pepper to taste.
Wash the kale well, remove the stems and chop into big bite-size pieces. Add the kale and rosemary to the pot and cook for about 5 minutes until the kale is soft but not too brownish. Serve with bread, ideally. Quesadillas work fine too.