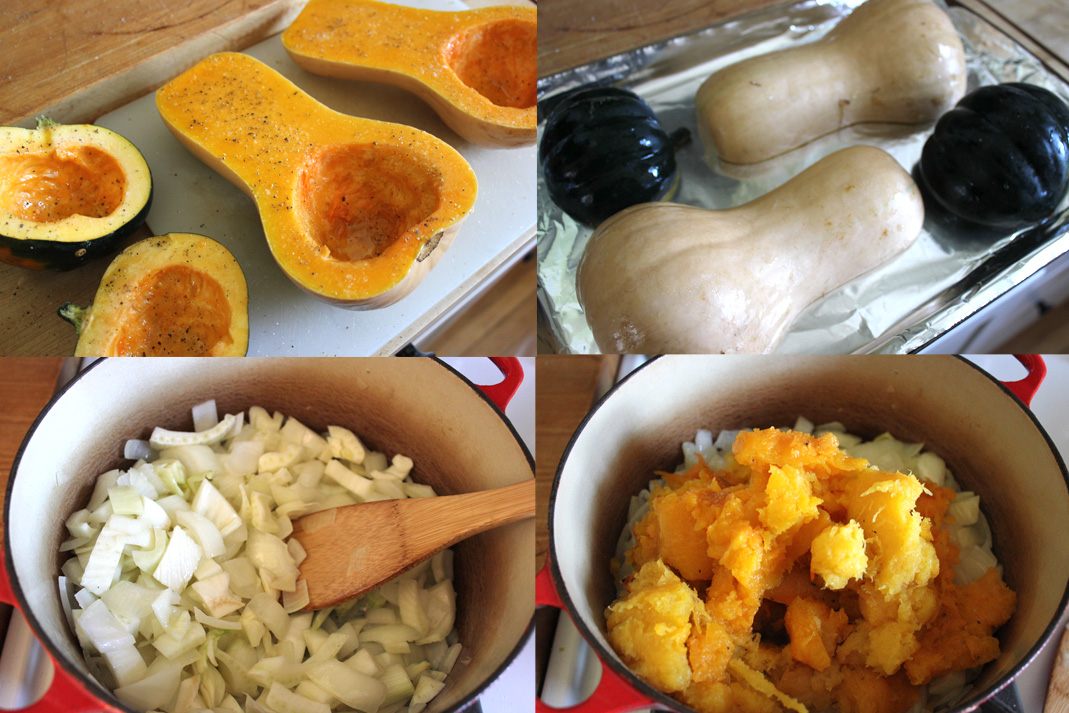 It was so fall-ish today! With a nip in the air, and a drawer full of CSA squash, how could I make anything but soup for dinner?
The soup was butternut and acorn with fennel (recipe below). I served it with crusty Ciabatta, Frommager D'Affinios, and a side of Weekday Chicken, cooked with butter in a sauté pan, instead of in the grilling pan.
A dinner like tonight's breaks down nicely around here: Shane eats everything, except sometimes the cheese (and then has a few bowls of Cheerios an hour later). Rose eats the chicken and maybe a little bit of cheese, but no soup or bread. I eat the soup, the bread and the cheese. It's kind of a beautiful thing, really.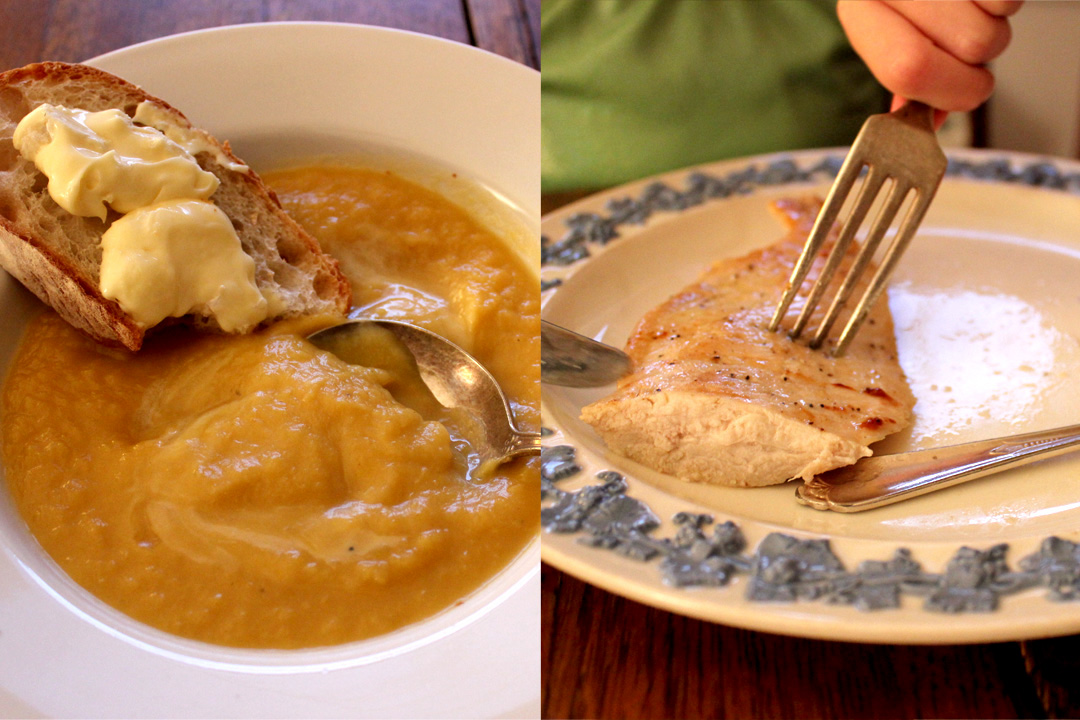 • Butternut Squash Soup with Fennel •

3 – 4 lbs. butternut or acorn squash, or a combination of the two
olive oil
salt & pepper
5 tablespoons unsalted butter
1 large yellow onion, chopped
1 large fennel bulb, chopped
3 cups water plus 1 tablespoon Vegetable Better Than Bouillon (or 3 cups of vegetable or chicken broth)
scant 1/4 teaspoon cinnamon*
creme fraiche or heavy cream to garnish (optional)
Note: This recipe is prep-as-you-go, meaning, there's no need to chop and measure anything in advance, unless you really want to.
Heat oven to 350 and line a baking tray with foil. Halve your squash lengthwise and scoop out the seeds and associated gunk. Lay each squash piece, cut side up on the baking tray. Put a little olive oil in the hole where the seeds used to be and then use your fingers to oil the whole cut surface of the squash. Season the squash generously with salt and pepper, flip and lay cut side down, on the baking tray. Bake until soft when pricked with a knife, about 30-40 minutes. Remove from oven and set aside to cool.**
In a large saucepan or dutch oven, melt the butter over medium-low heat. When the butter is melted add the chopped onion and stir to coat with butter, reduce heat to low. While the onion is cooking, trim the leafy parts off of your fennel bulb, quarter it, cut out the core and roughly chop it. Add fennel to the onion, stir to combine and let it cook. While that's happening, scoop the flesh out from the skin of the roasted squash. (Be sure not to let the onion and fennel brown, check and stir occasionally while scooping.) I like to use a spoon and my hands to separate the flesh from skin. It will take a bit of work in certain areas but should be mostly easy to do. By the time you've removed all of the flesh, the onion should be nice and soft, and the fennel starting to soften.
Add the squash to the onion and fennel, and mash and stir a bit with a wooden spoon. Cook for about a minute. Add the water and Better Than Bouillon (or broth) and bring to a boil. Reduce heat so that the soup is simmering and cover, leaving the lid a little bit ajar. Cook for 30-45 minutes until the fennel pieces are soft and translucent.
Add the cinnamon, if using, then blend with an immersion blender or food processor (I recommend the immersion blender because you don't need to remove and return the soup to the pot, and you can do it all at once), until nice and smooth. If you like your soup a bit thinner, add an additional cup of water plus one teaspoon of bouillon (or an additional cup of broth). Season with salt and pepper. Keep warm, covered, over a very low flame until ready to serve. Serve with a dollop of creme fraiche or a swirl of heavy cream, if desired.
*We have some really strong, good-quality cinnamon at the moment, I used just 1/8 of a teaspoon for the tiniest hint of spice. You may need to use slightly more depending on your cinnamon. You just want the slightest whiff, your soup shouldn't taste like Christmas.
**When I'm working from home, I prepare the squash during the day. If I'm working on-site in an office, I do it the night before and just leave the squash out on the counter until I'm ready to make the soup.