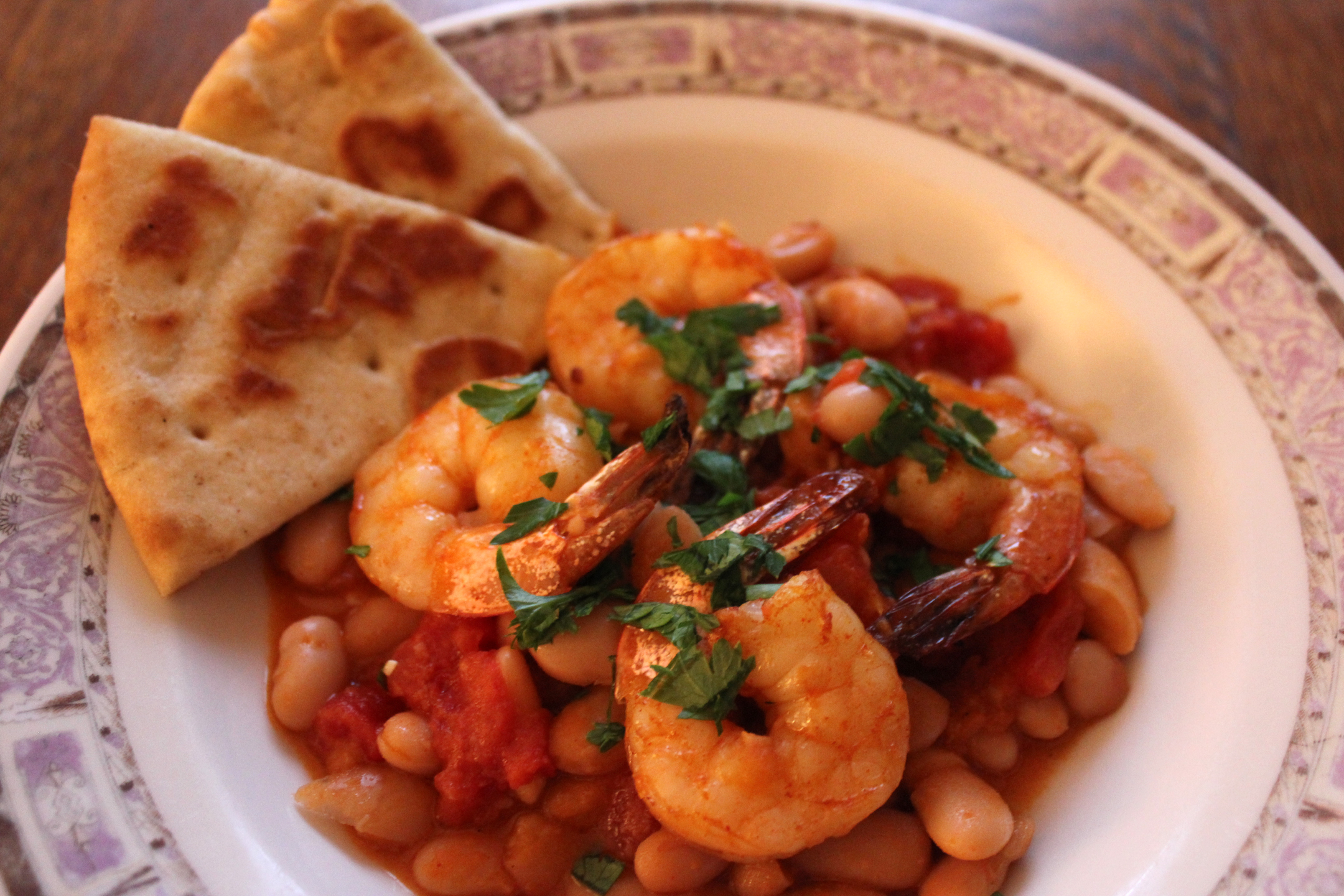 In case you missed the previous posts (here and here), we love this dish! So quick, so easy, so good! With a teeny salad on the side, you've got a well rounded meal.
If you keep shrimp in your freezer and canned beans & tomatoes in your pantry, this is the kind of meal you can whip up without a trip to the store. Which is exactly what I did today.
• Shrimp & White Beans •
from Bon Appetit, recipe here, reproduced below for your convenience
6 tablespoons olive oil, divided
3 garlic cloves, minced, divided
2 dried chiles de árbol (I skip these because of the kid)
1 bay leaf, preferably fresh
1 1/4 cups chopped tomato (I use San Marzano from a can)
Kosher salt, freshly ground pepper
1 tablespoon tomato paste
2 15-ounce cans white beans (such as cannellini), rinsed, drained
1 cup low-sodium chicken broth
1 pound medium shrimp, peeled, deveined
1 teaspoon smoked paprika
2 tablespoons chopped flat-leaf parsley
Grilled bread (optional)
Preheat broiler. Heat 2 Tbsp. oil in a large, heavy, ovenproof skillet over medium heat. Add 1 garlic clove, chiles, and bay leaf and cook, stirring constantly, just until fragrant, 1–2 minutes (do not allow garlic to burn). Add tomato; season with salt and pepper. Cook, stirring and smashing tomato with the back of a wooden spoon, until tomato is completely broken down, about 5 minutes.
Add tomato paste and cook, stirring constantly, until paste is deep red and caramelized, 3–4 minutes. Stir in beans and broth. Bring to a brisk simmer and cook until juices are slightly reduced and thickened, 3–4 minutes. Season to taste with salt and pepper.
Combine remaining 2 garlic cloves, 2 Tbsp. oil, shrimp, and paprika in a medium bowl; season with salt and pepper and toss to evenly coat shrimp. Scatter shrimp over beans in an even layer.
Broil until shrimp are golden and cooked through, about 3 minutes. Drizzle remaining 2 Tbsp. oil over shrimp and beans; garnish with parsley. Serve with bread, if desired