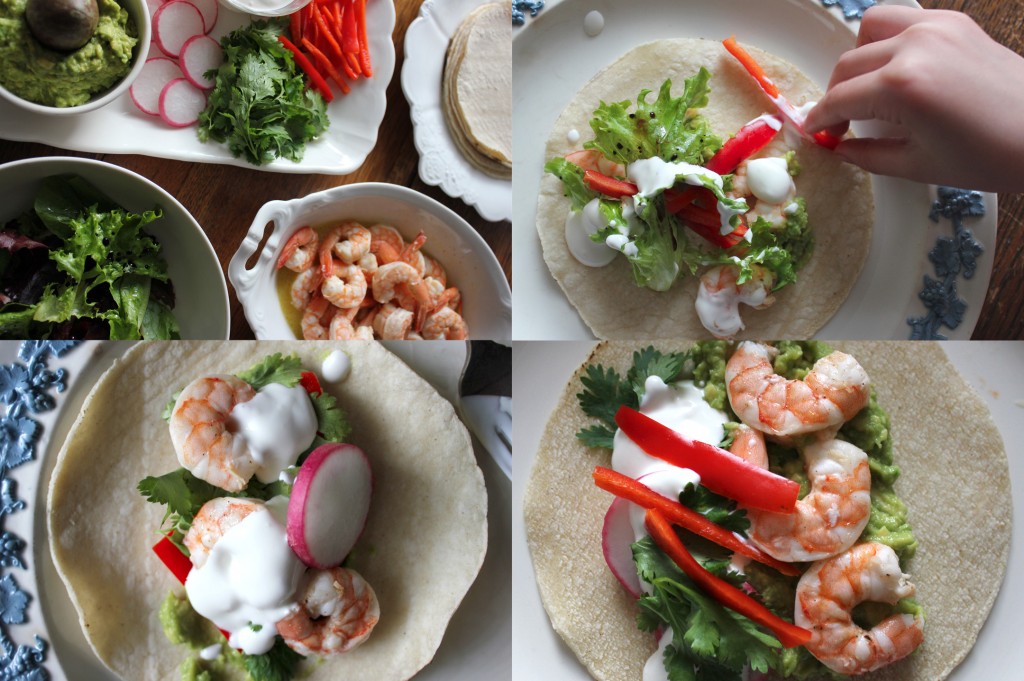 The blog Dinner A Love Story has a great little section called What To Cook Tonight. I was perusing it during my slow work day today, and the moment I set my eyes on Shrimp Tacos, I was sold.
I didn't really follow the recipe, except to douse the shrimp in lime juice, and to add a pinch of sugar to the sour cream and lime sauce. The recipe is wonderful in it's flexibility, you can use whatever you want for your fixin's.
We used corn tortillas which I warmed quickly over the flame. Our accoutrements were sliced radishes (from our very first CSA box of 2013!), cilantro, slivered red peppers, guacamole and the sour cream and lime sauce from the recipe. Also a CSA salad, of course.
I got everything on the table in 40 minutes start to finish. You could probably cut the time by not emptying the dishwasher and not putting away the CSA veggies until later.
Rose was super-excited about the DIY aspect of the meal, and the fork-free aspect as well. She was a bit ambitious with her fixings and didn't actually like any part of the taco except the shrimp, but I give her props for trying. Her's is the top right taco in the image above.
Shane said the meal was tasty but not nearly filling enough. Sigh.