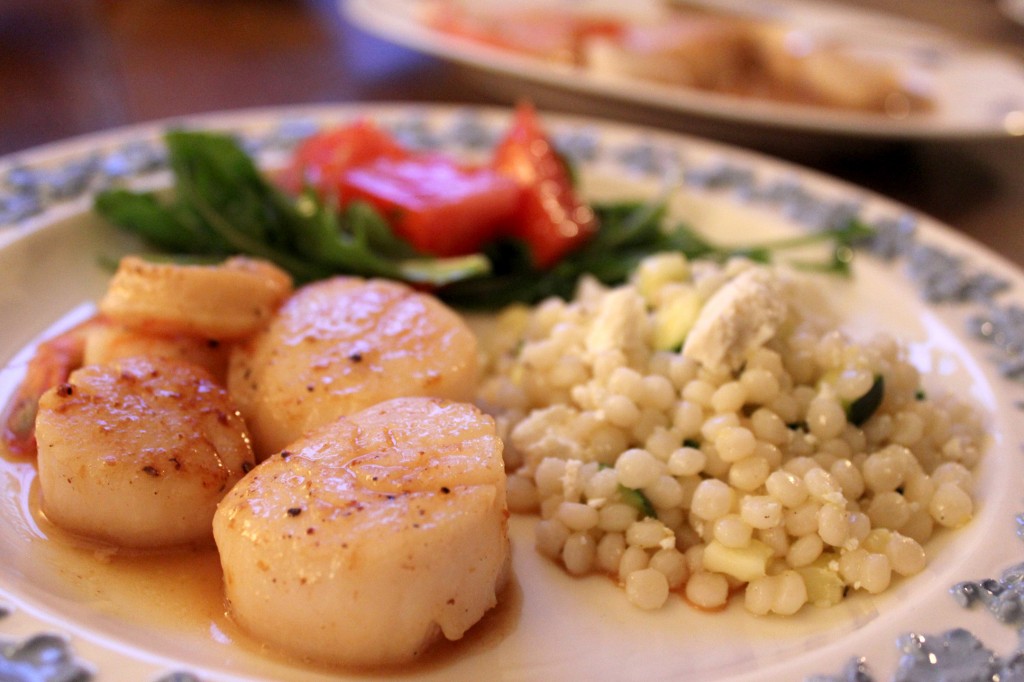 I bought half a pound of scallops at the farmer's market today because they were $17.99 a pound and that seemed like a lot of money. I just assumed that you'd get a lot of scallops for a lot of money and that half a pound would do. Upon opening the bag at home, I realized that I'd only bought seven scallops. Seven scallops was not going be enough for my family, specifically, Shane.
Fortunately, Shane went to Costco today and got a bag of frozen shrimp. Which reminds me, do you know about The Steady Table's Costco shopping list? It's a list of foods we think are worth buying at your NYC area Costco. And possibly Costcos in other areas.
It was proving hard to find a scallop recipe that seemed simple enough, something without a fussy sauce. And then I remembered my own basic scallop recipe. I cooked the shrimp and scallops together, taking the shrimp out a bit sooner since they cook more quickly.
The couscous was delicious, pearl, with tiny pieces of zucchini, lemon juice, zest, olive oil and ricotta salata. It was inspired by this recipe. In my version I left out the shallot and basil, increased the amount of lemon juice, and decreased the amount of couscous so it would be more veggie-y.
Somehow Shane managed to find a decent tomato. He got it at Fairway, maybe that's why it was good, or maybe we just got lucky. I prepared it with my mom's no-effort red wine vinegar, salt and olive oil dressing and added a few leaves of spicy arugula. Yum.
As promised, here are the cookies from last night. They are Chewy Molasses Chocolate Chip Cookies from Joy The Baker. It's possible that I might love these more than trusty old Toll House Cookies. The molasses seems to make them extra brown-sugary, the bread flour makes them perfectly chewy and the touch of sea salt makes them, well, perfect.
In case you're wondering, Buttercup seems to be doing well. I had a bit of a scare today when I thought perhaps she was feeling lethargic, the surgeon said to watch out for that. Turns out she was just being a cat, she later groomed herself, had some treats and drank a lot of water. I think things are looking up for our Butters.