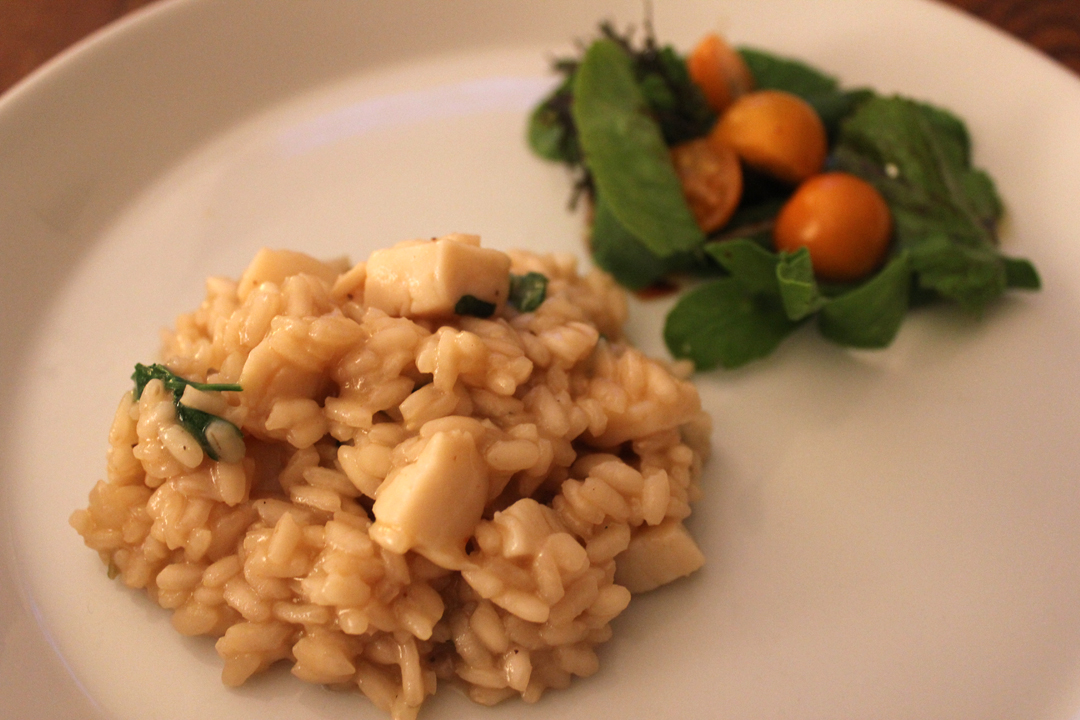 We had the most delicious sea scallop risotto tonight. It was a simplified version of a recipe from Biba Caggiano's Trattoria Cooking. Shane and I both thought it was fantastic.
Rose was not a fan. She tried it and said "I don't like risotto and I don't like scallops," with a perfect Italian accent on the "risotto" and a perfect New England accent on the "scallops."
Shane and I had a good chuckle, and then reminded her that she knows where the fridge is. She had cheddar cheese and salad.
This is a 45 minute dish, an hour if you're multi-tasking and/or also making a salad.
• Sea Scallop Risotto •
modified from Biba Caggiano's Trattoria Cooking
For the Risotto
6 cups water mixed with 2 tablespoons Vegetable Better Than Bouillon
4 tablespoons unsalted butter, divided
1 small onion, chopped
2 cups Arborio rice
1 cup dry white wine
2 tablespoons chopped flat leaf parsley
salt and pepper to taste
For the Scallops
3 tablespoons olive oil
1 tablespoon unsalted butter
1/2 lb. sea scallops, rinsed and chopped into roughly 1/2″ pieces
2 cloves garlic, minced
1/2 cup dry white wine
salt to taste
Begin the risotto. Combine water and bouillon in a pot, and bring to a boil, then lower heat to keep it at a slow simmer. Melt 3 tablespoons of butter in a large saucepan or dutch oven. When the butter foams, add the onion and sauté over medium heat until soft and translucent, about 3-4 minutes. Add the rice and stir to coat well with the butter and onion, cook for one minute. Add 1 cup of wine and cook until the wine is almost completely absorbed. Ladle enough broth into the saucepan to just cover the rice, stir and cook over medium-low heat. Continue to cook the rice until the broth is mostly absorbed, then add more broth, a little at a time, stirring occasionally so the rice doesn't stick to the bottom of the pan.
Meanwhile, prepare the scallops. Melt the butter and olive oil over high heat. Add the scallops and cook, stirring, for about 2 minutes. Add the garlic, stir, and then add the 1/2 cup of wine. Simmer until the sauce is reduced to about half and the scallops are cooked through. Season with salt and remove from heat.
The risotto is finished once all of the broth has been incorporated gradually, and the rice is al dente and has a creamy consistency. At this point, add the scallops with their pan juices, the parsley, and the remaining tablespoon of butter, and cook for a minute or two. Season with salt and pepper and serve immediately.