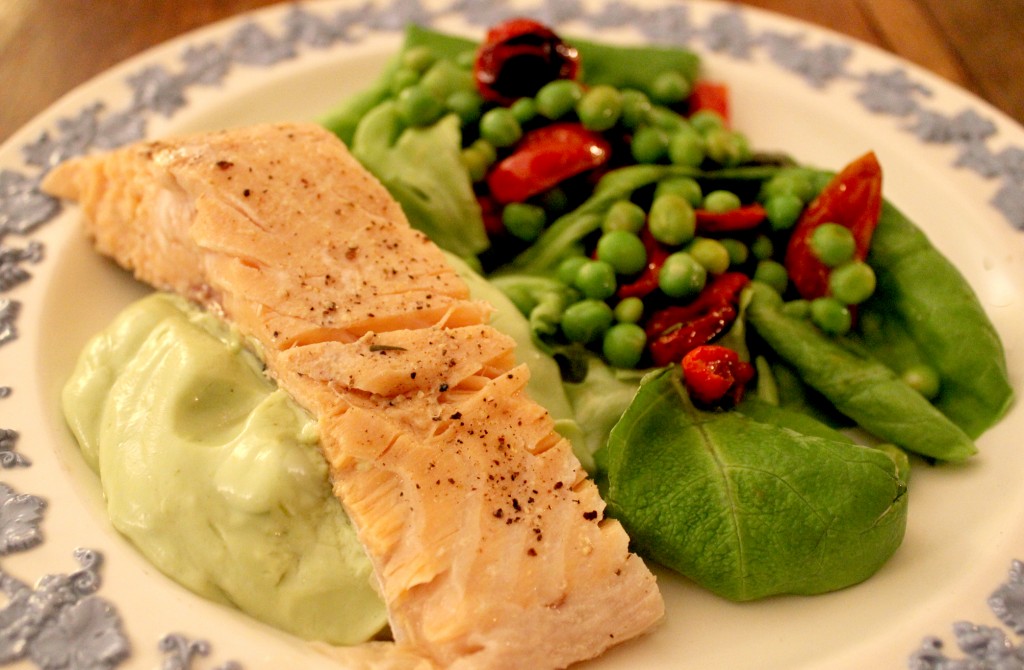 Poached Salmon with Avocado Sauce is a weird recipe. It's possible that I missed a bunch of crucial information and/or steps because I'm totally scatterbrained today. It's also possible that this is a truly strange recipe.
This is not to say the result was bad, the avocado sauce was really delicious. Poaching was a nice way to cook the salmon, though I'll find another poaching method if I make this again.
The recipe instructs you to pour boiling broth over the salmon and then let it sit for 10-15 minutes. In our case, this resulted in extremely rare salmon in lukewarm broth, after 20 minutes of soaking. I cut the filets into strips, turned the oven on high, and popped it in, broth and all, for another 15 minutes and it was fine.
The salad had great potential, tomatoes, fresh peas, tarragon, but there was no real dressing, so it was bland. Again, it's entirely possible I missed something.
Did I mention that the avocado sauce was really good?
• Avocado Sauce for Salmon •
adapted from Bon Appetit
2 ripe avocados, halved, pitted
1 cup plain low-fat yogurt
the juice of 1 lime juice
1/2 teaspoon ground cumin
1 teaspoon salt
Combine all ingredients in a food processor and blend until smooth. You can also use a stick blender. Serve with Salmon.