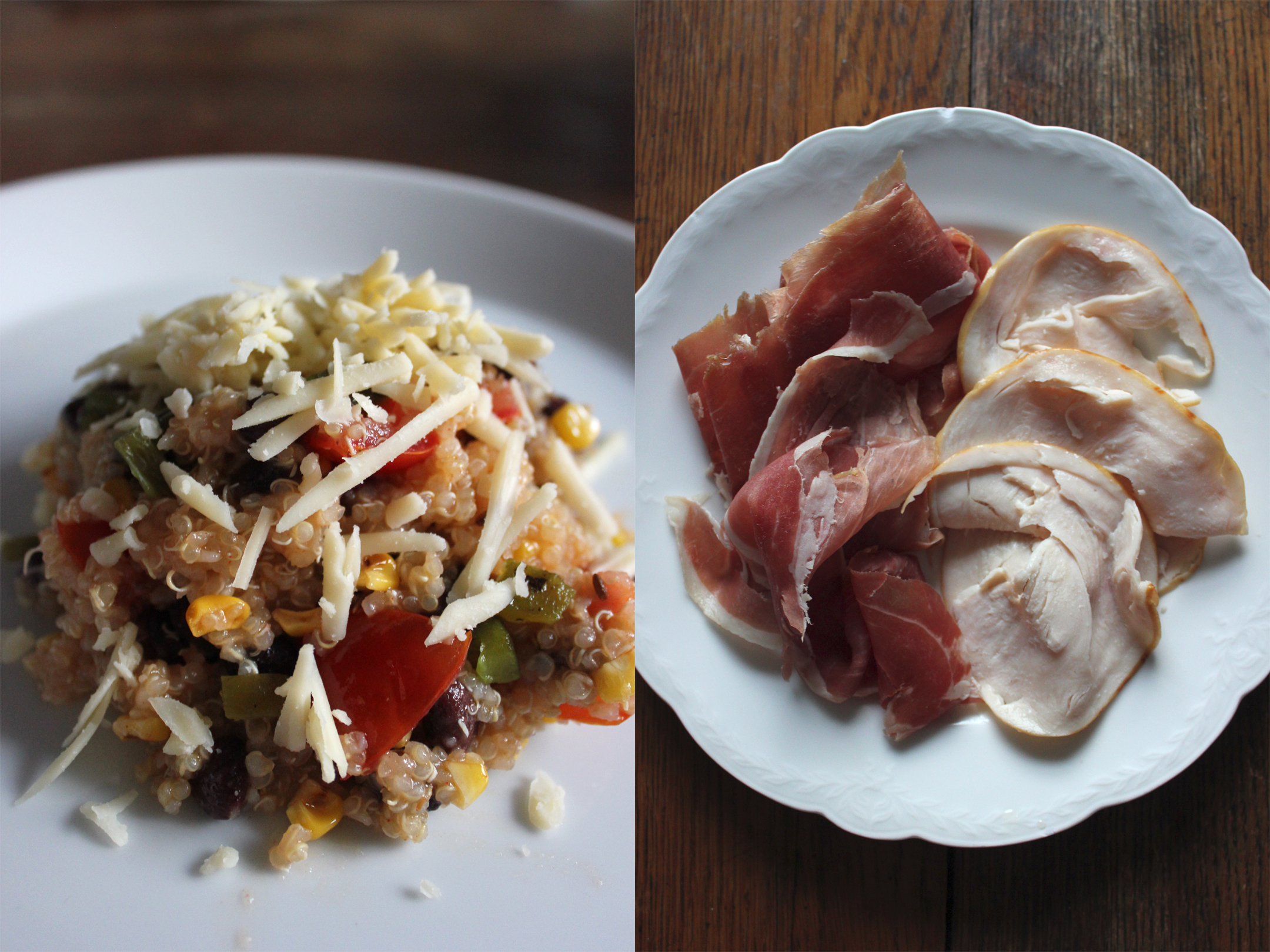 For part 3 of our unofficial heat wave dinner series, we bring you Southwestern Quinoa Salad, from food52.com. I loved this dish and will make it again and again, if I remember.
The heatwave dinners have all required minimal cooking, and consist of dishes that are served cold, cool, or barely warm. To appease my carnivorous daughter and husband, each meal been accompanied by a plate of prosciutto.
Evidently, prosciutto is not enough meat. Shane sat down to dinner tonight and immediately started fantasizing about being able to drive again, so he could get himself to the Empire Market for some (other types of) pork products.
The quinoa was really great, despite it's meatlesness. It's made with a lot of my favorite ingredients, black beans, roasted corn, toasted cumin seeds, smoked paprika, tomatoes & lime juice. And it most certainly qualifies as a one-dish meal, always a plus.
Because my peeps over here don't like feta, I used grated cheddar, which we put on top instead of mixing in. I figured if we mixed it in, the cheese would be soggy and undesireable when we had the leftovers for lunch.
I used roasted jalapenos instead of poblanos, because I couldn't get my knocked-up self farther than the corner store in this heat. The hot peppers were on the side as well, to keep the dish kid-friendly.
Because it's Friday, I let loose and drank half a beer. Happy weekend!
• Southwestern Quinoa Salad •
from food52.com original recipe here
reproduced with our notes below, for your convenience
1 1/2 cups quinoa
1 cup corn (or two ears of corn, with the kernels sliced off)
1 teaspoon cumin seeds
1 1/2 cups black beans, cooked
1 pint cherry tomatoes, halved
1 cup feta, crumbled (or grated cheddar, if you use cheddar, top with the cheese at the table rather than mixing it in)
3 green onions, sliced (the whites and the greens – optional, we didn't use them)
1/2  teaspoon smoked paprika
2 poblano chiles (or jalapenos, keep on the side to make the dish kid-friendly)
2 tablespoons olive oil
2 tablespoons lime juice
1/4 cup orange juice
Bring three cups of salted water to boil in a large saucepan. While it warms, rinse the quinoa well under cold water. When the water boils, add the quinoa and stir. Cover the pot, reduce to a simmer, and cook for about 15 minutes — the quinoa should still have a slight bite. (You want it well before mushy.) Then drain it well and add to a large salad bowl.
While the quinoa cooks, heat a cast-iron skillet or wok on high, without adding oil. When the pan is hot, toss in the corn, stirring occasionally, until the kernels are singed. It should take at least five minutes, possibly as much as ten. When they are almost done, add the cumin seeds to the skillet and toast briefly. Then add both to the large salad bowl.
To the same salad bowl, add the halved cherry tomatoes, the cooked beans (drained and rinsed, if using canned), the feta, the sliced green onions, and the smoked paprika.
Roast the poblano peppers until blackened. (I use the open flame on the stove.) Let cool, then peel, seed, and chop roughly. Add these to the bowl too.
Toss the salad together and add salt to taste. Then whisk together the oil, lime juice, and orange juice. Toss the salad with the dressing. Taste. You may want more oil or more lime juice. Adjust as desired. Taste again. Serve.