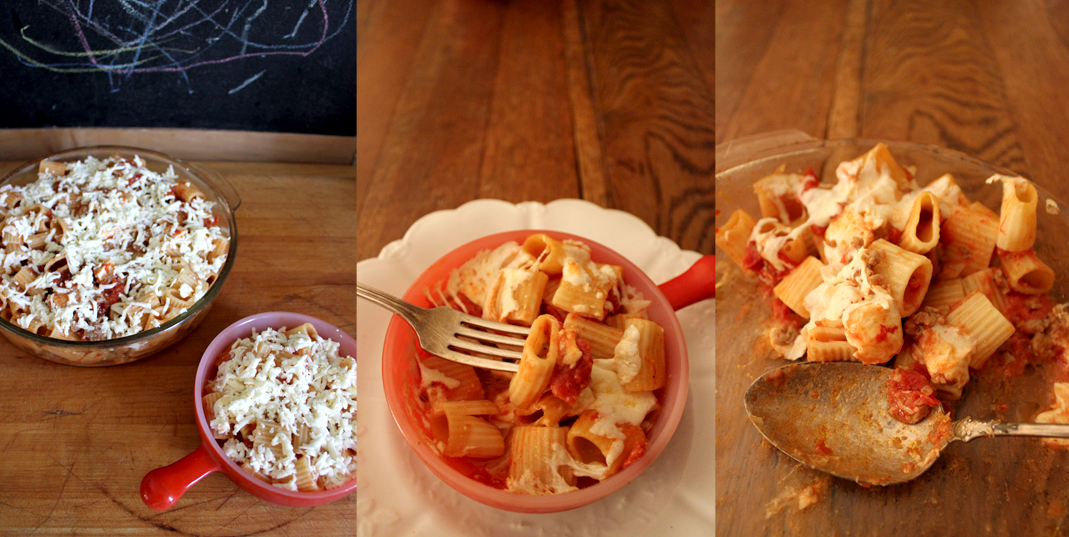 For the latest in our make-ahead series, I give you Sausagey (or not Sausagey) Baked Rigatoni. I used this recipe as a starting point, and then changed it a lot.
My adapted recipe (below) makes it easy to put aside a non-sausage portion of the dish, uses homemade sauce instead of jarred, and, of course, increases the amount of cheese.
This recipe calls for Marcella Hazan's famous (and easy!) tomato sauce. Marcella died this week, at the age of 89. She was a really interesting and amazing person, and a household name in my family. If you don't know about Marcella, go to this link where you can read and/or listen to learn more about her. Or, you know, use Google.
• Sausagey (or not) Baked Rigatoni •
adapted from this recipe from epicurious

20-30 minutes prep, 15-20 minutes to bake*
1/2 lb rigatoni or mezze rigatoni
1/2 lb fresh mozzarella
1/2 cup grated Pecorino or Parmesan cheese
2 sweet Italian sausages
1 1/2 – 2 cups Marcella's Famous Sauce*
olive oil
Bring a pot of salted water to boil and cook your rigatoni until al dente, drain, rinse under cold water to stop cooking, and set aside. 
While the pasta is cooking, cut the sausages into pieces and cook over medium-low heat, poking and stirring with a wooden spoon, until crumbled and cooked through. Take half of the fresh mozzarella (1/4 lb) and cut it into cubes, about 1/2″ size. Grate the remaining mozzarella and set aside.
Return the cooked pasta to the pot. Stir in 1 1/2 cup of tomato sauce, if it looks not saucy enough for you, add another 1/2 cup. Stir in Pecorino or Parmesan and the mozzarella cubes. Season with pepper and a little salt (the sausage will add salt as well, so you can skip the salt if you want).**
Oil one or two shallow baking dishes with olive oil. You'll want to use a shallow dish to keep the cooking time short. A 9 or 10″ pie dish works fine. If you are also making a vegetarian portion, oil a second dish. I just made a single vegetarian portion, so a small oven-proof dish plus a 9″ pie plate worked perfectly. If you are doing half-veg and half meat, use two, smaller, equally-sized dishes.
If making a vegetarian portion, scoop some of the pasta, sauce and cheese mixture into a prepared baking dish and set aside. Add the crumbled sausage to the remaining pasta mixture and put that in another prepared dish. Sprinkle grated mozzarella evenly over the top of the pasta.
If you plan to bake this another day, cover with greased foil and freeze or refrigerate until ready to cook. Bring to room temperature before baking. Otherwise, heat your oven to 350 degrees. Bake, uncovered for 15 to 20 minutes until it's bubbling and the cheese on top is melted. Let cool for a couple of minutes and serve.
*I like to make a batch of Marcella's sauce, divide it into smaller portions and keep it in the freezer. If you are making the sauce fresh, add 45 minutes for sauce prep time. You can also use a favorite jarred sauce, though I can't vouch for the results.
**You might find that the vegetarian version needs a little salt added at the table.