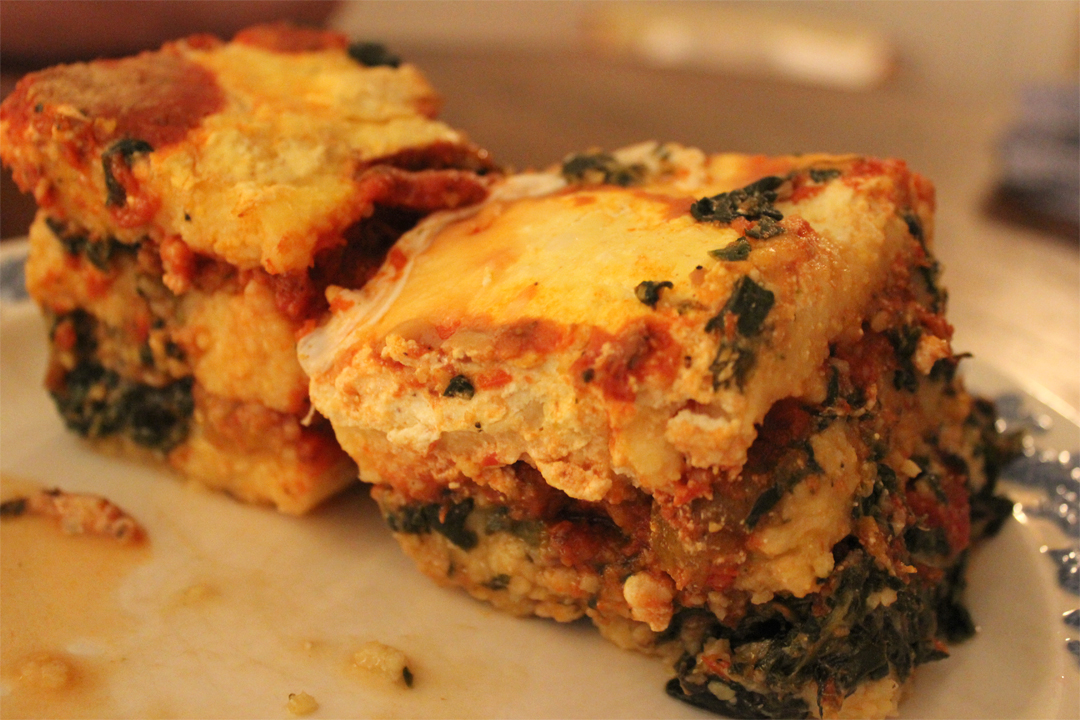 Our friend Gail brought us some spinach, sausage and polenta lasagna that her husband had made a little too much of. It's one of the wonderful things about living in our neighborhood, you always bump into someone you know on the street. Sometimes you have a spontaneous play date, or you'll remember you have some outgrown kid clothes for them or they for you, and sometimes they offer to bring you dinner!
Polenta lasagna, what a clever idea. Gail is gluten-free, so the polenta takes the place of pasta in the dish. It was a revelation to me that corn is not a gluten food.
I found the lasagna utterly delicious (even though I only ate the non-sausage parts) but Rose was not a fan. We made sure she tried each part of it twice. "Come on, you love sausage!" "Okay, then try the polenta part." "The cheese?"
Eventually we had to accept that this delicious dish was just not for her, and sent her off to the kitchen to find something to eat.
"Is Pirate Booty a good dinner?" "How about bread and butter? Is bread and butter a good dinner?" 
She finally settled on peanut butter and jelly. We told her she had to make her own sandwich, which she's never done before. I know she's probably the only non-allergic 6 year old in the world who's never made her own pb&j. There are certain things that fall through the cracks when you have an only child, and don't really need them to be all that independent.
Watching her make a peanut butter and jelly sandwich was one of the cutest things I've ever seen. Dutifully and on tip-toes, she cut the crusts off the bread in little half-inch increments. She "washed" the knife between the peanut butter and the jelly. She tried her very best to make the sandwich symmetrical. She left the loaf of bread on the floor when she was done.
Here comes independence.