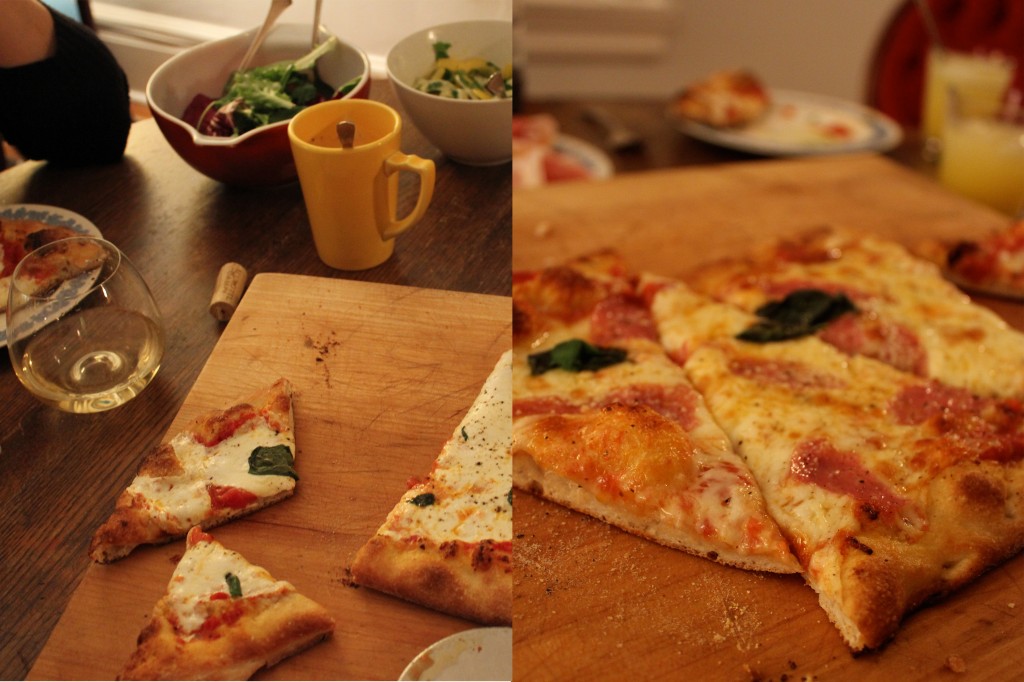 Remember Little Caesar's pizza? The only time I ever went there, I was in my twenties, and oblivious when it came to popular culture. I didn't know about Little Caesars' "pizza, pizza" gimmick. When I went to pick up my pie, they gave me two. I didn't want two pizzas, and proceeded to argue with the poor counter guy for the next half-hour. I thought he was trying to give me the shaft.
Later, friends informed me that two pizzas was Little Caesars' thing. You always got two pizzas, that was the deal.
As with anything designed to get people to want to buy something, the "pizza, pizza" concept was, and still is, lost on me. But I'll take two of Shane's pizza's any day, and the day after.
Tonight my sister came over and Shane made his famous pie for the second night in a row. This time a margherita, followed by a salami pie.
I made two salads, one with fresh parsley, fennel, yellow pepper slices and a lemon, dijon, rice wine dressing. The other salad was baby kale and radicchio with a take on that creamy dressing I've been making lately.
My sister brought oatmeal chocolate chunk cookies with raisins and almonds for dessert. So good.