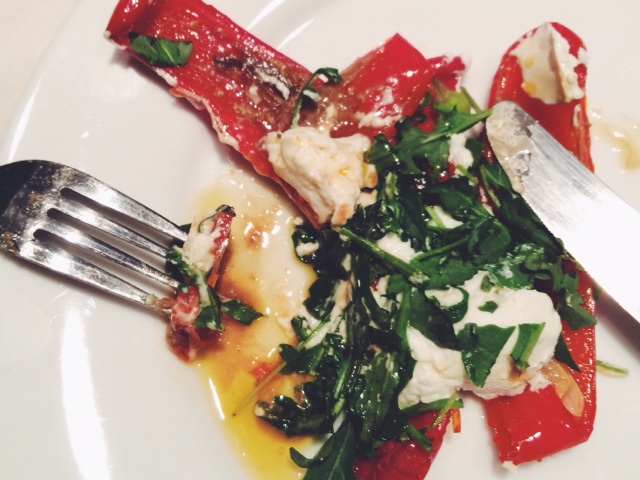 Our family is newly in love with this dish. Roasted Red Peppers with Anchovies, Garlic and Goat Cheese from Phyllis Grant's column at Food52.
We are so in love, that these peppers made it to our weekly meal plan twice in as many weeks. It's so good, we haven't noticed if the kids are eating it or not because we're too busy devouring it.
My mom and I thought it might be too anchovy-y but it really isn't. The anchovies add the right amount of salt to the dish and melt so perfectly into the juice from the peppers that the sauce is just lick-your-plate succulent.
It works well accompanying a simple chicken dish, or makes a perfect meatless meal (if you don't count anchovies) when served with grilled bread and a fried egg.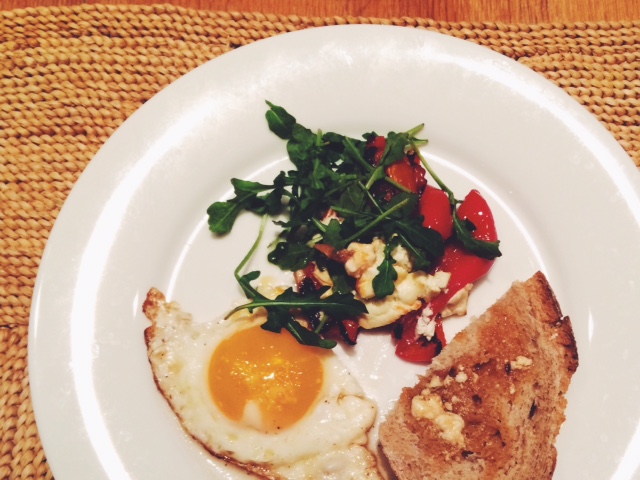 • Roasted Red Peppers with Anchovies, Garlic & Goat Cheese •
from Food52
serves 4
2 red bell peppers, cored, seeded, and cut lengthwise into eighths
16 anchovy fillets, packed in oil (we like the kind that comes in a jar)
1 tablespoon unsalted butter
1 tablespoon extra-virgin olive oil
3 cloves garlic, peeled and sliced lengthwise as thinly as possible
4 ounces creamy fresh goat cheese, chilled
A handful baby arugula, chopped (or not chopped, if you're lazy or short on time)Heat oven to 350° F.

Place peppers skin side-down in a baking dish. Place one anchovy fillet in the belly of each red pepper slice. Evenly distribute the butter, olive oil, and garlic between the slices.

Cover with tin foil. Roast until peppers are starting to soften (about 25 minutes). Agitate the pan a bit to make sure all the slices are evenly coated with oil and not sticking to the bottom of the pan. Remove tin foil and cook for another 15 minutes or so until everything starts to brown. You want the peppers tender but not falling apart. This can take anywhere from 40 minutes to an hour. Just be vigilant and don't let anything burn. It's fine to turn down the temp or place the tin foil back on.

Slice chilled goat cheese into about 8 discs. If they fall apart, just pat them back together like clay. Place on top of cooked peppers. Bake until goat cheese is warm all the way through, about 5 minutes. Cool for 5 minutes. Garnish with chopped arugula. Serve on grilled bread.