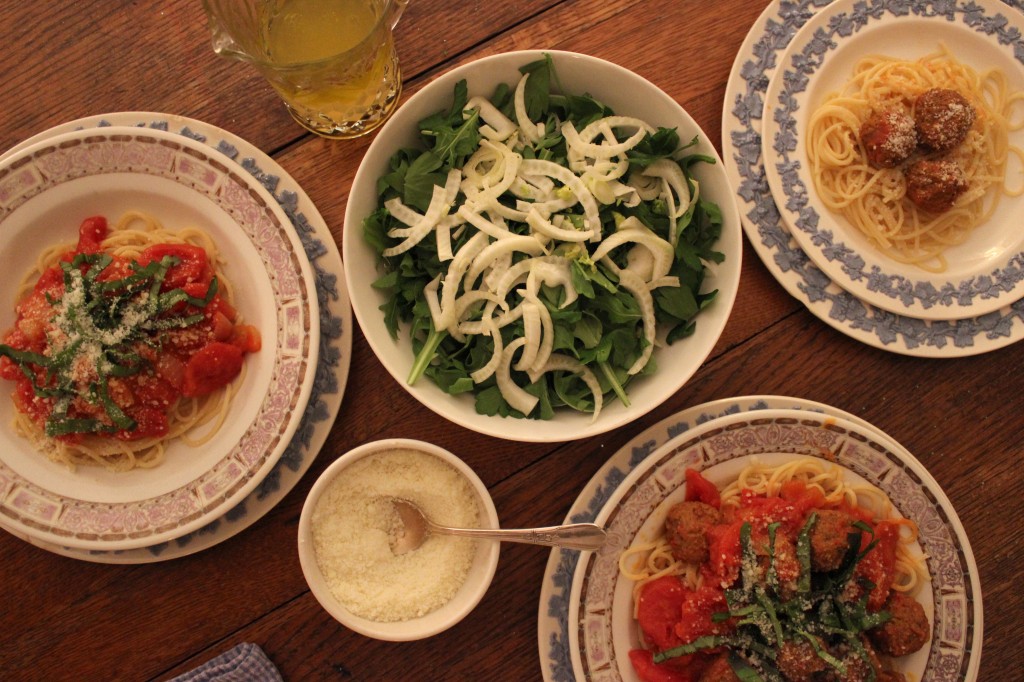 We had pasta to please everyone tonight. Shane had meatballs, sauce, basil and cheese on his spaghetti. I had sauce, basil and cheese on mine. Rose had just meatballs and cheese on hers, and then promptly removed and didn't eat the meatballs. (She's strictly carbo-packing these days).
• Basic Tomato Sauce for Pasta, with or without Meatballs •
Sautee one medium yellow onion, chopped, in a generous amount of olive oil over low to medium heat until soft and nearly translucent. Add a clove or two of minced garlic and saute for a minute more. Add a can of whole peeled San Marzano tomatoes. I like this brand best. Chop up the tomatoes a bit in the pan. Taste the sauce and if need be, you can add a half teaspoon of sugar. Cook for 10 minutes and season with salt and pepper. Remove half of the sauce to another pan and add meatballs (if using). Cook both sauces for 10 more minutes or so. Add a tablespoon of butter to each and stir to combine. You can serve either version topped with slivered fresh basil and parmesan or pecorino cheese, or not.