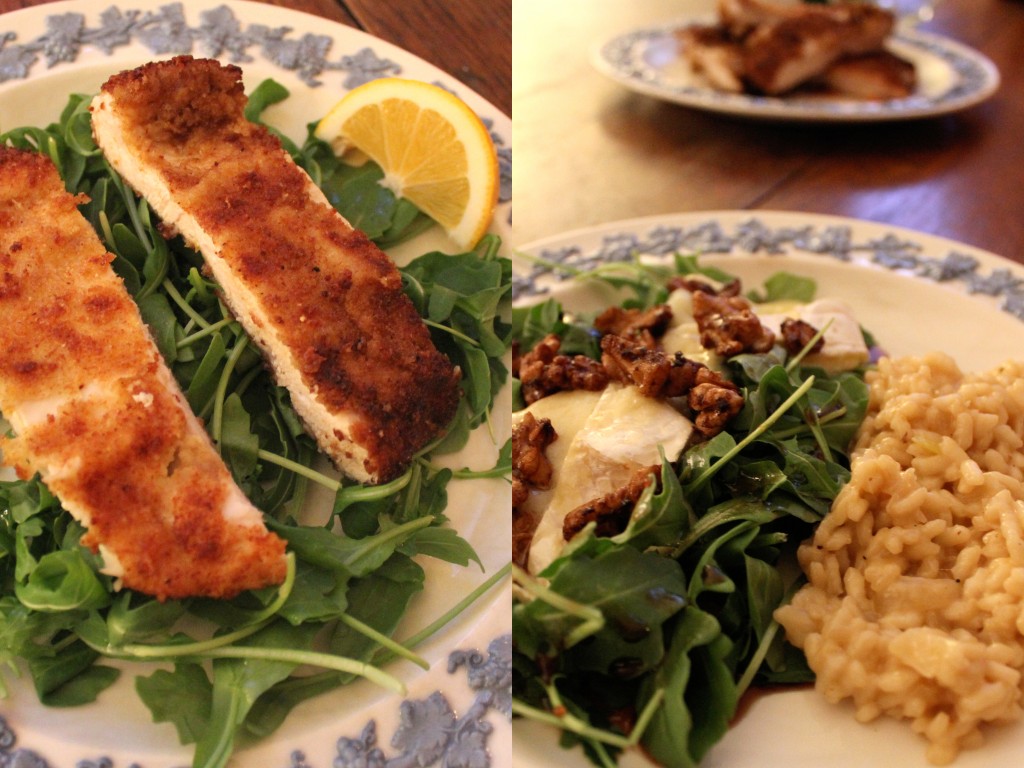 Shane made dinner tonight. He's not so good at throwing dinner together quickly, unless it's really spontaneous and last minute – he makes an amazing meal out of nothing in 10 minutes when he's starving – so his cooking is usually reserved for weekends.
It's a long process, he gets out the cookbooks, dozes off with them, and then wakes up and suggests a whole bunch of things that are not even remotely appealing to a vegetarian "How about smoked pork chops and potatoes?" Then the whole family lies in bed and plays with the cats for a while. Shane goes for an oil change, and then grocery shopping, and at around 9 or 10pm, we eat something really delicious that was worth the wait.
Tonight he made Parmesan Chicken from Ina Garten. He doesn't make the lemon vinaigrette, he just squeezes some lemon over a bed of arugula and serves the chicken over that. He also made the yummy Basic Risotto from Lidia Bastianich's Lidia's Italian-American Kitchen cookbook.
I wanted my salad to be a bit more substantial so I made a sweet dressing with honey, balsamic vinegar, salt and olive oil, and then topped the arugula with soy-cumin toasted walnuts and melty brie cheese. I try to keep a variety of nuts and cheese around so that I can make my salads into more of a main course when the need arises (often). And also for snacks.
• Soy-Cumin Toasted Walnuts •
Toss the walnuts with melted butter, soy sauce and ground cumin, just enough to coat (you don't want them swimming in liquid). Toast them for a few minutes in an oven-safe skillet over medium-high heat. Put the nuts, still in the skillet into a hot oven so the sauce dries out and adheres to the nuts, 5-10 minutes.