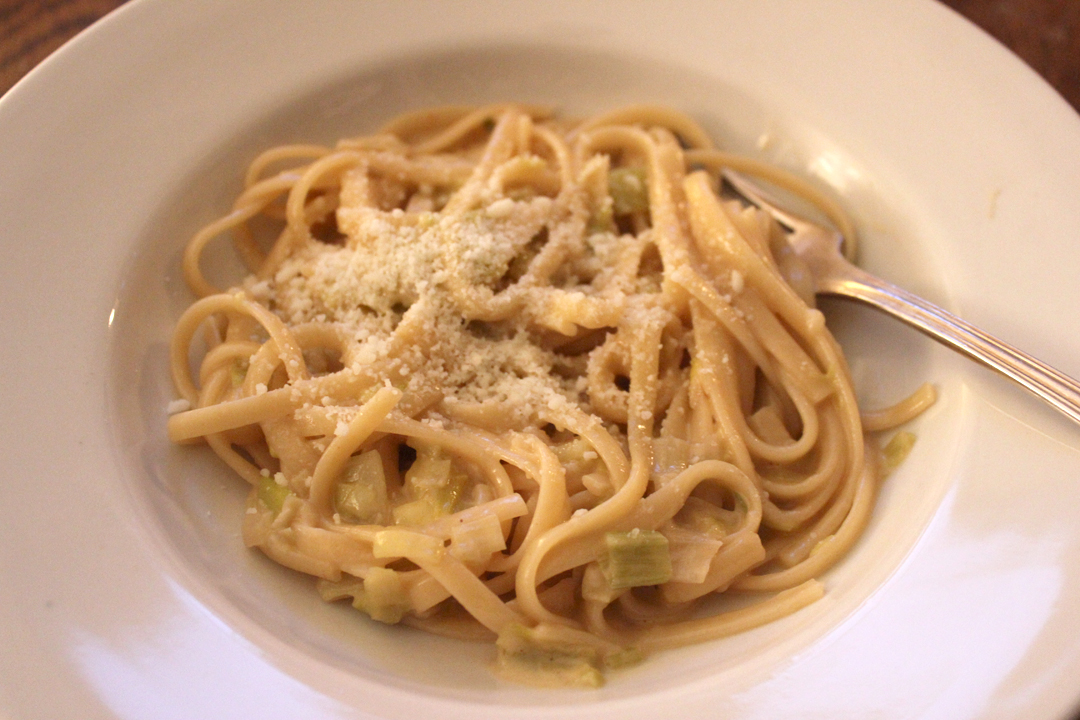 For those of you who have not forsaken gluten and dairy, man-oh-man do I have a recipe for you. Creamy One-Pot Spaghetti with Leeks is a creamy, delicious treat. One pot, 30 minutes, wonderful.
It's another one of those pasta cooked like risotto dishes. Meaning, you add the dry pasta to the sauce so it absorbs all the creamy goodness and flavor while it cooks, making the pasta extra wonderful in taste and texture.
Fans of, wheat pasta, dairy and fat, try this recipe asap. With a simple green salad. Perfect!
• Creamy One-Pot Spaghetti with Leeks •
from Food & Wine
1 tablespoon extra-virgin olive oil
5 garlic cloves, minced
3 scallions, thinly sliced
2 leeks, white and light green parts only, trimmed and thinly sliced
1 medium shallot, chopped
1 anchovy fillet, drained
Pinch of crushed red pepper
1 pound spaghetti, noodles broken in half
3 3/4 cups chicken stock
3/4 cup heavy cream
1/2 teaspoon kosher salt, plus more for seasoning
2 tablespoons chopped chives
1/4 cup freshly grated Parmigiano-Reggiano cheese, plus more for serving
In a pot, heat the olive oil. Add the garlic, scallions, leeks and shallot and cook over moderate heat, stirring occasionally, until the leeks are softened, 6 minutes. Add the anchovy, crushed red pepper, spaghetti, stock, cream and the 1/2 teaspoon of salt and bring to a boil. Reduce the heat to low and cook, stirring, until the pasta is tender and a sauce forms, 11 minutes. Stir in the chives and 1/4 cup of cheese; season with salt. Serve the pasta with extra cheese on the side.