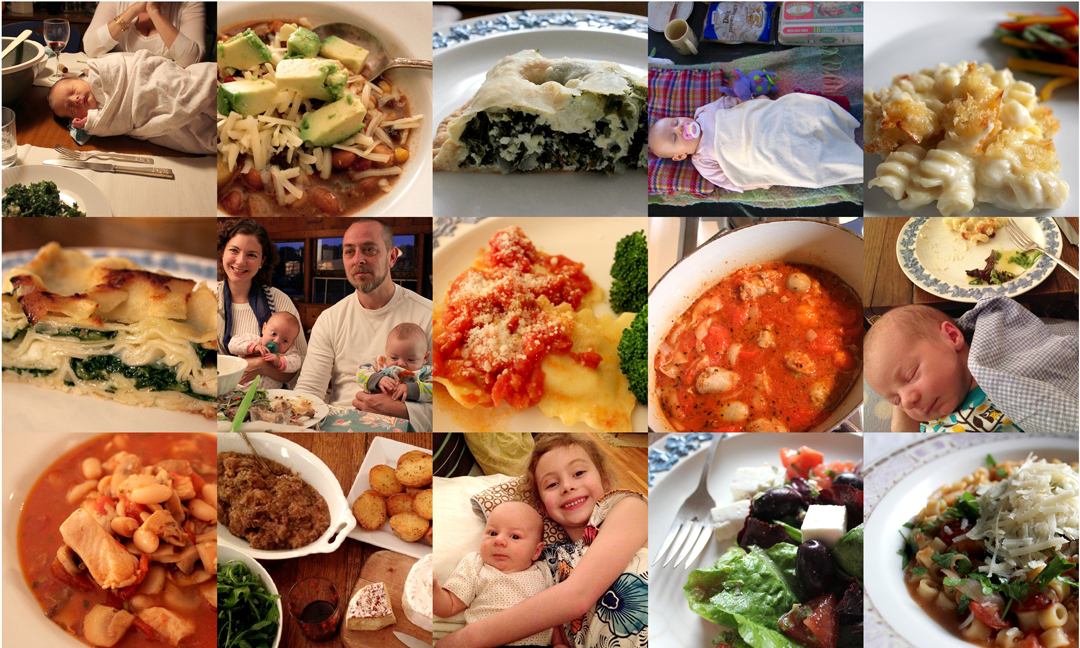 Baby Sid turned 1 month old yesterday. This post is inspired by all of the wonderful friends and family who provided us with food (and otherwise cared for us) as we adjusted to being a family of four. Without you, this first month would have been a lot harder.
While it's fresh in my mind. I thought I'd share a few dishes and tips that are great to have when there's a new baby in the house.
Tips:
Whether making the recipes below, or something else, here are some good tips on cooking for a family with a newborn.
1. Veggies, veggies, veggies. It's surprisingly hard to get enough vegetables in your diet with a newborn in the house.
2. Consider one-handed food or snacks. It's hard to put down a newborn sometimes (okay, all the time), food that can be eaten one-handed is a lifesaver.
3. Provide the condiments or toppings too. Your friends are not going to have the time or manpower to grate cheese, chop fresh herbs or make salad dressing.
4. Think whole grains and high-fibre, if bringing food in the first week of a baby's life. The mom will thank you.
5. Nursing moms often crave sweets, bring oatmeal cookies or whole-grain quick breads, laden with nuts and dried fruits. The more fruit and nuts the better.
6. Fresh fruit is wonderful. Pre-washed and no-need-to-peel fruit is even better (see #2 above).
7. Think beyond baked pasta. Personally, I could eat baked pasta every day, after all, macaroni and cheese is my signature new-baby dish. But other folks will be bringing baked pasta dishes too, try your hand at something non-pasta, if you can, to give your friends a change of pace.
8. Bring something they can freeze and reheat later, in case they've already been given a lot of food. Bonus points for includng freezing and reheating instructions.
9. If you live far away, or just don't want to cook, but still want to provide a meal, send a gift certificate to a restaurant in their area that delivers.
10. It will make the new parents' day if you throw in a couple of beers or a bottle of wine with dinner.
Recipes:
1. Spicy (or not-spicy) Vegetarian (and Turkey) Chili Chock full of vegetables and protein-packed beans, this is a great one for vegetarians and meat-eaters alike. It only takes a couple of minutes to heat up on the stove. Bring to a friend with the toppings already prepared, take your pick of grated cheddar, chopped fresh cilantro, sour cream or avocado chunks. Be sure to leave the pit in with the avocado pieces, and toss with lemon, so they don't go brown.
2. Torta Verde (Swiss Chard Pie) I like this because it can be eaten warm or at room temperature, it has a lot of nice green veggies in it and can be eaten with one hand.
3. Macaroni & Cheese  It didn't take me long to get around to baked pasta did it? But really, this is my signature new baby dish, so how could I not include it?
4. Lasagna. Try Spinach & Bufala Mozzarella, Rita's Lasagna or Butternut Squash.
5. Pasta Sauce, this is something they can easily keep in the fridge for a while or even freeze. Try Marcella's Famous or Sweet Italian Sausage Sauce. Include some grated parmesan and a box of pasta with your delivery, so all they'll have to do is reheat the sauce and cook the pasta.
6. Easy Chicken Cacciatore. My family loves this one, it's quick and easy to make despite the fancy name.
7. Oktoberfest Stew. I've never met a meat eater who didn't love this, make this on a weekend, when you have some time. Shane recommends a side of potatoes.
8. Anna's Oatmeal Cookies (recipe below). See tips #2 and #6 above. My neighbors and sister each made us a batch which kept me going over the first couple of weeks.
9. A big salad (your choice of veggies) with a jar of homemade dressing on the side. Dressing on the side will keep the salad from wilting if not eaten right away. Try my version of Rita's Dressing, Homemade Ranch (you can also do ranch with crudite) or a simple Tart Dressing.
10. Soup! Try White Bean with Rosemary Oil or Pasta e Fagioli if you don't have a lot of time, and Minestrone or Kale, Cabbage & Farro if you do. All of these soups are full of veggies and beans, lots of healthful nutrition in there.
None of these dishes float your boat? Check out our recipe index for more great ideas.
• Anna's Oatmeal Raisin Chip Cookies •
2 sticks butter (salted)
1 cups firmly packed brown sugar
1/2 cups granulated sugar
2 eggs
1 teaspoon vanilla
1-1/2 cups flour
1 teaspoon baking soda
3 cup old fashioned Quaker oats (not quick cook)
1 cup raisins
1 cup chocolate chips
1 cup chopped pecans
Heat oven to 350 degrees. Beat together butter and sugars until creamy. Add eggs and vanilla, beat well. Add combined flour and baking soda; mix well. Stir in oats then raisins, chips and pecans. Drop by rounded tablespoonfuls onto un-greased cookie sheet. Bake 10-12 minutes or until golden brown.
Note: feel free to play around with the chocolate, fruit and nuts. Anna sometimes uses coconut, white chips, dried cranberries and lots of other stuff. Substitute as you like.