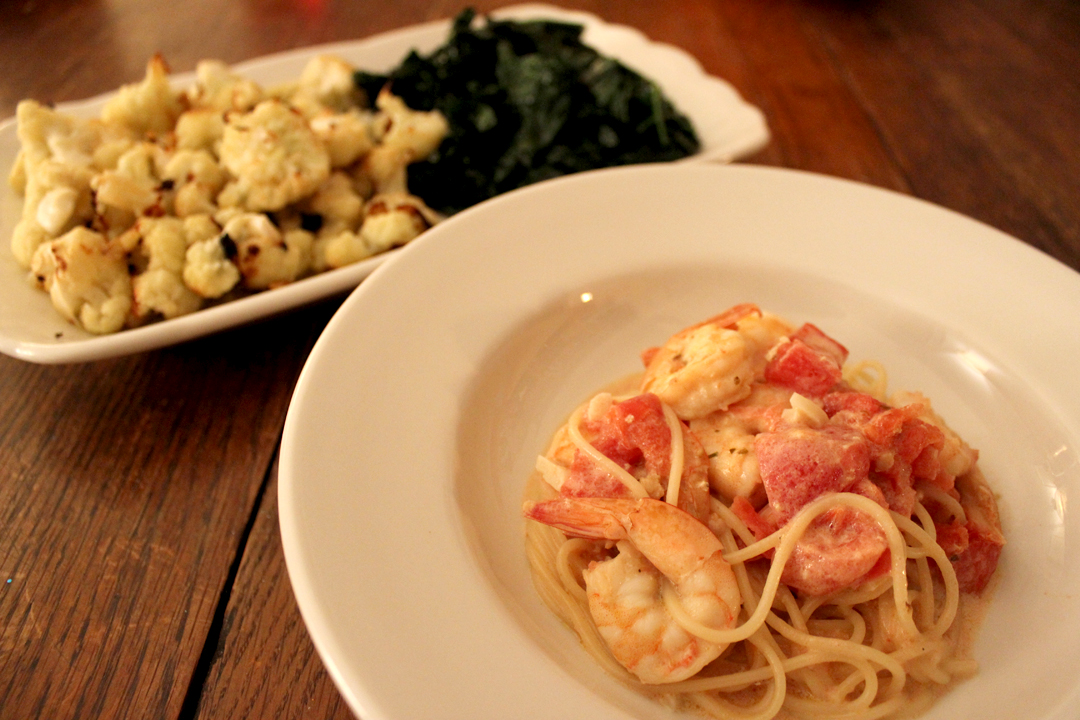 Tonight's dinner was a vast improvement over last night's. Like last night, I had a hankering for a creamy, tomatoey, boozy pasta dish. Instead of doing Penne alla Vodka again, I made Cappellini with Shrimp and Creamy Tomato Sauce (recipe below).
The dish is an oldie but goodie, first brought to my attention by Teresa, of Teresa Cooks. It's quick, at only about 15 minutes start to finish, and oh so very delicious.
That stuff that looks a bit like popcorn, is actually roasted cauliflower, which you can cook exactly the way you do roasted broccoli, except that it seems to require significantly more olive oil. For a green, we had simple kale, sautéed with garlic and red pepper flakes in olive oil.
• Cappellini with Shrimp and Creamy Tomato Sauce •
from epicurious via Teresa Cooks
3 tablespoons olive oil
1 pound peeled large shrimp
3 large garlic cloves, forced through a garlic press
1/4 teaspoon dried oregano
1/2 cup sweet (red) vermouth
1 (14- to 15-ounce) can diced tomatoes, drained
3/4 cup heavy cream
1/2 teaspoon fresh lemon juice
1/2 pound capellini*
Heat oil in a 12-inch heavy skillet over medium-high heat until it shimmers, then cook shrimp and garlic with oregano, 1/2 teaspoon salt, and 1/4 teaspoon pepper, turning once, until golden, about 2 minutes total**. Stir in vermouth and tomatoes, scraping up any brown bits from bottom of skillet. Add cream and briskly simmer until sauce has thickened slightly, about 1 minute. Stir in lemon juice.
Meanwhile, cook capellini in a pasta pot of boiling salted water (3 tablespoons salt for 6 quarts water) until al dente. Reserve 1 cup pasta-cooking water, then drain pasta.
Serve immediately, topped with shrimp and sauce. Thin with some of reserved water if necessary.
* This makes a lot of sauce, enough to cover up to 1lb of pasta, if you want. Also, it's fine to use thin spaghetti instead of cappellini.
**My shrimp never seems to get golden. I just cook it until it's pink all over, or close (it will cook more in the sauce). This sometimes takes more than 2 minutes.