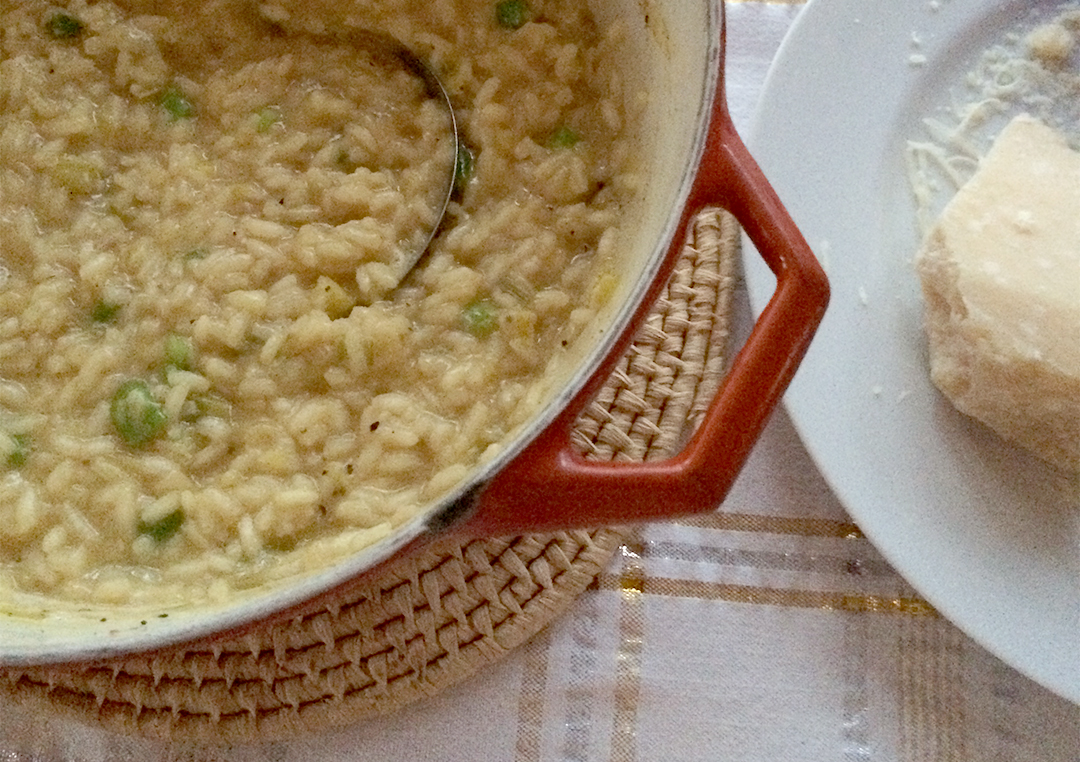 I love a man who can whip up a perfect risotto on the spur of the moment.
• Perfect Risotto •
from Lidia Bastianich
4-1/2 cups hot chicken or vegetable stock
3 tablespoons extra-virgin olive oil
1 medium onion, minced (about 3/4 cup)
1 medium leek, white parts only, trimmed, cleaned, and chopped
4 to 6 scallions, trimmed, white and green parts chopped separately
2 cups Arborio or Carnaroli rice
1/3 cup dry white wine
Salt
2 tablespoons unsalted butter, cut into 4 pieces
1/3 cup freshly grated Parmigiano Reggiano cheese, plus more for sprinkling
Freshly ground black pepper
Pour stock into a 2-quart saucepan and keep it over low heat. Heat olive oil in a wide 3- to 4-quart pan over medium heat. Stir in onion and cook, stirring occasionally, until softened, about 4 minutes. Stir in leek and white parts of the scallions and cook, stirring, until the onion is pale golden, about 6 minutes. Adjust the heat under the pan as the onion browns so that it cooks slowly. Stir in rice; continue stirring until grains are coated with oil and "toasted" and the edges become translucent, 1 to 2 minutes.
Pour in the wine and let it boil, stirring the rice, until evaporated. (Since the rice kernel is 8 percent starch, the acidity in the wine balances and imparts flavor to the rice kernel.) Season rice lightly with salt, and ladle enough of the hot stock into the pan to barely cover the rice. Bring to a boil, then lower the heat so the stock is at a lively simmer. Cook, stirring constantly, until all the stock has been absorbed and you can see the bottom of the pan when you stir. Continue cooking, pouring in the remaining hot stock in small batches —each addition should be just enough to completely moisten the rice—and cook until each batch of stock has been absorbed. Stir constantly until rice mixture is creamy but al dente; this will take 16 to 20 minutes from the time the wine has been added. When in doubt, undercook—risotto continues to cook even after it is removed from the heat. Adjust the level of heat throughout cooking so the rice is simmering very gently. The total amount of stock you use may vary for several reasons: the type of rice you are using, the shape and size of the pan, and the desired texture of the finished risotto, which can be quite dense or soft and runny, depending on your personal taste.
Remove the pan from the heat; stir in the butter and green parts of the scallion until the butter is completely melted. Stir in half the grated cheese, taste the risotto, and add salt, if necessary, and pepper. Serve immediately with cheese for sprinkling.