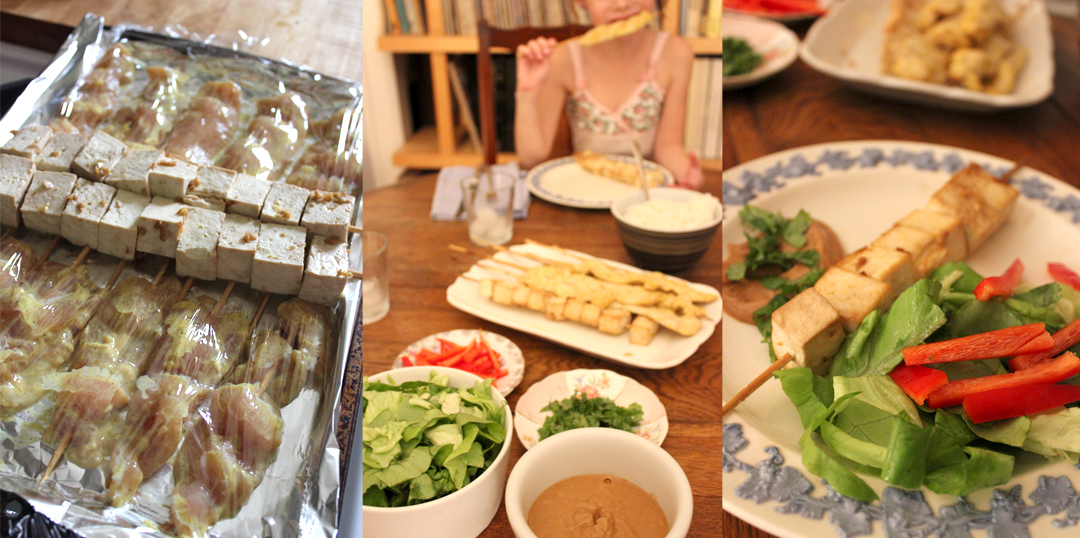 Chicken (or tofu) Satay is a great make-ahead for a quick dinner dish, because it only needs to broil for 6-10 minutes, and because a broiler doesn't generally take very long to heat.
Another plus is that the chicken or tofu needs to marinate, which it might as well do while you're out of the house. I let ours marinate at room temperature so we wouldn't have and fridge-chilledness adding to our cooking time.
I used this recipe from the food network. I was really happy with the results of the chicken. Rose and Shane loved it, even without the peanut sauce.
The recipe ratings warn that the peanut sauce is nothing to write home about. I pimped it out a bit, with some extra ingredients, and it was good, but not mind-blowing.
Peanut sauce should always be mind-blowing, don't you think? If you've got a good recipe to share, please do. This meal could easily become a make-ahead favorite with the right sauce.
To prep this meal, start by soaking the wooden skewers in water. Make the marinade, slice up the chicken and/or tofu and put them in to soak. I recommend soaking the chicken and tofu separately. Make the peanut sauce and clean and chop your veggies. Skewer the chicken and tofu, lay out on a tray that will fit in your broiler, and cover with plastic wrap. Let sit at room temperature, until ready to cook.
If you don't have time during the day, you could easily do everything the night before and leave the skewers out on the counter in the morning.
To get this meal on the table in 10-15 minutes, turn on the broiler the moment you get home. Remove sides and sauce from fridge and put out on dinner table. Uncover the skewers and broil for 3-5 minutes per side until cooked through. Check every three minutes to be safe. Serve as soon as they're done.