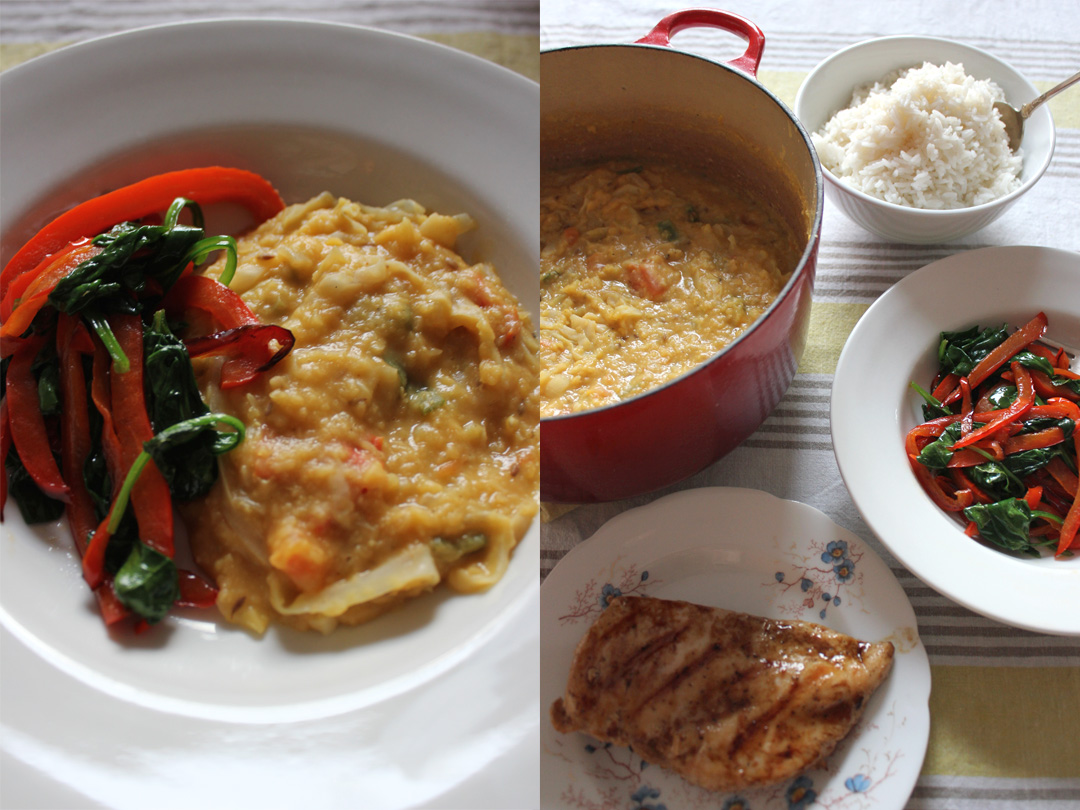 My aunt Dot made truly delicious lentils with cabbage and cumin, when she had us over for dinner recently. They were so good that making and posting about them went right to the top of my Steady Table to do list.
The recipe is originally from Madhur Jaffrey but my aunt found it via Smitten Kitchen, when she was looking for a way to use up her supply of CSA cabbage.
A couple of notes on the recipe. I purchased red lentils that appeared to be split, but I don't think they're the right kind because mine were totally cooked—to the point of being mushy, which was fine because I started dinner way late—in less than 30 minutes (the recipe says to cook for 1 1/4 hours). Also, I think the recipe needs a hell of a lot more salt than called for, just keep adding salt till it tastes good to you.
• Red Split Lentils With Cabbage •
from Madhur Jaffrey, Indian Cooking via Smitten Kitchen
Serves 4 to 6
1 1/4 cups red split lentils (masoor dal), picked over, washed and drained*
5 cups water
1/2 teaspoon ground turmeric
5 tablespoons vegetable oil
1 teaspoon cumin seeds
2 to 4 cloves garlic, peeled and finely chopped
1 medium onion, peeled and cut into fine slices
1/2 pound cored and finely shredded cabbage
1 to 2 fresh, hot green chilies, finely sliced (jalapeños work fine)
1 1/2 teaspoons salt, plus more to taste
1 medium tomato, finely chopped
1/2 teaspoon peeled, finely grated fresh ginger
Put the lentils and water into a heavy pot and bring to a boil. Remove any scum that collects at the top. Add the turmeric and stir to mix. Cover, leaving the lid very slightly ajar, turn heat down to low, and simmer gently for 1 1/4 hours, or until cooked through and no longer watery. Stir a few times during the last 30 minutes. (See notes before recipe)
When the lentils cook, heat the oil in an 8 to 9 inch frying pan over medium heat. When hot, put in the cumin seeds. Let them sizzle for 3 to 4 seconds. Now put in the garlic. As soon as the garlic pieces begin to brown, put in the onion, cabbage and green chilies. Stir and fry the cabbage mixture for about 10 minutes or until it begins to brown and turn slightly crisp. Stir in 1/4 teaspoon of the salt. Turn off the heat under the frying pan.
When the lentils have cooked for 1 1/4 hours (or until done, see notes above recipe), add the remaining 1 1/4 teaspoon salt, the tomato and ginger to the pot. Stir to mix. Cover and cook another 10 minutes. Add the cabbage mixture and any remaining oil in the frying pan. Stir to mix and bring to a simmer.
Simmer uncovered for 2 to 3 minutes or until the cabbage is heated through.