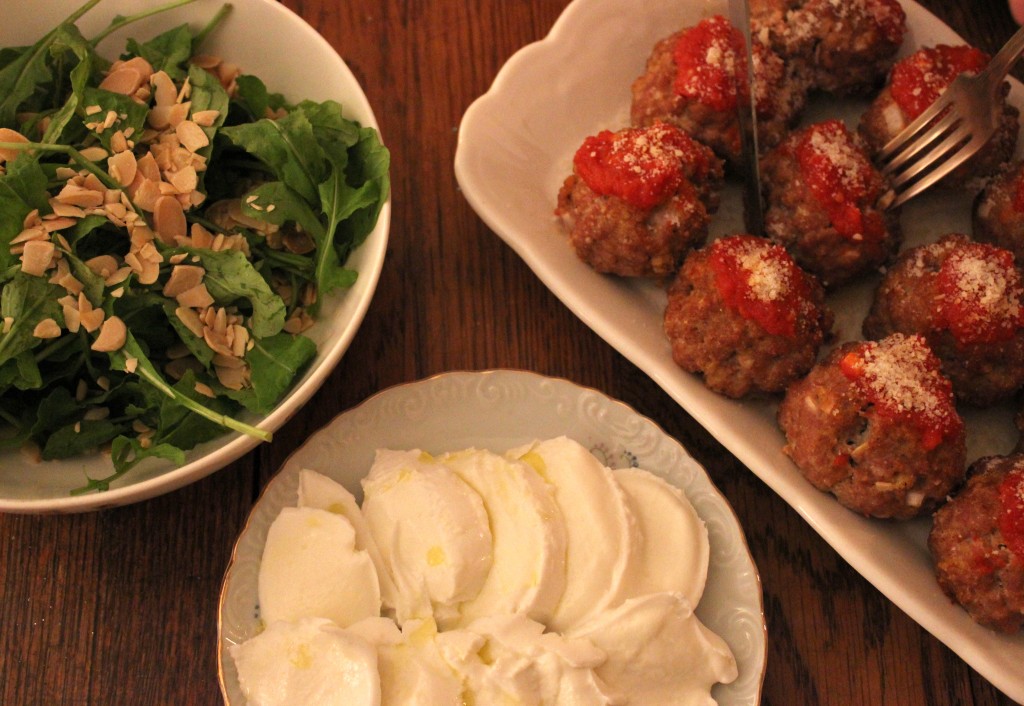 Tonight I set the bread (bruschetta, to be precise) on fire, literally, and that is why it isn't pictured here. Before burning it (literally, I'm talking flames), I topped the bruschetta with pesto left over from Monday's pasta, and had planned to top that with some bufala mozzarella.
On a more positive note, I feel like I'm on a roll with the good weeknight recipes. Tonight's Chicken Parm Meatballs were particularly easy and quick to prepare. Shane and Rose said they were a for sure make-again. I totally get why they're one of the internet's most popular dishes this week. Thank you DALS.
Because I'm not a good planner-aheader, I made my meatballs with turkey and without mozzarella. In lieu of mozzarella, I sprinkled a bit more pecorino on top after broiling. I also left out the parsley because a certain someone was sure to reject the meatballs if there was green in them.
For salad we had arugula with toasted almonds and a slightly sweet balsamic dressing. Did you know you can buy toasted, slivered almonds at Trader Joe's? They are perfect for people like me, who can't seem to use the broiler with out starting a fire.