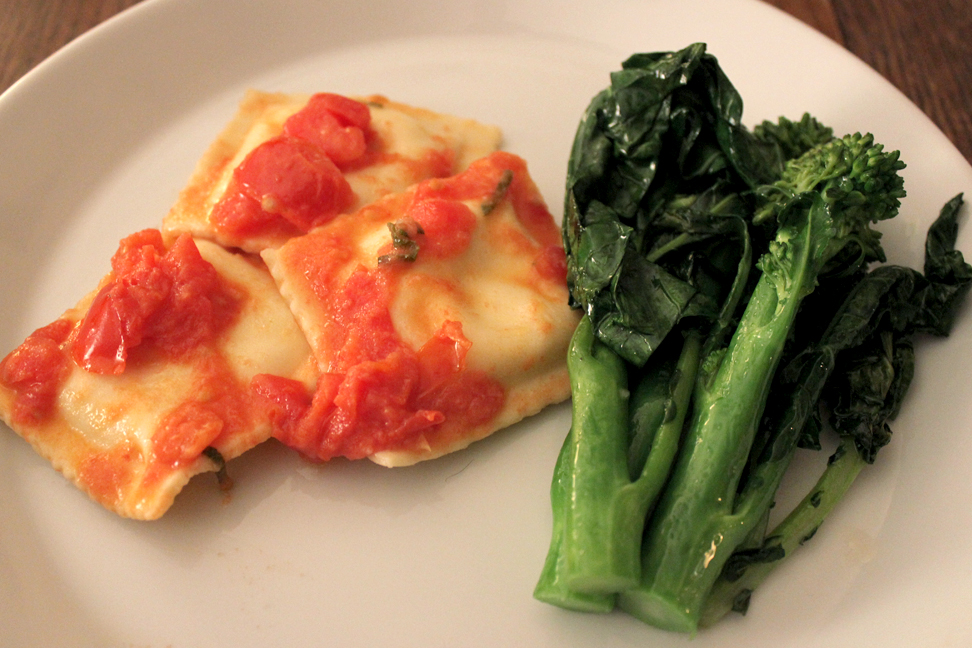 I wasn't too excited to receive weird broccoli rabe, with extra-thick stems, in my CSA box this week. When I gave it a closer look this evening, I realized it might not be broccoli rabe.
Upon checking my CSA web site, I discovered that it was Guy Lon (or Chinese broccoli), and that those extra-thick stems could be eaten with minimal effort.
I now have a new favorite broccoli. Guy Lon is really flavorful, even a little bit sweet. It doesn't have even the remotest amount of  the bitterness of broccoli rabe. So don't be fooled by it's similar appearance.
With it we had cheese ravioli with a very simple fresh tomato sauce made with 1/2 a stick of butter, a teaspoon of fresh, slivered, sage leaves, and two fresh, chopped, plum tomatoes.
I thought that maybe a third night of pasta in a row was too much, but Shane said it would be okay if we pretended to be Italian. I'm half Italian, so it wasn't much of a stretch.
• Easy Guy Lon (or Chinese Broccoli) •
3 tablespoons olive oil
2 cloves of garlic, peeled and smashed with the flat side of a knife
a pinch of red pepper flakes
1 large bunch Guy Lon
Wash the broccoli well, and trim off the bottom most part of the stems (only about 1/2 an inch). Cut each stem, or the whole bunch, in half crosswise so that half of the bunch is mostly thick stems and the other half is leaves, tops and florets. Halve the thick stems lengthwise, and set aside. Heat about 3 tablespoons olive oil in a large skillet. Add two smashed cloves of garlic and a pinch of red pepper flakes and cook over medium-high heat until the garlic begins to color, just a minute or two. Add the broccoli stems and cook for 3-4 minutes. Add the tops, leaves and florets, and cover. After a minute, uncover and stir to coat all of the broccoli with oil. Cook for another 3 minutes or until the broccoli is tender to the bite, but still bright green. Season with salt and serve immediately.