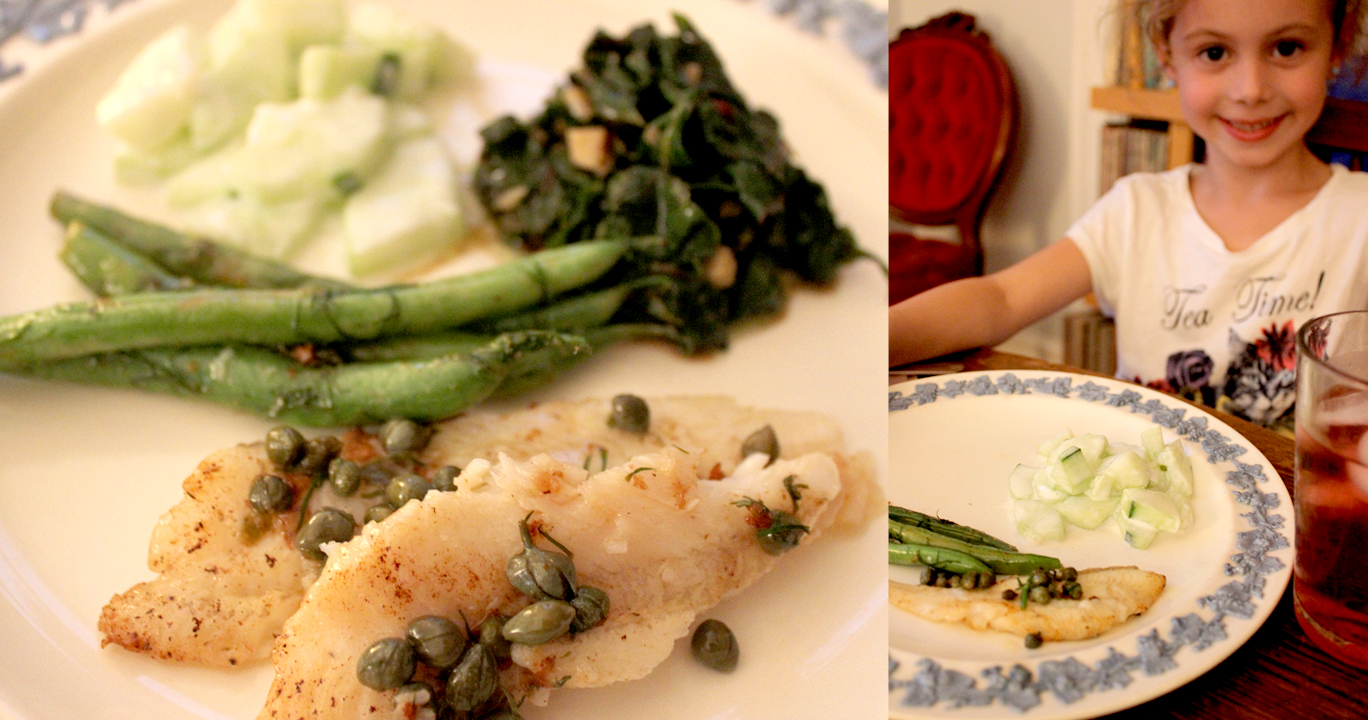 Shane got some Grey Sole yesterday, hoping it would be similar to his favorite fish, Black (or Dover) Sole. It wasn't the same as Black Sole, but all agreed that it was a lovely fish when cooked with butter, dill, lemon, capers and green beans.
For the fish, I used this recipe (also below) from food52.com. Instead of snap peas, I used green beans from our recent  CSA box. The green beans worked well, they were heavier, heartier and less summery-feeling than snap peas would have been, but very tasty nonetheless.
Working through recent CSA boxes, has meant cucumber salad with every meal. Tonight was no exception. I usually just peel and chop the cukes and mix them up with some plain yogurt, salt, and sometimes olive oil, lemon or vinegar.
For our swiss chard, I used anchovies and garlic. If you're an anchovy lover, this is a great thing to do with your chard leaves. You simply sauté up some anchovies and chopped garlic in olive oil and/or butter. When the garlic is soft, add chopped swiss chard leaves and cook until they're soft and not bitter. Yum.
Rose was super excited about tonight's meal, for some reason. Possibly because she did gymnastics for 5 hours, and only ate a scant quarter of a pb&j sandwich all day. She insisted on being photographed with her plate and then proceeded to eat every single thing on it. I guess starvation is a good way to get kids to eat.
• Butter-Seared Sole with Snap Peas, Dill & Capers •
from food52.com
4 tablespoons salted butter
4 (4-ounce) skinless Dover or Grey sole fillets
Kosher salt and freshly ground black pepper
12 ounces snap peas, or green beans, trimmed
1/4 cup coarsely chopped dill
2 tablespoons capers, drained and rinsed
3 to 4 tablespoons Meyer or regular lemon juice, to taste
Heat butter in a large nonstick skillet over medium-high until foamy and beginning to brown. Season fish with salt and pepper. Gently arrange fish fillets in skillet in a single layer, making sure that the pan isn't crowded. (If necessary, cook the fish in two batches.) Cook fish, turning once with a thin spatula, until golden brown and crisp, 6 minutes. Remove fish to a platter or plates. (Reserve skillet and butter in pan.)
Return skillet to medium-high heat. Add snap peas to skillet and cook, tossing, until crisp-tender, 2 minutes (longer if using green beans). Remove from heat and stir in dill, capers and lemon juice. Serve fillets with snap peas.