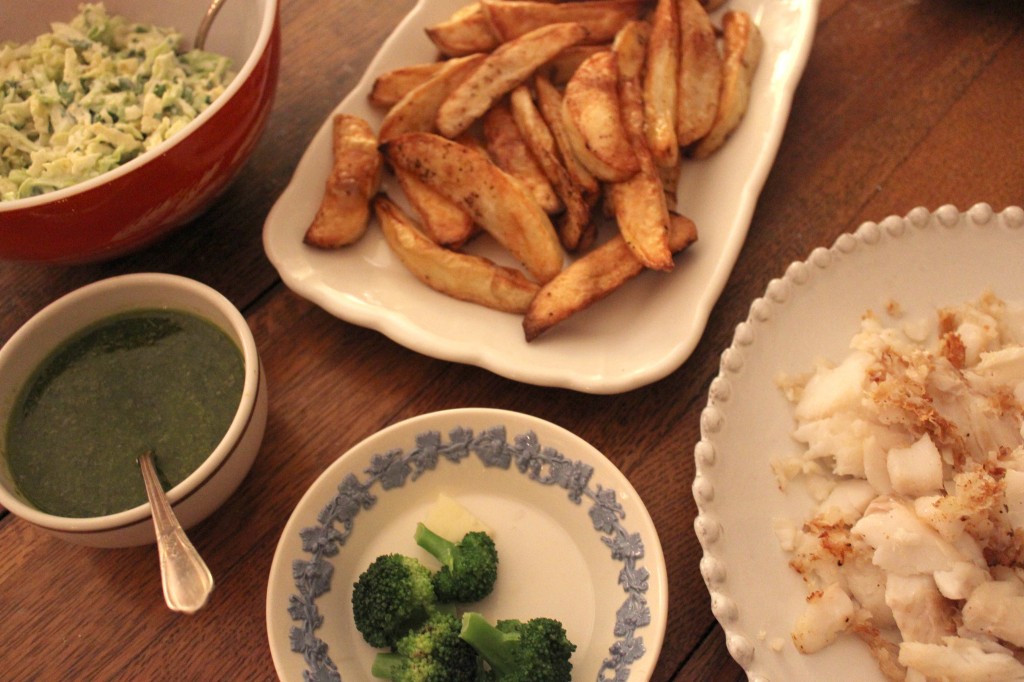 Last night I made a delicious green sauce. It was supposed to go on the roasted sweet potatoes, but when I tasted it, it didn't seem quite right (for sweet potatoes). I decided it was meant for fish, some kind of plain, white fish.
Shane brought home Cod and asked if I was going to cook it the Adriatic Way. I said no, I was going to pan fry it, because I had this delicious green sauce. He warned me that it would be very flaky. I didn't know what to make of that warning, and so I pan fried it in butter with salt and pepper and a teensy sprinkling of flour for about 7 minutes. What I ended up with was very tasty little bits of cod, because it all broke apart when I tried to flip it.
Long story short, I don't know how to tell you to cook the cod if you want it to be intact when you serve it. But I highly recommend the green sauce (recipe below) which was greedily consumed by all three of us. Yes, even the kid. Let me say that again in case you missed it, the kid ate the green sauce.
On the side, we had my new favorite oven fries. These fries are easy, and totally worth making if you happen to be lucky enough to have an hour to prepare dinner. It's not an hour of hands-on time, just an hour total.
For salad we had cilantro and lime coleslaw. It was an off the cuff recipe, and it was fine, but not spectacular.
• Green Sauce for Fish (or something else?) •
1 bunch Italian parsley, washed and de-stemmed (don't go crazy though)
5 anchovy fillets (from a jar, ideally)
2 Tablespoons non-pareil capers, rinsed 
Juice of 1/2 a lemon
1/2 cup olive oil 
Pinch of red pepper flakes 
Blend all ingredients in a food processor or with a hand blender until relatively smooth. Serve over fish, or whatever.